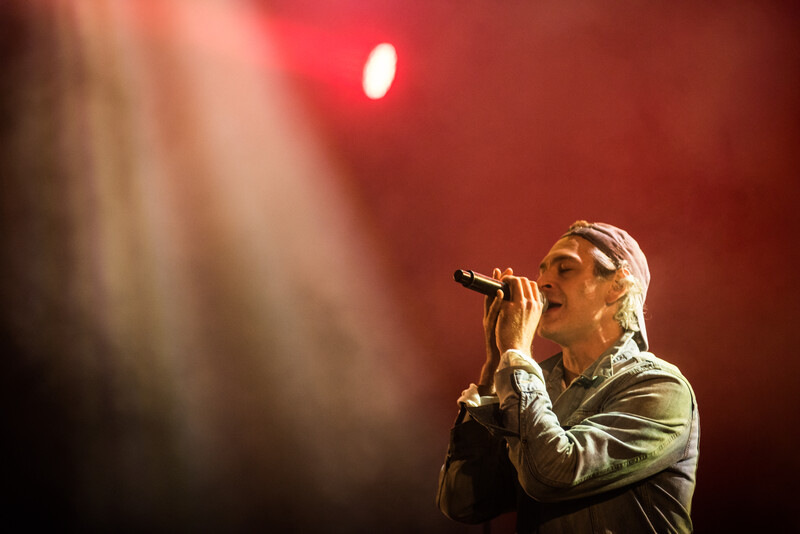 Activists in Spain are facing criminal charges for calling on a music festival two years ago to cancel a performer who has used his celebrity to fundraise for the Israeli army and to support anti-Palestinian causes.
According to media in Spain, the complaint could land at least one of the activists in prison for up to four years because of five tweets he posted in August 2015 criticizing the Rototom Sunsplash music festival for inviting Matthew Miller, the American musician who uses the stage name Matisyahu.
The complaint, which lists nine activists, was filed by pro-Israel lawyers, including Abel Isaac de Bedoya Piquer, who heads a legal group that purports to combat anti-Semitism.
It appears to be the latest attack aimed at the Palestinian-led boycott, divestment and sanctions (BDS) movement by Israel's surrogates.
Omar Barghouti, a Palestinian human rights activist and co-founder of the BDS movement, called the charges "legal intimidation."
"As part of its lawfare against Palestine solidarity in general and BDS in particular, Israel and its lobby groups are working overtime to legally suppress free speech related to Palestinian rights," Barghouti added in an email.
The targeted activists are calling for broad solidarity in the face of what they describe as "a flagrant violation of our freedom of expression and an attempt to criminalize and suppress our democratic right to defend human rights at home and internationally."
They say they face charges of "threat and coercion" and "hate crimes" for "our peaceful campaigning to convince the Rototom Sunsplash Festival to cancel the invitation of an artist based on his track record of defending war crimes and gross violations of human rights, incitement to racial hatred, denial of the existence of the Palestinian people and documented connections to extremist and violent fundamentalist groups."
David Hatchwell, president of the Jewish Community of Madrid, defended the charges against the BDS activists, echoing standard Israeli government talking points accusing them of anti-Semitism.
"The BDS movement, like all anti-Semites, aims to condemn the Jews to the role of helpless victims that was sadly reserved to them through history," Hatchwell told the right-wing Israeli daily The Jerusalem Post, disregarding that the movement's aims are to restore rights violently stripped from millions of Palestinians by decades of Israeli occupation, settler-colonialism, ethnic cleansing and, in Gaza, a suffocating siege that imprisons two million people.
"This time the violent instigators of these anti-Semitic campaigns will suffer criminal sanctions for their actions," Hatchwell said, adding a false charge of violence to his smears about anti-Semitism.
Solidarity call
The legal complaint follows tactics advocated by the Israeli government to pursue and punish supporters of Palestinian rights using all means, including covert "black ops" and lawfare, lawsuits and prosecutions to sabotage and attack activists.
Gilad Erdan, Israel's minister in charge of combating the BDS movement, vowed last year that "Soon, any activist who uses their influence to delegitimize the only Jewish state in the world will know they will pay a price for it."
"We consider the false accusations against us to be part of the much wider, well-funded campaign led by Israel and its lobby groups to demonize or criminalize peaceful campaigning for Palestinian human rights, and in particular the boycott, divestment and sanctions (BDS) movement for Palestinian freedom, justice and equality," the charged activists state.
They are urging supporters to sign on to a solidarity statement.
Attack on free speech
The case against the activists also appears to be part of a flurry of lawsuits by Israel lobby groups aimed at slowing the growth of Palestine solidarity in Spain, where dozens of municipalities have declared themselves "free of Israeli apartheid."
As Israel's campaign against free speech has intensified in recent years, activists around the world have pushed back. As a result, several states – Sweden, the Netherlands and Ireland – have affirmed that BDS activism is protected free speech.
Last October, Federica Mogherini, the European Union's top foreign policy official, told the European Parliament: "The EU stands firm in protecting freedom of expression and freedom of association in line with the Charter of Fundamental Rights of the European Union, which is applicable on EU member states' territory, including with regard to BDS actions carried out on this territory."
"Common sense" boycott
The charges stem from an August 2015 incident, when Miller says organizers of the Rototom Sunsplash music festival in Benicassim, near Valencia, asked him "to write a letter, or make a video, stating my positions on Zionism and the Israeli-Palestinian conflict to pacify the BDS people."
The campaign group BDS Valencia acknowledged it had contacted the festival organizers.
The group said: "The reason for our outrage was clear in our messaging: Miller's repeated defense of Israeli war crimes and gross violations of human rights, incitement to racial hatred and connections to extremist and violent fundamentalist groups in Israel stand in direct contradiction to the human rights and peace principles and spirit of this festival."
Anti-Palestinian groups, including the Anti-Defamation League and the World Jewish Congress, seized on the affair, claiming that Miller had been targeted just because he is Jewish. Under pressure from these groups and from Spain's government, the festival organizers backed down and Miller's performance went ahead.
But in fact, Miller's use of his music and celebrity as Matisyahu to promote anti-Palestinian causes had been clear.
The Palestinian civil society call for cultural and academic boycott targets institutions, not individual artists. But as was argued at the time, BDS Valencia's action followed what PACBI – the Palestinian Campaign for the Academic and Cultural Boycott of Israel – calls a "common sense" boycott.
According to PACBI, individual artists "cannot be exempt from being subject to 'common sense' boycotts (beyond the scope of the PACBI institutional boycott criteria) that conscientious citizens around the world may call for in response to what they widely perceive as egregious individual complicity in, responsibility for, or advocacy of violations of international law (such as war crimes or other grave human rights violations), racial violence or racial slurs."
History of hate
Since August 2015, Miller has been even more explicit in publicly associating himself with Israel's efforts to combat the nonviolent movement for Palestinian human rights.
In November 2015, for example, he headlined a New York gala to raise money for StandWithUs, an anti-Palestinian propaganda group funded by the Israeli government.
But at the time BDS Valencia had contacted the Rototom Sunsplash organizers, Miller's long record of advocacy against Palestinians was already clear. He had, for instance, performed for Friends of the Israel Defense Forces, a group the Tel Aviv newspaper Haaretz describes as "the army's US fundraising arm."
He also performed in April 2015 for the powerful Israel lobby group AIPAC.
Miller had expressed his public support for Israel's May 2010 attack on the Mavi Marmara, killing nine civilian activists and fatally injuring a 10th as the ship sailed in international waters as part of a flotilla to Gaza.
"Do you honestly believe that, if someone was in the English Channel, the British navy would do anything but blow the crap out of the boat, just blow it out of the water?" he told The Jewish Chronicle in June 2010. "But still people are going to think Israel behaved horribly."
In line with some of the most extreme Israeli politicians, Miller has denied the historical existence and identity of Palestinians.
Asked in a 2012 interview with the Cornell Sun, a student newspaper, for his position "on the Israeli-Palestinian conflict," Miller responded: "Well, as far as I understand, there was never a country called Palestine. There was the British occupation, but there was never a government. Palestine was a creation that was created within Israel, as Israel had already come about."
The legal assault in Spain that tries to paint nonviolent activists for human rights as "violent instigators," and Miller as a peace-loving musician ostracized solely because of his religion, is a gross perversion of reality.
Tags