"Why are we so different from other children in the world? Why are we detained when we're young and made to suffer, while others are happy playing sports, and with many opportunities that we don't have?"

Those are the questions that Obaida Akram Abdurahman Jawabra, then 15, asks in the video above.

"To this day, no one can answer me."

At his young age, Obaida had already been imprisoned by Israel repeatedly, an ordeal from which he found it hard to recover. In the film, he's seen working to get his life back on track and build a future.

He was first detained by occupation forces at the age of 14 and detained and imprisoned again the following year.

Israeli forces briefly detained Obaida a third time in April 2019.

Like most of the hundreds of Palestinian children detained by Israel each year, he was accused of stone throwing.

In the video, Obaida's friend asks him if he fears going back to prison again.

"The problem is Route 60 and how to cross it to go to the camp. It's controlled by the [Israeli military]," Obaida replies.

"I like to cook," Obaida says. In the video, he prepares a mouthwatering maqlouba – a traditional Palestinian dish of rice and lamb – for his friends and family.

"I feel freedom but it is not complete freedom," Obaida says about life after Israeli prison. "We first have to be liberated [from the occupation] before I can feel that I am truly free."

Obaida, who grew up in the Arroub refugee camp near the occupied West Bank city of Hebron, will never see that freedom.

On Monday evening, Obaida was shot in the chest by an Israeli occupation soldier during a demonstration near the entrance of Arroub refugee camp.

He was demonstrating on the road he dreaded: Route 60.

The soldier who fired the shot was about 70 meters away from the youth, witnesses told Defense for Children International Palestine (DCIP).

Israeli forces then blocked the entrance to the refugee camp, preventing an ambulance from reaching Obaida. The boy was taken in a private car to a medical center in the town of Beit Fajjar, where he was pronounced dead.

Obaida Jawabra, who was 17, was due to graduate from a vocational cooking course next month. Instead of celebrating that achievement, his family had to bury their son.

"It is becoming shockingly clear to the international community that Israeli forces kill children with impunity," said Ayed Abu Eqtaish, the accountability program director at DCIP.

"Systemic impunity ensures there are no safe spaces for Palestinian children living under Israeli occupation."

Matthew Cassel, the filmmaker who made the video about Obaida for DCIP, paid tribute to the teenager in an Instagram post.

Obaida "spent our few days together asking me more questions than I asked him," Cassel recalled.

"He wanted to become a chef, but surrounded in literally every direction by Israeli military, checkpoints and settlements, even chasing such a simple dream was always going to be a struggle," he wrote.

"My heart goes out to his family, especially to his dear father Akram, who would send me the sweetest messages on holidays long after our meeting," Cassel added.

"He loved his son and wanted nothing more than to watch him grow up away from the occupation."
Lethal Israeli crackdown
Obaida Jawabra is sadly only one of many Palestinians – including at least three children – killed by Israeli occupation forces in the West Bank in recent days.
As Israel's savage bombardment of Gaza has taken the lives of more than 200 Palestinians young and old since it began on 10 May, occupation forces have also been violently repressing Palestinian protests across the West Bank.
At least 22 Palestinians had been killed in the West Bank through 17 May, according to the UN humanitarian coordination agency OCHA.
Almost 5,000 have been injured.
OCHA noted its concern about the "use of excessive force by Israeli forces as well as attacks by Israeli settlers in general and the use of live ammunition against Palestinians in particular."
Occupation forces have also continued to attack Palestinians in Jerusalem, particularly in the neighborhood of Sheikh Jarrah where Palestinians are resisting Israel's plans to forcibly expel a number of Palestinian families to give their houses to Israeli Jewish settlers.
Child killed in Bilin
On Tuesday alone, Israeli occupation forces killed four Palestinians, including a child, and injured more than 200, the majority with live fire, according to the health ministry in Ramallah.

In the village of Bilin near Ramallah on Tuesday afternoon, occupation forces fatally shot 16-year-old Islam Wael Fahmi Dar Nasser.

The teenager was shot in the head with live ammunition during a demonstration near Israel's separation wall that has long been the focus of popular resistance in the village, according to DCIP.

Doctors at the Palestine Medical Complex in Ramallah failed to revive the boy and pronounced him dead that evening.

The separation wall, which cuts deep into the West Bank, "has split the village in two preventing Palestinians living in Bilin from reaching their property," DCIP noted.

Following Obaida Jawabra on Monday, Islam Dar Nasser is the fifth Palestinian teenager to be killed by Israeli occupation forces in the West Bank this year.

Two Palestinians were killed amid fierce confrontations with occupation forces near the northern entrance to the Ramallah-area village al-Bireh, adjacent to the Israeli settlement of Beit El.

They were Muhammad Ishaq Hamid, 25, and Adham Fayez Kashif, 20.

There were reportedly exchanges of fire between Palestinians and occupation soldiers in the area, although there is no indication that the two youths killed near Beit El were involved.

Israel said two of its soldiers were injured by gunfire.

In Hebron's Old City, occupation forces fatally shot 35-year-old Islam Zahida, claiming he attempted to carry out an attack against Israeli armed forces.

The Israeli military claimed that a man armed with explosives, a makeshift Carlo-style submachine gun and a knife "tried to shoot and throw an explosive toward" occupation soldiers, who shot him dead.

No Israeli forces were injured, as in many previous cases in which an alleged Palestinian attacker was killed.
General strike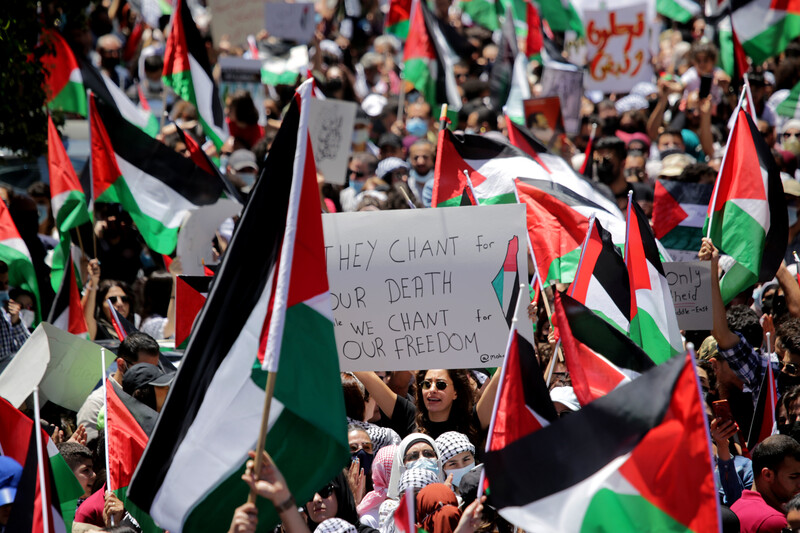 Israel's escalation of its violent repression in the occupied West Bank came as Palestinians across historic Palestine held a general strike on Tuesday.

The widely observed work stoppage – perhaps unprecedented since the 1936 Palestinian revolt during British colonial rule – is seen as a notable turning point as it brings Palestinians in the Gaza Strip, the West Bank and within Israel into a unified front.

If that momentum is sustained, it will mark a significant challenge to Israel's ability to suppress Palestinian rights.

Israel's strategy has for decades relied on fragmenting Palestinians into isolated geographic areas, the classic divide and rule tactic of colonial regimes.

This uprising proves that Palestinian national consciousness remains intact.
Tags