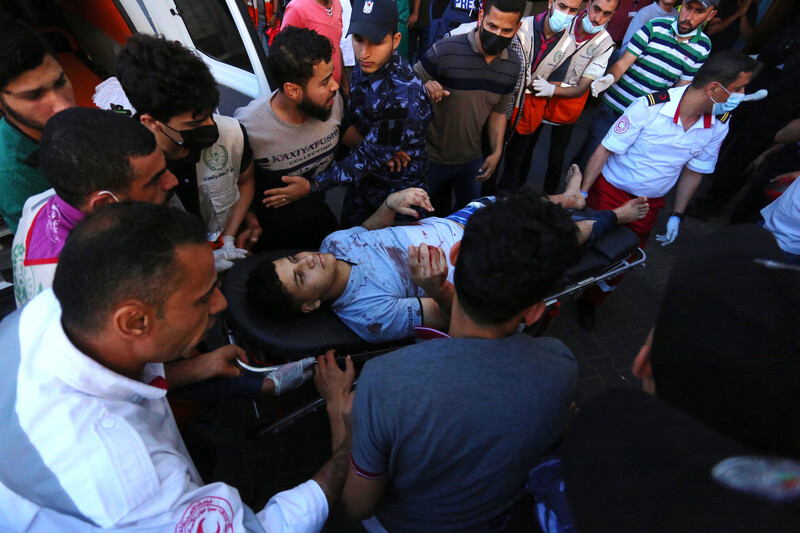 While media reports suggested a ceasefire may be on the horizon late Tuesday, warplanes were unleashing new terror on Palestinians in Gaza as threatened by Israeli leaders earlier in the day.

At least 213 people have been killed in Gaza since last Monday, including 62 children and 36 women.

Some 72,000 Palestinians have fled from their homes amid intensive bombing.

Nearly 47,000 were sheltering at United Nations-run schools across Gaza while the remainder were staying with family, the UN monitoring group OCHA stated on Tuesday.

Palestinians in Gaza, one of the most densely populated places in the world, are facing a massive military offensive amid a global pandemic. Gaza's healthcare system was already on the brink of collapse after 14 years of Israeli blockade and successive military attacks.

United Nations human rights experts raised alarm on Tuesday over the "deteriorating humanitarian conditions in Gaza," particularly in regards to its healthcare system.

"It has been starved of equipment, medicines and trained staff. It is buckling under the ravages of the COVID-19 pandemic. And now, it is trying to treat the more than 2,000 Palestinians injured during this latest violence," the rights experts said.

Only around 2 percent of Gaza's residents have been fully vaccinated against COVID-19 and an Israeli airstrike damaged the only testing lab in the territory, temporarily shutting it down.

In the absence of a ceasefire, OCHA called for a humanitarian pause in hostilities so that "humanitarian staff and critical goods" can be brought into Gaza.

Israel halted the transfer of humanitarian aid on Tuesday, saying that Hamas fighters had fired mortars at the aid caravan.

OCHA said that "only five of the 24 humanitarian trucks scheduled for today entered Gaza."

Israel's narrative of events – and its claim that is "coordinating" the passage of humanitarian aid – should be treated with a healthy dose of skepticism.

UNRWA, the UN agency for Palestine refugees, called on Israel to allow humanitarian staff and supplies into Gaza and said on Tuesday that the agency was "urgently awaiting approval through established mechanisms to cross into Gaza."

Israel has also prevented travel to and from Gaza via Erez checkpoint, Gisha, an Israeli human rights group, said on Tuesday. This includes "the entry of medical personnel, staff of international aid organizations and journalists, as well as the exit of urgent humanitarian cases."

Israel exploited its shutdown of the transfer of humanitarian aid on Tuesday for propaganda purposes, falsely posturing as though it is actively facilitating the transfer of urgently needed aid rather than consistently obstructing it.

"Under international law, Israel must allow passage of humanitarian goods and provide for the needs of the civilian population in Gaza as much as is required," Gisha said while also calling on Hamas to "enable passage of aid."

Humanitarian agencies and human rights groups have been calling on Israel to open Gaza's only commercial crossing since it was closed last Monday.
Thai workers, West Bank Palestinians killed
The death toll in Israel grew to 12 on Tuesday after a projectile fire from Gaza hit a packaging plant, killing two Thai workers in the south of the country.

A domestic worker from India has also been killed by rocket fire since last Monday, as has an on-duty soldier and two children.

Four Palestinians were killed by Israeli forces in the occupied West Bank on Tuesday as millions of Palesitnians throughout historic Palestine observed a general strike in protest of Israel's brutal colonial rule.

One of those killed on Tuesday, Islam Nasser, 16, was shot in the head with live ammunition in the village of Bilin, near the West Bank city of Ramallah, Defense for Children International Palestine reported on Tuesday.
Israeli leaders promise bloodshed
Meanwhile, Palestinians in Gaza braced for the next onslaught as Israeli leaders threatened more bloodshed.
Benjamin Netanyahu, Israel's prime minister, released a prerecorded video on Tuesday showing himself standing in front of an F-16 fighter jet, the kind being used to bring down buildings over the heads of Palestinians in Gaza.
Netanyahu said that Israel would continue to strike Gaza for "as long as needed."
Netanyahu added that "I am certain that all of our enemies around us see the price we are exacting for the aggression against us."
It was a thinly veiled admission of collective punishment as Israel is targeting civilian infrastructure and killing families in their homes.
Benny Gantz, Israel's defense minister, meanwhile said on Tuesday that "no person, area or neighborhood in Gaza is immune."

His statement is both an admission of guilt and a form of psychological terror against Palestinians in Gaza, where people have no safe place to go.

"We have thousands more attack targets that are only further accumulating," Gantz added, saying that "the fighting won't stop until we bring about complete and long-term calm."

It was an ominous warning as Palestinians in Gaza are still reeling from the intensive bombing that Israel has inflicted before.

Matthias Schmale, the director of UNRWA in Gaza, said that Palestinians in the territory are facing "terror from the skies." Israel is killing Palestinian children in Gaza at the same rate as it did in its 2014 offensive and the psychological wounds from previous attacks have not yet healed as fresh ones are inflicted. The Norwegian Refugee Council said on Tuesday that 11 of the 60 children killed in Gaza since last Monday were participating in their programming aimed at helping them to cope with trauma.

"All of the children between 5 and 15 years old were killed in their homes in densely populated areas along with countless other relatives who died or received injuries," the Norwegian group said.

One of the victims was Rafeef Murshed Abu Dayer, 10, who was hit by shrapnel while having lunch with her brothers in a garden of the Ghazi Shawa building in Gaza City on Monday.

The girl's uncle, Ziad Kamel Abdullah Abu Dayer, 45, was also killed during the strike targeting the upper floor of the six-story residential and commercial building, according to Al Mezan, a human rights group in Gaza.

"Several other people were reportedly injured, while a number of international [nongovernmental organization] premises, the office of the Qatari Red Crescent Society as well as a bank housed in the building sustained major damage," OCHA said.

The administrative headquarters of Gaza's health ministry was also "substantially damaged" in the attack, as was a health clinic and the offices of an orphanage, in addition to several shops and homes.

The bombing of the Shawa building and its impact on civilians and essential infrastructure "raises serious concerns over a possible indiscriminate and disproportionate attack under international humanitarian law," OCHA said.

Around 125 residential buildings in Gaza have been targeted over the past nine days, according to Al Mezan, "including six towers – three of which were completely destroyed – with Israel ultimately destroying 402 residential units."

"In addition, hundreds of private properties, as well as tens of governmental sites, schools, banks and mosques have sustained significant damages," Al Mezan said.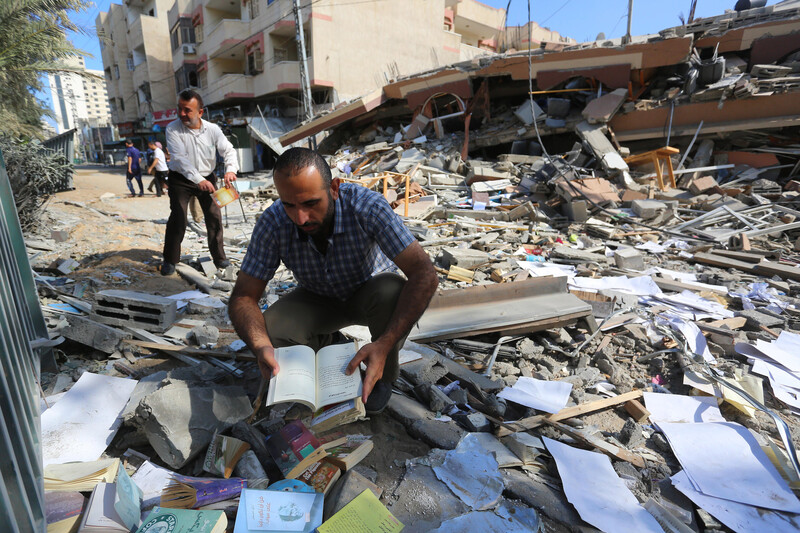 The rights group added that "Israel's airstrikes have also led to the large-scale destruction of power and water networks, as well as thousands of square meters of vital paved roads."
On Monday and Tuesday, Israel attacked a building associated with the ministry of religious affairs in western Gaza City, "completely destroying it," Al Mezan said.
The group condemned "Israel's continued disproportionate use of force and deliberate targeting of civilians and civilian infrastructure as an integral part of its military offensive in Gaza."
Six hospitals and 11 primary healthcare facilities have been damaged, one of them severely, and "one hospital is not functioning due to lack of electricity for the third successive day," OCHA said.
US emboldens Israeli impunity
Al Mezan condemned "Israel's chronic impunity, which has further been emboldened" after the US obstructed a UN Security Council statement concerning Israel's offensive in Gaza on Monday.
In their statement on Tuesday, the UN rights experts, who include the world body's special rapporteur on the human rights situation in the West Bank and Gaza, excoriated the UN Security Council for its "abdication of duty."
They also condemned the US for failing to "employ its special relationship with Israel, with whom it enjoys a close military and diplomatic alliance, to enforce an immediate ceasefire."
"The enemies of accountability are impunity and exceptionalism," the experts added.
"It is folly to expect that the justice, peace, equality and security which both Palestinian Arabs and Israeli Jews have a right to enjoy can be achieved without imposing a meaningful cost on Israel, the occupying power, to fully end its illegal occupation."
Tags