An incident, "the first of its kind," occurred today: UNRWA, the UN agency for Palestine refugees, found weapons in one the hundreds of schools it runs in the Gaza Strip. The school was vacant and the weapons were quickly removed.
It is important to highlight this incident because of how Israel and its apologists are alreading misusing and misrepresenting it to justify Israel's massive and illegal bombardment of civilians and civilian infrastructure in the Gaza Strip.
Over the past eleven days, Israeli attacks have killed more than 220 people, the vast majority civilians.
Approximately fifty of the dead are children and more than 1,500 people have been injured.
Israel has a long history of attacking and misusing UNRWA schools and making false claims about their misuse by Palestinian fighters.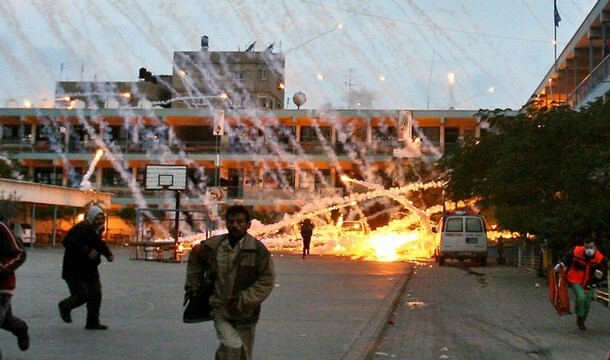 Yet those hyping an isolated incident as vindication of Israel's attacks on civilians are unlikely to tell you that this week UNRWA itself called on Israel "to end attacks against civilians and civilian infrastructure which are contrary to international law."
"First of its kind"
Here's what happened, according to a 17 July press release from UNRWA:
Yesterday, in the course of the regular inspection of its premises, UNRWA discovered approximately 20 rockets hidden in a vacant school in the Gaza Strip. UNRWA strongly condemns the group or groups responsible for placing the weapons in one of its installations. This is a flagrant violation of the inviolability of its premises under international law. This incident, which is the first of its kind in Gaza, endangered civilians including staff and put at risk UNRWA's vital mission to assist and protect Palestine refugees in Gaza.

Immediately after discovery, the Agency informed the relevant parties and successfully took all necessary measures for the removal of the objects in order to preserve the safety and security of the school. UNRWA has launched a comprehensive investigation into the circumstances surrounding this incident.
Middle East Monitor quotes a UN source saying that "those authorities we contacted are under the authority of the national unity government in Ramallah now that Hamas has effectively left the government."
Those authorities "promised to ensure the message was passed to all parties not to violate UNRWA neutrality," the source told Middle East Monitor, "and subsequently, police came to remove the weapons."
UNRWA is right to condemn the use of a school in this manner and to stress "the neutrality of all its premises, including a strict no-weapons policy and routine inspections of its installations, to ensure they are only used for humanitarian purposes."
False claims about UNRWA schools
UNRWA, in its swift and forthright condemnation of the weapons find, states that this incident is "the first of its kind." But Israel and Israeli media have often falsely claimed otherwise.
In October 2012, for instance, UNRWA forcefully refuted false Israeli media claims that rockets had been fired from UNRWA schools during Israel's 2008-2009 "Operation Cast Lead."
At that time, UNRWA stated:
"We heard this misinformation during the war when there was shelling on and around the Agency's schools and our main warehouse in Gaza," said UNRWA Spokesperson Chris Gunness, "but Israeli officials made it clear to the UN during the war itself that they knew claims about militants in UNRWA installations were completely false. Constant, unchecked repetition of this misinformation has been very damaging to the Agency and has produced some very poor and biased journalism, which I will continue to confront. This is the third time in just a few months that a major news organisation has issued a public retraction because of false information about UNRWA."
Just a month after this statement, during Israel's November 2012 bombardment of Gaza, UNRWA condemned Israeli "creation" of footage and tweets falsely alleging rocket fire from an UNRWA school.
Following these protests, the Israeli army took down a fabricated video animation it had posted online.
Bombing schools
In the past day alone, three UNRWA installations were damaged – a health clinic and a boys school in Rafah, southern Gaza Strip, and a girls school in Khan Younis.
According to UNRWA's 16 July situation report, 58 UNRWA installations have been damaged since 1 June, the vast majority of them schools.
The fact that schools are so vulnerable even when children are not there is a serious problem because the schools also serve as emergency shelters.
As of today, the UN reports, more than 22,000 people who have fled Israeli shelling or threat of attack in northern and eastern parts of Gaza are sheltering in 24 UNRWA schools.
In total, the UN reports that 81 schools (UNRWA and governmental) have been damaged by shelling in Israel's current offensive.
Massive destruction
The most recent damage to schools is sadly nothing new either.
A 2009 report (PDF) by Oxfam, Amnesty International and 14 other European human rights and aid agencies stated about Israel's 2008-2009 "Operation Cast Lead":
During the military offensive, 18 schools were destroyed, (including eight government schools, two private schools and eight kindergartens) and at least 280 were damaged. Six of the destroyed government schools were in North Gaza alone, affecting almost 9,000 students who had to relocate to other schools.
During the attack, according to the report, 164 students and 12 teachers from government schools were killed during the military offensive.
A further 454 students and five teachers were injured. Eighty-six children and three teachers from UNRWA schools were killed and a further 402 students and 14 teachers were injured.
What this means is that with 18 schools destroyed and 280 damaged – 46 percent – almost half – of all schools in Gaza were hit by the Israeli army.
Children were so traumatized and afraid to return to school that UNRWA had to put in place special therapeutic programs.
The schools, in addition to being damaged, could not be easily repaired, or provide basic supplies such as textbooks, because of Israel's ongoing siege of Gaza.
Violating UNRWA schools
In addition to massive military destruction, Israel has a long history of violating UN schools.
A few examples include shooting and killing students at their desks, misusing schools as detention and interrogation centers and military bases and tear-gassing students.
An isolated incident, quickly condemned and handled by UNRWA, cannot become a justification to obscure Israel's record of attacks on civilians, including on schools, children and teachers.
Tags