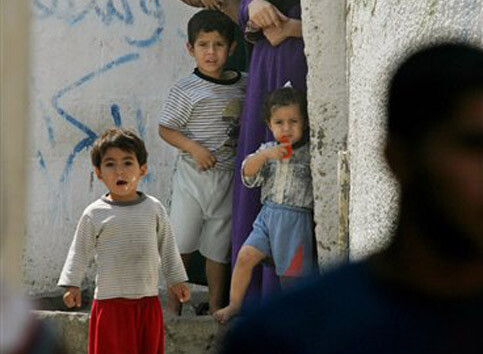 A child sitting in the classroom of an
UN
-flagged school has been struck in the stomach by gunfire from an Israeli position in the Gaza Strip. This is the fourth such incident in under two years, last month an 11-year old girl died after being hit at her desk in Khan Younis.
At 10:45hrs this morning, two shots were heard from the direction of an Israeli army position on the border of the Gush Katif settlement block and overlooking Khan Younis refugee camp. One of the shots hit Ghadeer Jaber Mokheimer, a grade five pupil at UNRWA's Co-Ed Elementary D School.
Ghadeer was immediately taken to hospital and into emergency surgery. Her condition is currently reported as stable.
On September 7 this year, 10-year old Raghda Adnan Al-Assar was struck in the head by an Israeli bullet while sitting at her desk in UNRWA's Elementary C Girl's School in Khan Younis camp. She never regained consciousness and died on 22 September.
On June 1 this year, two ten-year old boys in UNRWA's Al-Umariye Elementary Boys' School in Rafah were hit by a bullet and ricochets from a Israeli tank stationed on the sand dunes opposite the school.
In March 2003, 12-year old Hoda Darwish was sitting at her desk when she was hit in the head by a bullet fired from an Israeli observation post on the outskirts of Khan Younis. The bullet struck her head and left her blind.
UNRWA has repeatedly called on the Israeli authorities to stop firing at schools. Israel routinely denies that its soldiers have been involved, or invokes the security requirements of its positions. Peter Hansen, UNRWA's Commissioner-General has demanded that such shootings must stop.
Related Links
Girl's life ended by Israeli bullets, Sami Abu Salem (25 September 2004)
10-year old girl hit in

UNRWA

classroom by Israeli gunfire,

UNRWA

(7 September 2004)