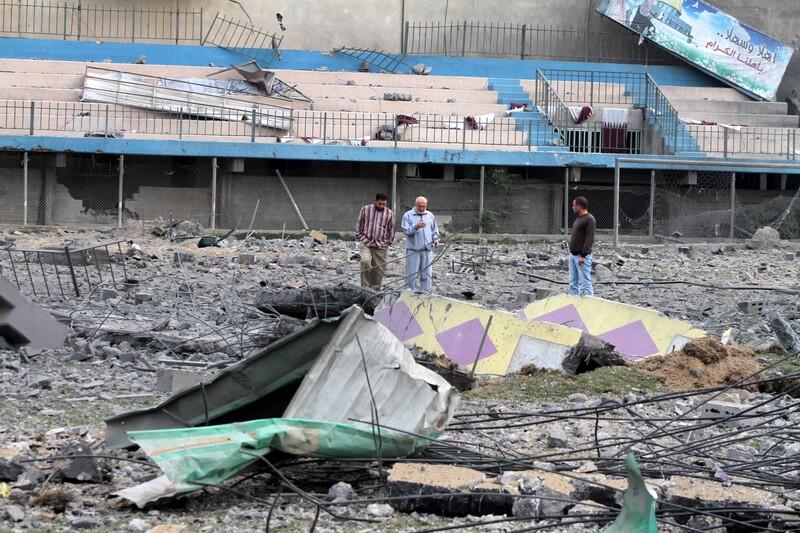 World football boss, FIFA President Sepp Blatter, is feeling pressure over the 2013 UEFA Under 21 tournament scheduled to be hosted by Israel, though he thinks the tournament will go ahead.
There has been growing opposition to allowing Israel to host the tournament, including from top world players, following Israel's November attack on Gaza which killed more than 170 people and injured more than 1,200.
Blatter also promised that FIFA would help rebuild the Palestine Stadium in Gaza City that was badly damaged in the Israeli attacks.
The FIFA boss made the comments in an interview on the 21 December edition of the World Football program on the BBC World Service.
"It's not a question of money here, it's really a question of heart and soul of football," Blatter said about the Gaza stadium, noting that the recent attack, although more devastating, was the second since 2008.
"I'm very much touched because I think let people play football because football is connecting people and football is giving hope. So therefore to destroy something which has been done for football hurts me personally," Blatter added.
"My immediate reaction was to send them [Palestinians] a letter saying 'we will rebuild that,'" Blatter revealed, and "with the help of the other entities we can rebuild the playing field."
Feeling pressure over U21 in Israel
In an indication that its attacks on Palestinian sports are becoming a global problem for Israel, World Football's James Montague asked the FIFA president:
There is the big issue that for instance Israel will be hosting the [UEFA] Under 21 European championship next year and I think many people would see putting the two next to each other – football stadiums being bombed in Gaza and then hosting… being allowed to host a tournament don't quite fit together.
Although World Football described him as "confident," Blatter's answer actually sounded vague:
Listen, football is also hope, and I'm sure the basic element, the basic essence of our game to bring people together. I'm sure until next year, the situation will be clarified there, I'm sure, and football is stronger, stronger than all other movements in the world. We cannot be a guarantee for peace but what we can do is to prepare a better future and we will try to do it, and I'm sure UEFA will try to do it also when they play the Under 21 in Israel, so I'm sure… My opinion there will be a very good solution to play there and to make any movements' help or whatever toward the Palestine population.
Blatter's final comment may have been a reference to the severe restrictions Israel places on the movement of Palestinians, which would make it all but impossible for Palestinians to attend matches.
Palestinian football officials have already rejected a similar assertion by Michel Platini, the president of European football federation UEFA, that a tournament in Israel would "bring people together" given Israel's apartheid-like restrictions, and urged that the tournament be moved.
Earlier this month, dozens of top football players, many from English Premier League and first division teams in Europe, condemned Israel's recent attacks on Gaza, including the killings of Palestinian teens while playing football, and UEFA's decision to hold the Under 21 tournament in Israel.
This has followed calls from Palestinian clubs and athletes including star footballer and ex-prisoner Mahmoud Sarsak for UEFA to strip Israel of the tournament.
FIFA's Blatter has himself been among prominent world football figures who criticized Israel's treatment of Mahmoud Sarsak, who was released earlier this year after a gruelling three-month long hunger strike against his three-year detention by Israel without charge or trial.
Tags