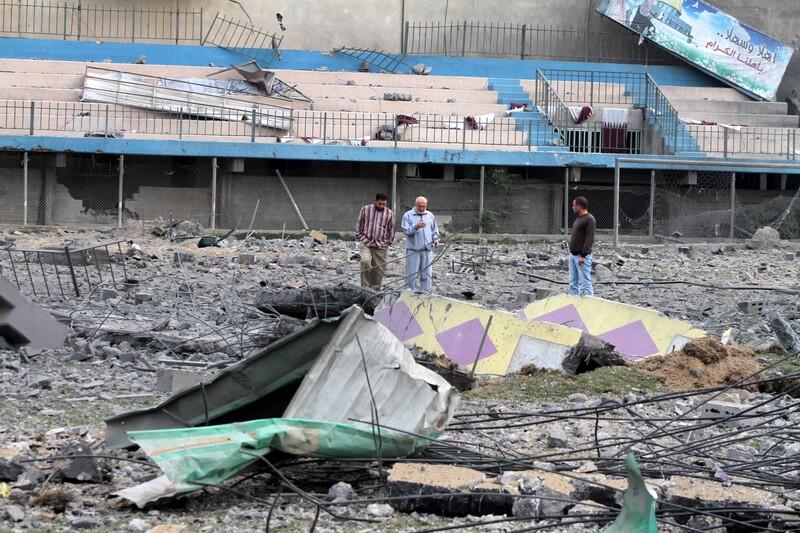 Amid the widespread destruction and horror of Israel's slaughter of 162 persons – the vast majority unarmed civilians – in Gaza between 14-22 November, the news that it also destroyed the headquarters of Palestine's National Paralympic Committee and other sports infrastructure in Gaza has almost gone unnoticed.
On 21 November, the official website of the International Paralympic Committee reported this news:
On Monday morning (19 November), the office of the Palestinian Paralympic Committee in Gaza was exposed to heavy shelling that destroyed the building and infrastructure of the nation's Paralympic headquarters.

The Palestine Stadium and accessible Palestine Sports building were fully destructed. The sports facilities were both used by athletes who trained for the London 2012 Paralympic Games and athletes with an impairment who live close to the Gaza strip.
An Israeli army spokeswoman claimed via Twitter, without providing any evidence to substantiate her statement, that rockets were fired from the stadium three days before Israel bombed it. If true, Israel's attack would not have been defensive by any definition, but a punitive revenge attack. However, Israel made no such claim to attempt to justify the destruction of the Paralympics HQ, and Israel has systematically targeted other civilian infrastructure.
Throughout the eight-day bombardment, Israeli ministers and public figures made numerous statements that the intention of the attack on Gaza was to punish the civilian population. Interior minister Eli Yishai, for example, said that the "goal of the operation is to send Gaza back to the Middle Ages." Destroying police stations, public buildings, roads, bridges and sporting facilities is a good way to do that.
Israel's destruction of Palestinian sporting facilities, not for the first time, like its targeting of athletes, underscores the urgency of Palestinian calls to pull major international sporting tournaments from Israel.
Palestinians: Withdraw 2013 and 2015 UEFA tournaments from Israel
In a June letter to Michel Platini, president of the European soccer governing body UEFA, dozens of Palestinian football clubs, managers, players and other Palestinian sporting figures based in Gaza urged UEFA not to "reward Israel for its violent repression of Palestinian rights."
In October, Palestinian footballer and ex-prisoner Mahmoud Sarsak urged UEFA to withdraw from Israel the men's under-21 European Championship and the women's under-19 European Championship that are due to take place there in 2013 and 2015 respectively.
"Israel works endlessly to repress Palestinian football, just like it does many other forms of Palestinian culture," Sarsak wrote, adding, "Israel does not behave like a normal state where citizens can play sport freely. Why then, should it be granted the honor of hosting the UEFA U21s championship in 2013, or the women's U19s in 2015?"
Sarsak also took the UEFA boss to task:
Platini has cruelly stated that the 2013 tournament will "be a beautiful celebration of football that, once again, will bring people together." But by allowing Israel to host it, UEFA is legitimising Israel's continued occupation, oppression and apartheid policies. There can be no place in football for segregation and oppression so prestigious tournaments cannot be allowed to take place in Israel.

I call on all those who spoke out for my release and the release of the Palestinian hunger strikers, to once again show their commitment to justice and equality by insisting that UEFA move their competitions away from Israel.
While Sarsak was on the gruelling three-month long hunger strike earlier this year that forced Israel to release him, he gained significant support from international football and sporting figures and bodies including FIFPro, professional footballers past and present such as Eric Cantona and Frédéric Kanouté, and even FIFA boss Sepp Blatter.
Sporting boycott is the right response
Sarsak is right. What "normal state" would shell and destroy the Paralympic headquarters and sporting facilities of any nation? Given the scale of the destruction and the fact that Israel insists that all its attacks are "precision" and "surgical strikes," we must assume its latest targeting of sporting facilities was intentional.
And given the number of Palestinians – tens of thousands over the decades – who live with disabilities as a direct result of Israeli violence, the importance of developing Paralympic infrastructure in Palestine cannot be overstated.
Now, more than ever, it is time to make Israel pay the cost of these crimes, and redouble efforts to hold it accountable. A sports boycott, as part of the growing boycott, divestment and sanctions (BDS) movement, is one way to do that and has never been more timely or appropriate.
As for UEFA boss Michael Platini, he has so far ignored appeals from Palestinian atheletes and civil society.
Tags