Mahmoud Sarsak, the Palestinian national footballer player who gathered worldwide attention with a three-month hunger strike that brought him to the brink of death, is to be freed by Israel on 10 July, the Associated Press quoted his lawyer as saying today:
RAMALLAH, West Bank—A lawyer for an imprisoned Palestinian soccer player who has been on a hunger strike for more than three months says his client has agreed to resume eating and will be released July 10 in a deal with Israel.

The attorney, Mohammed Jabareen, spoke Monday after the deal was struck at an Israeli prison clinic. Israeli prison officials could not be reached for comment.

The soccer player, Mahmoud Sarsak, has been held by Israel for nearly three years without charges or trial. Israel claims he was active in the violent group Islamic Jihad. Sarsak denies the allegations.
Ma'an news agency added that after the deal was signed, Sarsak broke his strike with a piece of chocolate:
Mohammad Jaberein said al-Sarsak signed the agreement during his visit to the prisoner on Monday. Israeli prison authorities asked al-Sarsak to eat something in their presence to ratify the deal, after which he took a piece of chocolate from the lawyer, Jaberein said.
Last week, Sarsak, who was critically ill and near death, had agreed to take milk for a few days to allow time for Israel to reconsider his demands.
Reasons for caution
If the reported deal is implemented, it would mark a major victory for Sarsak, who despite never being charged with any crime, has been maligned in the media as a "terrorist" by Israeli officials.

There are reasons for caution, however. Even if a deal has been struck, Israel has been reneging on an agreement ended a month-long mass Palestinian hunger strike in May.

Moreover, there is no word on Akram Rikhawi who is on his 68th day of hunger strike, and who was already in poor health.
Global Solidarity
In recent weeks, Sarsak, 25, gathered worldwide attention and support, including from top athletes Fréderic Kanouté and two dozen other athletic stars, football legend Eric Cantona and FIFA President Sepp Blatter, and FIFPro, the international association of professional football players.
Cantona, and other prominent international figures, even called on UEFA to reconsider its decision to allow Israel to host the 2013 Under 21 tournament.
Grassroots support continues
While the high-level support undoubtedly helped raise the pressure on Israel, grassroots actions have helped keep Sarsak's struggle in the public eye, despite a dearth of international media attention.

Among the latest solidarity actions, fans in Edinburgh cheered loudly for Sarsak at a Scotland-Israel Euro 2013 women's football qualifier. As Scotland thrashed Israel 8-0, the fans waved Palestinian flags and banners and shouted "Free Mahmoud Sarsak" and "Free Palestine," video shows.

Other solidarity actions have taken place in Casablanca and in the French city of Bordeaux where solidarity protestors demonstrated and played football inside a Carrefour supermarket that sells Israeli goods.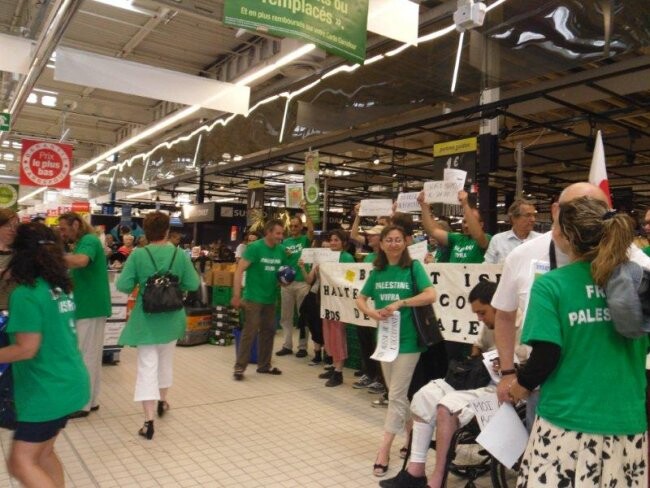 Israeli military refuser joins hunger strike
Meanwhile, an Israeli army reservist in jail for refusing to serve in the army, has launched his own hunger strike in solidarity with Palestinian prisoners, Haaretz reported:
An Israel Defense Forces reserves soldier, who has refused to partake in army duty to protest Israel's occupation of the Palestinian territories, has gone on hunger strike in military prison, in what he said was a show of solidarity with Palestinian administrative detainees.

Yaniv Mazor, a 31-year-old Jerusalem resident, was sentenced last week to 20 days in jail over his refusal to fill any position, be it combat or otherwise, in what he said was the occupying army. He was transferred to the IDF's Tzrifin prison on Monday, launching his hunger strike the following day.

In a phone conversation with his attorney Michael Sfard on Friday, Mazor said that he had "become appalled over the last few months by the hunger strike initiated by Palestinian administrative prisoners, but I couldn't do much about it."

"I decided to start a hunger strike in solidarity [with the Palestinians], and in order to raise awareness on the issue of administrative detention, and not to prompt my own release," Mazor added.
Tags