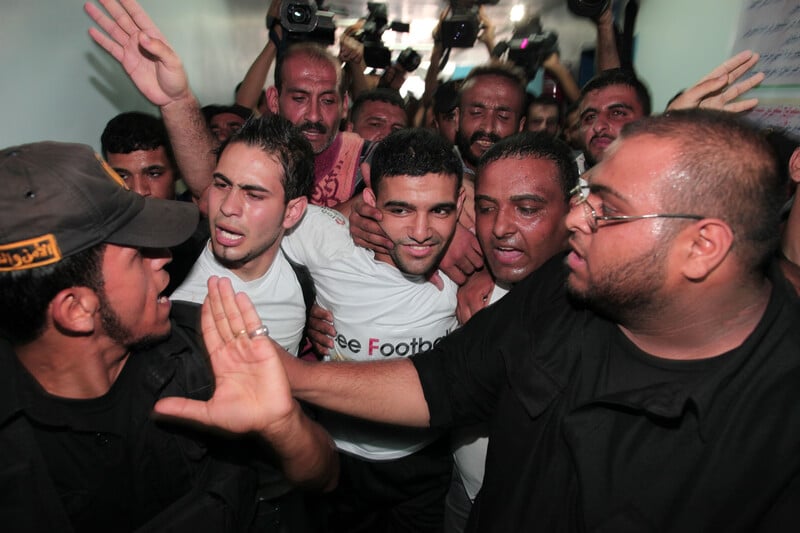 A call by Mahmoud Sarsak
Mahmoud Sarsak is a Palestinian footballer who has played for the Palestinian national team. He was released from prison by Israel in July after three years of detention and 92 days of hunger strike that was supported by people of conscience all over the world, including prominent football figures. In this appeal, he calls for action to pressure UEFA to strip Israel of the right to host major football tournaments. The men's under-21 European Championship and the women's under-19 European Championship are due to take place in Israel in 2013 and 2015 respectively.
On July 10 of this year I was released after three years of imprisonment by the Israeli occupation forces and 92 days of hunger strike. The mobilization by people of conscience around the world and the statements and comments by footballing organisations like FIFPro, professional footballers past and present such as Eric Cantona and Frédéric Kanouté, senior football figures such as Sepp Blatter and other notable public figures, were both inspiring and immensely helpful in keeping the pressure on Israel and a major reason behind my eventual release.
I would like to offer my deepest, heartfelt gratitude to all those who spoke out against the inhumane treatment of Palestinians at a time when I and other hunger striking Palestinian political prisoners needed it most.
However, the arbitrary detention, abuse and torture of Palestinian political prisoners continue. Prisoner rights organisations have particular concerns about three who are on extended hunger strike - Samer Al-Barq, Hassan Safadi and Ayman Sharawna.
Israel works endlessly to repress Palestinian football, just like it does many other forms of Palestinian culture. Palestinian league player Mohammed Sadi Nemer and goalkeeper Omar Khaled Omar Abu Rowis were detained in February this year and remain in prison.
Football players Ayman Alkurd, Shadi Sbakhe and Wajeh Moshate, as well as over 1,400 other Palestinians in Gaza, were killed and the Rafah National Stadium was destroyed during Israel's 2008-09 onslaught on Gaza.
Israel does not behave like a normal state where citizens can play sport freely. Why then, should it be granted the honor of hosting the UEFA U21s championship in 2013, or the women's U19s in 2015? As stated in a letter from Gaza sports clubs to UEFA president Michel Platini, we must not "reward Israel for its violent repression of Palestinian rights".
Platini has cruelly stated that the 2013 tournament will "be a beautiful celebration of football that, once again, will bring people together." But by allowing Israel to host it, UEFA is legitimising Israel's continued occupation, oppression and apartheid policies. There can be no place in football for segregation and oppression so prestigious tournaments cannot be allowed to take place in Israel.
I call on all those who spoke out for my release and the release of the Palestinian hunger strikers, to once again show their commitment to justice and equality by insisting that UEFA move their competitions away from Israel.
The cultural and sporting boycott and other forms of boycott, divestment and sanctions (BDS) were vital in the fall of the South African apartheid regime, and similar initiatives will be vital to ending Israeli apartheid.
Mahmoud Sarsak
Source: BDSMovement.net
Tags