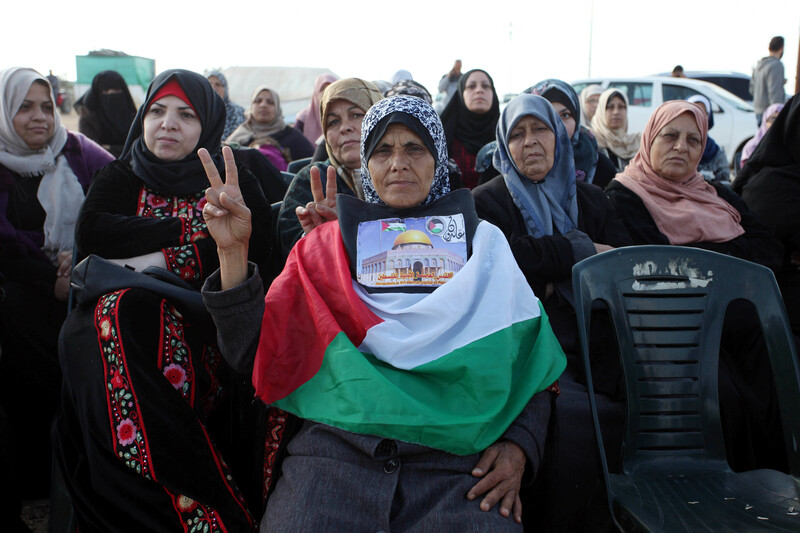 Islam Khreis has thrown quite a few stones at Israeli troops lately.
"These are historic days," the 28-year-old Gaza resident said. "We are telling the whole world that we have never forgotten our legitimate right of return to our stolen villages and towns."
Stone-throwing is a simple act of resistance for Palestinians. It is a symbolic way of confronting one of the most militarized nations on earth.
It has been a tactic used by some participants in the Great March of Return – protests demanding that Palestinians be allowed home to villages and towns from which Zionist forces expelled them in 1948.
Although photographs of Palestinians launching stones from slingshots tend to show young men, Khreis was among a number women who did so. In fact, she was active across the spectrum. She helped provide first aid to protesters wounded by Israeli snipers, and, as a journalism student at Al-Aqsa University in Gaza, she also conducted interviews with protesters, though, as one unaffiliated, she did so without the protection of any special markings on her clothes.
Khreis feels a sense of camaraderie with men who have ventured close to the boundary separating Gaza and present-day Israel. More than 100 unarmed demonstrators have been killed by Israel since the Great Return March began on 30 March.
"My heart breaks when I see the young men falling on the ground after being hit by the Israeli snipers' bullets," Khreis said. "This is the result of the unfair blockade being imposed on Gaza. If those young men had decent jobs, good education, basic services and freedom of movement, they would not have to walk towards their own deaths."
Of course, many women and girls have also been injured during the protests.
One teenage child, Wesal al-Sheikh Khalil, was killed as she took part in demonstrations on 14 May. And in early June, the 21-year-old nurse Razan al-Najjar was shot dead as she was helping evacuate and treat the wounded.
"Clear message"
Mariam Mattar, 16, was shot in the leg during a recent protest. She was carrying a Palestinian flag at the time.
"I lost consciousness," she told The Electronic Intifada. "When I woke up, I was in a hospital bed."
Despite her injury, Mattar fully approves of the protests. "We want to deliver a clear message to the whole world," she said. "The Palestinian people yearn for a day when they will be able to return to their homes. We hope it will come soon."
Israel's widespread use of tear gas – a chemical weapon that in Gaza was sprayed on protesters from drones – has affected many women, too.
Amani Abu Jidian has gone to recent demonstrations – usually held on Fridays – with her children.
"My two sons have insisted on going every Friday," she said. "I know it is dangerous, so to make sure that they remain safe and not get too close, I have accompanied them as they approached the boundary. I have kept watching them."
On 11 May, Abu Jidian was inside one of the tents erected in support of the protests when it was attacked by tear gas.
"I felt like I was suffocating," she said.
Teaching traditions
Even though the tents do not provide any real protection, they have proven to be important gathering places.
Maryam Abu Zubayda, 63, has been making meals for protesters distributed in the tents. These have included traditional dishes like maftoul – Palestinian couscous – and sumaghiya, a beef and chickpea stew.
While visiting the tents, she has been singing national songs and embroidering, all in support of those demonstrating.
"This is a great way for me to spend time with my friends," she told The Electronic Intifada. "And, at the same time, we are doing a good job of teaching our traditions to the younger generation in order to preserve them for the future."
Maryam has brought her 7-year-old granddaughter Farah to a tent on some of those days. By going there, Farah has learned songs such as "Zareef al-Tool," a lament for the towns and villages that Palestinians were forced to leave in 1948.
"I like it when I have finished my lessons and my grandmother agrees to take me with her to the tent," said Farah. "I enjoyed my time there a lot."
When Israel has attacked the protests, women have treated the wounded. The killings of Razan al-Najjar and, before her, Mousa Abu Hassanein have highlighted the risks medics face.
Anwar Mohammed, a 26-year-old nurse, has given first aid to protesters who have been shot.
"Our job has been so challenging over the few past weeks," she said. "We've dealt with a very large number of casualties."
Mohammed has worked from a field hospital but on occasions was asked to approach the boundary to provide emergency assistance.
"The pressure and stress we are under has been huge, particularly during the Friday protests," she added.
The bravery she has displayed has earned her considerable respect.
"It was something new for the protesters to see female nurses at the frontlines," she told The Electronic Intifada. "We were exposing ourselves to danger and helping to save lives. But it did not take the protesters long to get used to us. They listened to our instructions and obeyed them."
Isra Saleh el-Namey is a journalist from Gaza.
Tags