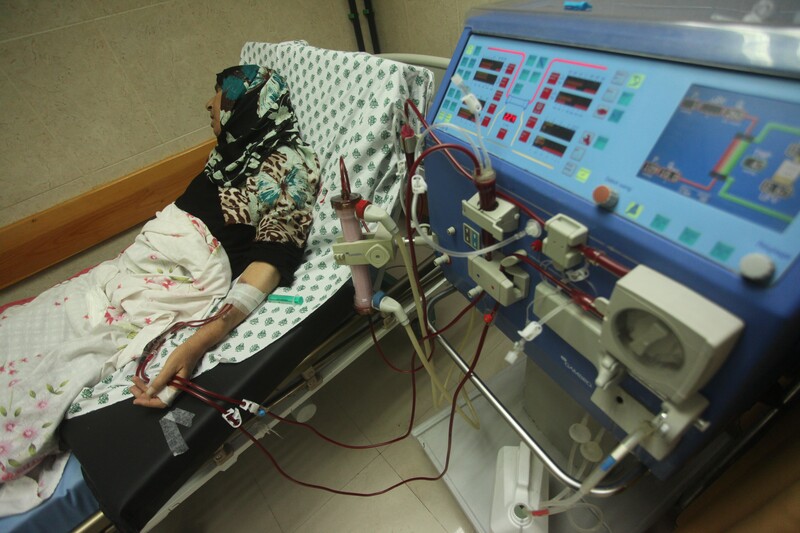 Nabeel Muhammad's job would be demanding under any circumstances. He is a nurse working with seriously ill patients. The difficulties that he faces have been multiplied by a power crisis in the Gaza Strip.
"The machines in the intensive care units do not work without electricity," he explained. Incubators for premature babies in al-Aqsa hospital in central Gaza, where he is based, have even been affected.
The problems besetting this hospital illustrate how it has been under constant attack by one means or another for many years. In July 2014, it was shelled during Operation Protective Edge, Israel's 51-day bombardment of Gaza. The power cuts that imperil the provision of basic services across Gaza have occurred repeatedly since Israel bombed the Strip's only power plant in 2006.
Zauhdia Attia — also known as Um Waleed — receives treatment for a kidney complaint at the same hospital. The 56-year-old is supposed to undergo dialysis four or five times a week, she said.
"The number of machines in the hospital is few," she added. "And during a power cut only one or two machines can be operated for more than 100 patients — using a small generator on our ward."
The crisis has been especially acute since Egypt closed tunnels between it and Gaza in 2013. Those tunnels were used to smuggle fuel on which the people of Gaza depended.
Patients in danger
Fluctuations in power supply have caused sensitive machines in hospitals to malfunction, according to the United Nations monitoring group OCHA.
Emad Saleem, a doctor at the European Hospital in Rafah, a city in southern Gaza, said that everyday activities like checking heart rates, blood pressure and body temperatures can be a major ordeal. "When power is off, patients with diabetes and with chest problems are in danger," he said.
Storing medicines in the required conditions has also become challenging. "We face problems in keeping drugs at the proper temperatures," said Duaa Zuhair, a nurse at al-Shifa Hospital in Gaza City.
Blackouts have lasted for 12 to 16 hours per day — sometimes longer. On occasions, the only time electricity has been available was in the middle of the night.
Because they do not know when they will have power, the people of Gaza have to be extremely flexible when performing daily routines.
Factories face closure
Iman Mueen was about to leave her home in Maghazi, a refugee camp in central Gaza, to buy groceries for her family when power finally returned after 18 hours of outage. She therefore decided to do some housework instead.
"Shopping can wait," the mother of three said. "I will stay at home to make bread and do the laundry. Electricity is rare these days so a housewife should make the most of it."
Businesses have been hurt, too. The factories of Gaza have reduced production by one-fifth because of the crisis. The Palestinian General Federation of Trade Unions has warned that 90 percent of Gaza's factories may have to close unless the situation improves.
Nehad Telbany owns a supermarket in Maghazi. "I've lost a lot due to this crisis," he said. "I had bought huge quantities of frozen meat and fish to sell to my customers. It did not occur to me that we would not have electricity for so many hours every day."
Since the tunnels linking Gaza to Egypt were closed, Palestinians in Gaza have been at the mercy of Israel for fuel supplies.
As the occupying power, Israel is obliged under the Fourth Geneva Convention to meet the basic needs of people living under its rule. Yet Israel has refused to meet such obligations.
In a bizarre twist, the Palestinian Authority in the occupied West Bank has assumed responsibility for delivering fuel from Israel to Gaza. Deliveries are conditional on the Hamas-led administration in Gaza paying taxes to the Fatah-dominated PA in Ramallah.
The latest power cuts were prompted by the inability of the Gaza administration to pay taxes levied by the PA.
Around 5 million shekels ($1.25 million) in tax has subsequently been transferred to the PA, as a result of aid to Gaza from Qatar. Yet the amount of fuel delivered to Gaza as a result is reportedly sufficient for little more than a month.
The improvement has been slight. In recent days, the power supply has followed a pattern of six hours on, 12 hours off.
Clearly, this will not solve the underlying problems facing Gaza's doctors and nurses. For them, the crisis continues.
Isra Saleh el-Namey is a journalist from Gaza.
Tags