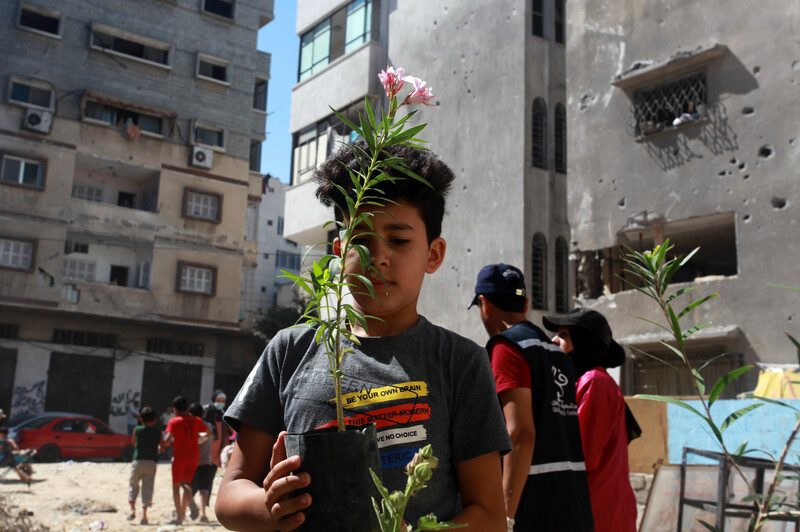 Ahmad is 8.
At that age, children can feel increasingly confident, their creativity can blossom, they can become more aware of what is happening in the world.
Over the past eight years, Ahmad has been exposed to a world of both horror and joy. He has already lived through two large-scale Israeli attacks on Gaza: one in the summer of 2014, the other in May this year.
On 15 May, Israel bombed the Abu Hatab family's home in Beach refugee camp without warning. Of the 10 people killed in that incident, two were mothers and eight were children.
Ahmad was a neighbor and friend to some of those children. He cannot understand why they were wiped out so violently.
"We used to play together in the yard," he said. "We played football and hide and seek. Why will we never see them again?"
Both during and after the May attack, Ahmad has encountered trouble sleeping at night. When he gets to sleep, he often has nightmares.
Triggering painful memories
The term "post-traumatic stress disorder" is widely used to describe the psychological effects of war or disaster. Yet the term may not be applicable to Palestinians who have been attacked repeatedly and oppressed without pause for many decades.
Dr. Yasser Abu Jamei from the Gaza Community Mental Health Programme points out that each Israeli attack triggers painful memories of previous attacks. Healing thereby becomes more difficult.
"Gazans are not in a post-traumatic condition but in an ongoing condition that needs deeper attention," he wrote during the May offensive.
In 2020, the Gaza Community Mental Health Programme assisted more than 3,200 children, according to Abu Jamei.
"It is two months since Israel's latest attack ended," he told The Electronic Intifada. "We don't yet have the final figures for how many children we are assisting because of that attack. But I can tell you that the numbers are big. And they will be bigger than those for last year."
There has been a discernible increase, he confirmed, in problems associated with childhood stress since the May offensive. Such problems include hyperactivity, disobedience toward parents, nightmares, aches in joints and panic attacks.
The Euro-Mediterranean Human Rights Monitor states that before the May attack, approximately 33 percent of Gaza's children required support because of trauma resulting from previous Israeli violence. The proportion of children who are traumatized has risen to more than 90 percent following the May offensive.
Israel killed 63 children during the attack. Eleven of those children had been receiving psychological support from the Norwegian Refugee Council.
Muhammad, 11, vomited frequently in the two weeks after the May attack. His weight dropped considerably.
"The area near us was bombed very heavily," said Muhammad's father. "My son was terrified. He started to deteriorate gradually."
As a result of trauma care, Muhammad's health has subsequently improved.
Sharing fears
Dr. Sami Owaida from the Gaza Community Mental Health Programme has counseled Muhammad. Encouraging children to express themselves is vital, Owaida noted.
"We notice sometimes that children avoid speaking about the traumatic experiences that they went through," he said. "Our task is to urge them to speak about their experiences and to share their fears. We have to respect children's thoughts and feelings so that we can dispel their fears."
Reaching out to their mothers or fathers for comfort is literally impossible for some. More than 240 children lost one or both parents during the May attack, according to the Euro-Mediterranean Human Rights Monitor.
Turning to teachers is not a viable option in many cases, either.
Schools in Gaza remain closed because of the COVID-19 pandemic. This situation makes dealing with trauma all the more difficult.
"Children need to spend time together," said Owaida. "In school, they are with their peers. They can talk and express themselves better for that reason."
The importance of having a good time cannot be exaggerated for traumatized children. Much therapy is based on enabling children to have fun.
"Children need to play," said Owaida. "That is how they release the negative energy inside them."
Isra Saleh el-Namey is a journalist from Gaza.
The names of children mentioned in this article have been changed to protect their identities.
Tags