Basma Abu Shihab has one major wish: to see her father before he dies.
Lacking the required identity documents, Basma has been unable to visit him since she moved to Gaza in 1999.
Her father lives in Jordan.
Now in his seventies, he has a number of health problems. Basma learnt in the recent past that he lost much of his eyesight.
"I do not want to receive any more shocking news while being trapped here," said Basma, 45. "All I want is to meet up with my family again. Being separated from them is a living hell."
Her predicament is shared by many others. More than 5,000 people living in Gaza do not have ID documents enabling them to travel abroad, according to a report published earlier this year by the Euro-Mediterranean Human Rights Network.
Although Basma is a Palestinian refugee now living in Gaza – where she has married and brought up children – Israel will not recognize her as a Palestinian living under its military occupation. Israel has refused such recognition to large numbers of Palestinians who were not physically present in the West Bank (excluding East Jerusalem) or Gaza during a September 1967 census.
Painful
Not being included in an Israeli-controlled population registry has proven painful for Basma and her family.
The situation was especially difficult when Basma's daughter Noor became ill five years ago.
Noor had to undergo treatment in Jerusalem. Basma was unable to be alongside her at that time.
Without basic documents, Basma could not apply for a permit to travel through Erez, the military checkpoint separating Gaza and Israel.
"We had to ask her grandmother to accompany her," said Basma. "The trip was extremely tiring for both of them."
Mustafa Abu Rabie, 33, has been living in Gaza since 2001. He was born in Jordan but his family left there when his father lost his job as a mechanic.
He holds a passport issued by the Palestinian Authority.
"This document is useful if I need to go to a hospital here in Gaza," he said. "But it doesn't let me travel to visit my relatives in Jordan or look for work abroad. I have to stay here– without a job – in Gaza, where unemployment and poverty are huge problems."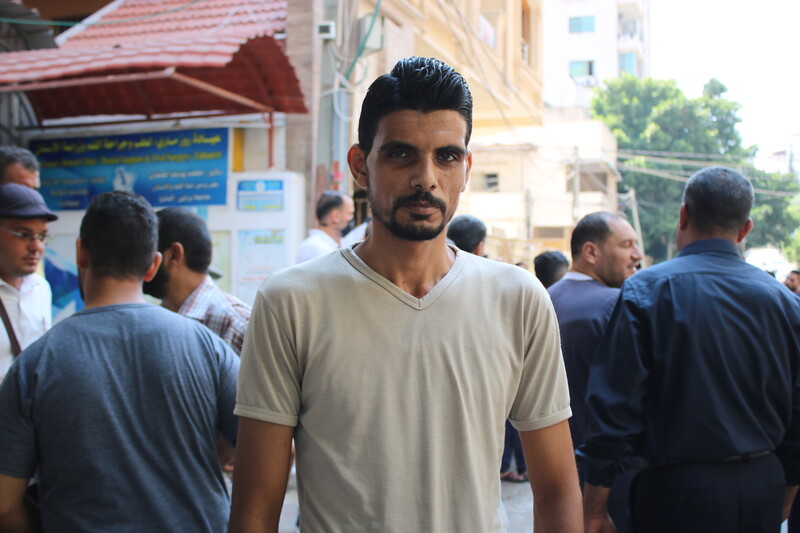 PA passports issued to people without other identity documents in Gaza do not have valid codes. Rather, they bear numbers beginning with two zeroes.
Israel, Egypt and Jordan all refuse to accept those passports for travel purposes.
"Second-class citizens"
Muhammad Abu Arqoub runs a campaign called Reunification is My Right.
Living in the occupied West Bank city of Hebron, Abu Arqoub married a Jordanian 10 years ago.
"My family suffers a lot as we cannot move freely," he said. "My wife has no Palestinian identity documents, even though she is married to a Palestinian and has three Palestinian children."
"She has not been able to visit her family in Jordan since we got married," he added. "She follows their news with a broken heart. She is just a few miles from them, yet she cannot join them because of a piece of paper."
His wife has also applied for a passport from the Palestinian Authority but has never been granted one. Without such a document, she is confined to Hebron.
The Israeli military will not allow her through the network of checkpoints it maintains around the city.
"When any of our children need to have a check-up in a hospital outside Hebron, my wife cannot accompany us," Abu Arqoub said.
Abu Arqoub frequently takes part in protests focused on family reunification.
He feels that the Palestinian Authority has ignored his calls for action. He is demanding that pressure be exerted on Israel so that Palestinians can move freely.
"We are frustrated but we will never give up," he said. "We are working to keep this issue alive, to let everyone know that we are being treated as second-class citizens."
Rajaa Khader, 51, has been unable to see many of her relatives for two decades now. She lives in Gaza; they live in Jordan.
"My father passed away in 2008 and I did not see him before his death," she said. "My sisters and brothers got married. They have big families but I do not know any of their children. I am isolated and imprisoned here in Gaza, without the basic right of being able to travel and see my relations."
Leaving Gaza is impossible for Maha Abu Sweireh and her three children.
She used to live in Libya, where she met the man who became her husband. He worked as an engineer in Libya.
When her husband died in 2007, she brought his body to Gaza so that he could be buried where he had been raised.
Following the funeral, she was unable to return to Libya as she did not have the necessary travel documents. Since then, she has been unable to see her siblings and other relatives who live in Libya.
"Why should we be deprived of uniting with our loved ones?" she asked. "I feel isolated without my family's support."
Isra Saleh el-Namey is a journalist from Gaza.
Tags