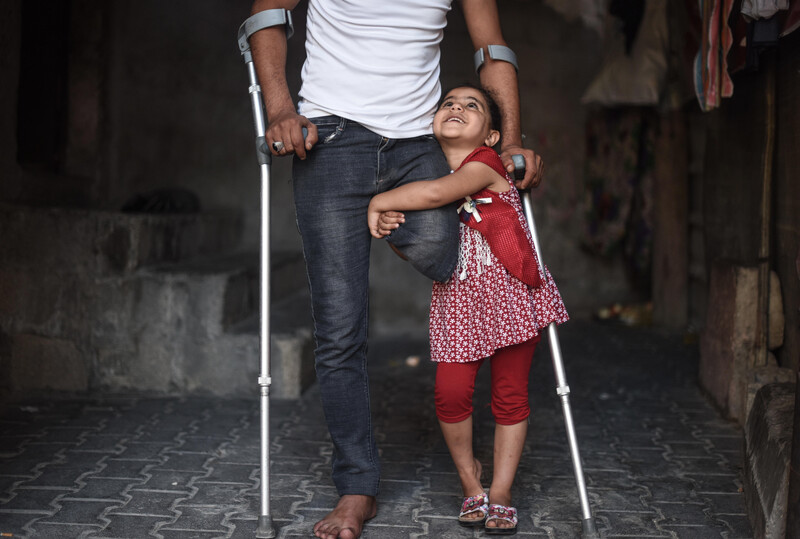 Nasser al-Buhaisi had just graduated from college.
The 22-year-old obtained a degree in religious law from Gaza's Al-Azhar University during June. One day later, he died.
Al-Buhaisi had been paralyzed due to a road accident in 2006. He had studied hard despite being in intensive care.
His determination made me reflect on the situation facing people with disabilities in Gaza. The situation is never easy but becomes far more difficult when Israel attacks vital services – as it did a few months ago.
In the early evening of 5 May, Israel bombed the Zoroub building in Rafah, Gaza's southernmost city. The General Union of Disabled Palestinians was based on one floor of the building.
Approximately 50 people were told to evacuate that floor before the bombing occurred.
Bassam Abu Obaid was the last one from the union to quit the building. "I was finishing off some woodwork and didn't want to leave," he said.
Soon after he left, the building was attacked by Israel, using guided bombs made by the Chicago firm Boeing. Although all the people using the services run by the General Union of Disabled Palestinians had made it out safely, three others were killed in the building.
"Killed twice"
The destruction made Abu Obaid recall last year when an Israeli sniper shot him as he took part in Gaza's Great March of Return.
"It felt like I had been killed twice," he said. "I had a life there [in the Zoroub building]."
Abu Obaid had one of his legs amputated from the knee down as a result of the injury inflicted on him by an Israeli sniper. A doctor told him that Israel had used an exploding bullet and "committed a war crime," he said.
Making matters worse, Abu Obaid was denied permission to travel for treatment in Israel. As an alternative, he went to Egypt, where the amputation was carried out.
When he returned to Gaza, a friend suggested that he should join the General Union of Disabled Palestinians. Soon, Abu Obaid was an active member, giving classes in artistic woodworking.
"Being a member of the union gave me an opportunity to overcome what Israel destroyed inside me," he said. "It helped me physically and psychologically. But unfortunately, that didn't last long. Now, it's all gone."
The union provided services for more than 1,000 people with disabilities in Rafah. They included around 80 people who were injured during the Great March of Return, 24 of whom had undergone amputations.
Yasmin Abed, head of the union's office in Rafah, gave the instructions to leave. "If we were a little bit late in evacuating the building, a real massacre was going to take place," she said. "I heard from neighbors that the Israelis fired four rockets at the buildings – without any warning."
The Zoroub building was bombed in an Israeli offensive against various parts of Gaza. Twenty-five Palestinians were killed during that offensive, which lasted more than 48 hours.
Israel has claimed that the offensive was aimed at armed groups. In the past, Islamic Jihad ran offices in the Zoroub building. Yet an investigation by B'Tselem, an Israeli human rights organization, found that the offices had been vacated nine months earlier.
A probe by Human Rights Watch concluded there was no evidence of the building being used by armed groups around the time of Israel's attack.
The fact that Israel had caused immense damage to a charity working for people with disabilities was omitted from most, if not all, reports by mainstream media on the May offensive.
"Helpless again"
The attack on the Zoroub building had profound personal consequences for Yasmin Abed. She had only been appointed the head of the union in Rafah six months earlier.
Since taking up that position, she had drafted and begun implementing plans to benefit people with disabilities through increased psychological support and by encouraging their involvement in small businesses.
Abed was so shocked after the attack that she stayed indoors for the next three days. When she felt strong enough to venture towards her old offices, she was taken aback by how much equipment was destroyed.
She estimates that the damage inflicted on the union came to $25,000.
Abed is determined to resume the union's work in Rafah. At the moment, she is looking for an office from where she and colleagues can work.
Muntasir Mahmoud was paralyzed after falling from the roof of his home east of Rafah four years ago.
He went into a deep depression when he realized he could no longer walk. During 2016, some of his friends convinced him to join the union, where he received counseling.
"My life changed in that union," he said. "I had even started to give psychological support to other people. I have no idea how to live now without the union. Here I am going back to bed in my dark room. I am feeling helpless again."
Sarah Algherbawi is a freelance writer and translator from Gaza.