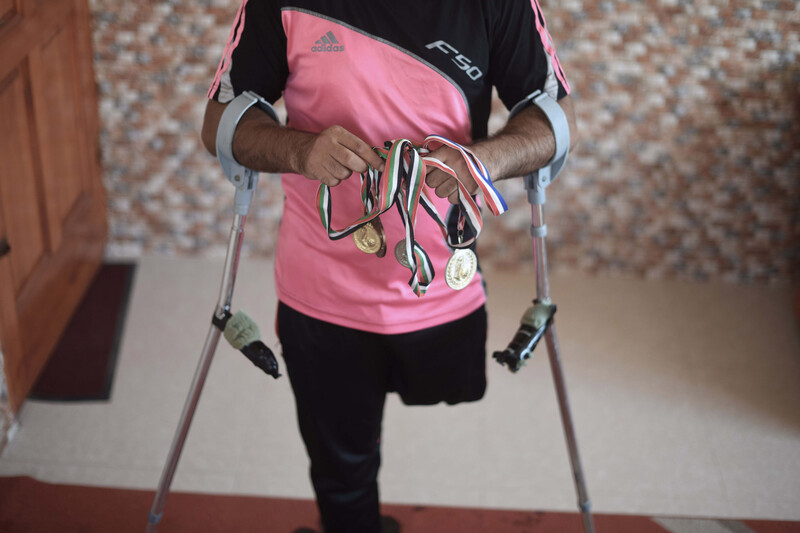 Muhammad Abu al-Bayd was once a rising star with Gaza's al-Daraj football club. But during a recent friendly match in Gaza City's Yarmouk stadium, the former midfielder sat on the sidelines, cheering on his team.
It wasn't an injury on the football pitch that ended 30-year-old Abu al-Bayd's burgeoning sports career. He lost a leg to an Israeli shell fired on the fifth day of Israel's massive offensive on Gaza in the summer of 2014.
Now he struggles, like many other Palestinian athletes who saw their dreams shattered by Israeli violence, to cope with his new reality.
Before the war, Abu al-Bayd had dreamed of joining Palestine's national team. He played as an attacking midfielder, earning the nickname Isco after the Real Madrid star. Today Abu al-Bayd collects a monthly stipend of $200 from a benefactor to support a family household of nine.
"Football was always my passion. I never had a plan B; football was always the first and last option," Abu al-Bayd told The Electronic Intifada.
While studying at Al-Aqsa University in Gaza, from which he graduated in 2012, and during which time he was playing with al-Daraj, Abu al-Bayd supported himself by driving a taxi.
"I always imagined myself playing in a stadium with crowds of people cheering me on. Now, with only one leg, I can't drive a car or play football," he said.
Abu al-Bayd was injured while standing outside his home in the Shujaiya neighborhood of Gaza City on 13 July.
"Suddenly Israeli shelling targeted a group of men in the street, and I woke up in the hospital with one leg."
Abu al-Bayd credits his wife of six years for helping pull him out of a deep depression that followed, grounding him in their home for five months.
"My wife never stopped supporting me; she rejected the way I was dealing with my injury and encouraged me to go out and play sport again," Abu al-Bayd said.
"I thought it was impossible to do so, but luckily, I found a basketball club for people with disabilities, on wheelchairs. We're 10 members, and I think I'm the top among them."
Tens of thousands injured
While joining the club has gotten Abu al-Bayd back into sport, life isn't the same as before.
"My social life is still paralyzed after my injury. I hate participating in social occasions because I hate that look of pity in people's eyes," he explained. "Three years have passed and I still can't deal with this."
Abu al-Bayd hopes to one day travel to Germany to continue his rehabilitation. Doctors in Gaza have told him that the type of artificial leg implant he needs – from the thigh down – is unavailable in the Strip.
He has a sponsor who is willing to pay for the surgery, but the closure on Gaza imposed by Israel and Egypt has prevented him from going.
Some 11,000 Palestinians in Gaza – including 3,400 children – were injured during Israel's onslaught three years ago, around 10 percent of them permanently.
Thirty-two athletes were among the more than 2,250 Palestinians killed by Israel in the summer of 2014, according to Gaza's youth and sports ministry. An additional 27 athletes were seriously injured.
More than 30 sports facilities were destroyed or damaged, at an estimated financial loss of $3 million, the youth and sports ministry stated shortly after the offensive.
"Israel destroyed my dream"
Jihad al-Mabhouh, 26, also saw his aspirations thwarted by Israel during the 2014 war.
On 30 July, Israel bombed a United Nations-run school near al-Mabhouh's home in the Jabaliya refugee camp in the northern Gaza Strip.
Fifteen Palestinians who had sought shelter in the school were killed and shrapnel caused permanent damage to al-Mabhouh's right hand, ending his volleyball career.
Without the sport, al-Mabhouh finds little purpose in life.
"Israel turned my son from a fighting young man into a depressed one. I feel that I have lost him," his mother, Siham, told The Electronic Intifada.
Al-Mabhouh initially refused to speak to this reporter. Eventually he relented, stating, "I dreamed of becoming an international player. Now I just want to sleep. I really do not like the sympathy of others."
While al-Mabhouh spoke, he held his injured hand, wrapped in a white bandage, behind his back.
Al-Mabhouh has bouts depression since his injury. His family has encouraged him to see a psychiatrist, but he refuses.
"I do not find the true happiness of life. Israel destroyed my first and last dream. I am nothing in this life," he said.
His mother, however, has not given up hope.
"At the beginning, he totally refused to go out with me," she said. "Now, he sometimes responds to my pleas. He went with me to my mother's house last week. I believe he'll get better someday and I'll find him a beautiful bride."
Football star killed in his bed
The same day that al-Mabhouh was injured, Mayada Zaqout lost her husband, Ahed Zaqout, an athlete, prominent sports journalist and father of four.
Mayada begins her days by dusting her late husband's trophies.
"This is what I have left," she told The Electronic Intifada. "I wait impatiently for the morning to cherish the achievements of my husband, which I maintain, preserve and value more than my soul."
Ahed, who once played for Palestine's national football team and later coached and hosted a popular televised sports show, was killed when an Israeli shell landed in his bedroom while he slept. He was alone in the apartment at the time.
One month after Ahed was killed, the entire 16-story tower – known colloquially as the Italian complex – where the Zaqout family lived was totally destroyed when Israel bombed four high-rise buildings in what Amnesty International called acts of "war crimes."
The remaining members of the Zaqout family, who now live in rented accommodation while they await compensation for their destroyed home, do not know why their apartment was targeted.
Zaqout's illustrious sports career included participation in a friendly match between Palestine's national team and a team of French football stars in 1994.
Michel Platini – the French former football star and current president of the European football federation, UEFA, who has thwarted Palestinian bids to sanction Israel's national football association – also participated in that game.
Perseverance
Muhammad Dahlan, 28, whose left leg was amputated from the knee down in an Israeli strike on 2 August 2014, refuses to let his injury destroy him.
Though the injury has ended his footballing career – he was a left-winger with the al-Tuffah club in Gaza City – he has taken up volleyball and become one of the leading members of the Friendship Club team.
"Staying at home doing nothing kills me," Dahlan said. "I have dreams and I won't let Israel defeat me."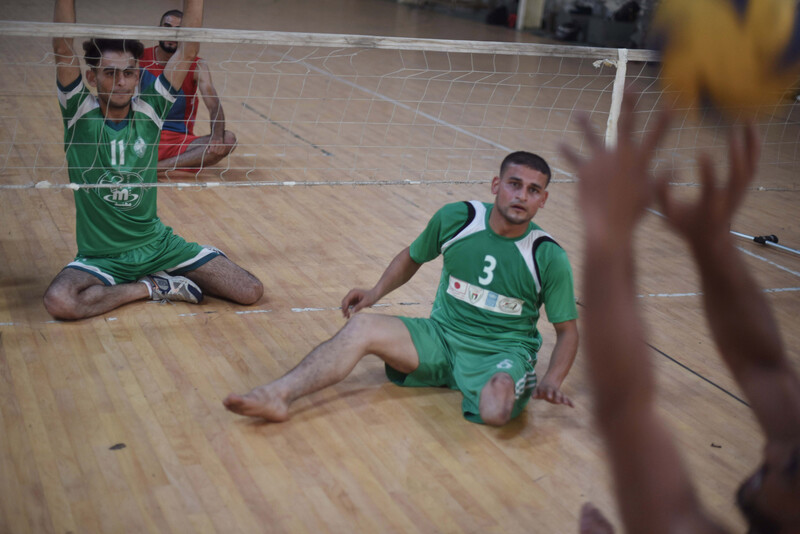 The Friendship Club has 12 players split into two teams. The net is set close to the ground and the athletes use their hands, heads and feet to play the game while sitting on the ground.
It is one of several teams for athletes with disabilities in Gaza.
Nasser Lubbad, head of the Palestinian Volleyball Union, said that his organization includes seven clubs for disabled athletes, most of whom were injured during Israeli offensives.
"Those players love life and search for their inclusion in the community," he said.
As for the Friendship Club's Dahlan: "Through volleyball I will wear the shirt of the national team. This has been my dream since I was a child and I hope to achieve it."
Hamza Abu Eltarabesh is a journalist from Gaza.
Tags