Like billions of others, Abdelrahman Nofal, 13, is these days glued to the TV screen, watching the World Cup from Russia.
Unlike most of those, Nofal is himself a football player of ambition, albeit one whose dreams have been circumscribed by the dangerous reality of Gaza.
"I've never heard of a Palestinian footballer who made it to the big international teams," Nofal, who is from Bureij refugee camp in the central Gaza Strip, told The Electronic Intifada. He wants to be the first.
The boy is something of a local hero. On 17 April, during the recent Great March of Return protests, he was shot by an Israeli sniper.
Emergency surgery in Ramallah two days later saw his left leg amputated below the knee. So it was to warm applause that he not only took to the field on 2 June for the newly established Team of Champions for the first time, but scored a goal that showed all his ability, controlling the ball with his chest before firing in with his right foot.
Nofal is the youngest player on a team whose oldest member is 42, is the first of its kind in Gaza and which is already proving popular in Deir al-Balah, in the central Gaza Strip, where Bureij camp is located. In total, the team has 16 players.
All lost limbs over the last 11 years of bombings and siege and all but two lost their limbs as a result of Israeli violence.
The team held its first ever training session on 30 March, the same day the Great March of Return protests started. Nofal only joined training on 2 June and even then his training was interrupted by the need to continue rehabilitation.
"High morale"
Now, dreams of a career in football are proving a source of comfort for the boy.
"Thinking of football makes me comfortable and distracts me from thinking of my injury," he said. "It helps keep my morale high."
Nofal is one of nearly 50 people who had limbs amputated during the protests in Gaza that marked 70 years since the expulsion of Palestinians in 1948 that rendered most of them, including Nofal's family, refugees.
Forty-eight of those injured lost their lower limbs, according to Ashraf al-Qedra, a spokesperson for Gaza's ministry of health.
They were just a handful of the more than 4,000 people who were injured by live Israeli fire since 30 March. More than 140 Palestinians in Gaza were killed during that period, the vast majority during demonstrations.
Fouad Abu Ghalioun, 53, a member of the Palestinian paralympic committee, was inspired by his late mother, Amneh, to start the Deir al-Balah team. Amneh had lost her right leg in 1949 during an Israeli bombardment of the Deir al-Balah area. She still managed to raise seven sons.
"I was the youngest among my brothers, and I would stay with my mother to help her with the housework," Abu Ghalioun said.
"Watching her cope was sometimes painful to me and my brothers, especially in winter where she suffered a lot of pain in her leg because of the cold weather. She always said the pain felt as if she were being stabbed with knives."
Abu Ghalioun's experience with his mother led him to work with people with disabilities. He also never lost his love of sport.
And it was while watching, late last year, an international game of amputee football between England and Turkey with his friend Mahmoud al-Nawook, who lost both his legs in July 2014 during the Israeli offensive on Gaza that year, that the two decided to honor Amneh's memory by establishing a football team for amputees in Gaza.
"I started by calling people directly to gather a team," Abu Ghalioun said. "I researched international teams of amputees to learn more about the needs and logistics. I finally found an association in Deir al-Balah to host the team."
Al-Nawook, 37, is now the manager of the team, while Abu Ghalioun is focusing his efforts on helping establish similar teams throughout Gaza.
"Sport can heal"
The rules of amputee football are a little different from the usual rules in football. A team consists of seven players rather than 11, allows an unlimited number of substitutions, while a game lasts 50 minutes rather than 90.
There are also rules for who can or cannot participate. Outfield players may have both hands, but must have just one leg.
They are not allowed to manipulate the ball with their crutches, which would be considered a foul. And goalkeepers can have both legs, but only one hand.
Four years ago, Islam Amoum, 27, was considered the best goalkeeper in Bureij camp. But in 2014, as the Israeli military pounded the Gaza Strip during the July-August offensive, Amoum lost his left arm in shelling near his house.
Amoum subsequently gave up playing and graduated with a degree in English literature from the Islamic University of Gaza in 2016. And when first approached, he refused the idea of playing for an amputee team.
"After my injury, I used to feel shy about having one arm. I felt that people were always looking," Amoum told The Electronic Intifada. "I used to go out only at night. It took me almost seven months to learn to cope with my new situation."
But eventually he was persuaded and after at first struggling with the new rules, the father of three is happy to have started playing again.
"Sport can heal body and soul," he said.
Now he hopes he can help persuade other people with disabilities to become active in sports again.
"We're not weak"
It is still early days for the team, but they are trying to be as prepared as possible. Coach Khaled al-Mabhouh, 32, and his assistant Muhammad Abu Sharif, 42, have devised a special training program specifically aimed at people with disabilities.
"Training these young men can be a very sensitive issue," al-Mabhouh told The Electronic Intifada. "The wrong use of words can be hurtful and I focus a lot on the psychological side of training."
The training program was prepared in cooperation with the team's five-strong board of directors. All have experience of people with disabilities, and one, al-Nawook, is himself disabled.
On the physical side, Abu Sharif is wary of pushing the players too hard. "We need to always bear in mind that training has to be slightly different. There is more pressure on fewer muscles and we have to be careful not to stress the players' bodies."
Training sessions are then followed by individual counseling with psychologist Eyad al-Ghafary, 42. Some of the players are still wary of playing in public due to feelings of inferiority as a result of their injuries, al-Ghafary told The Electronic Intifada.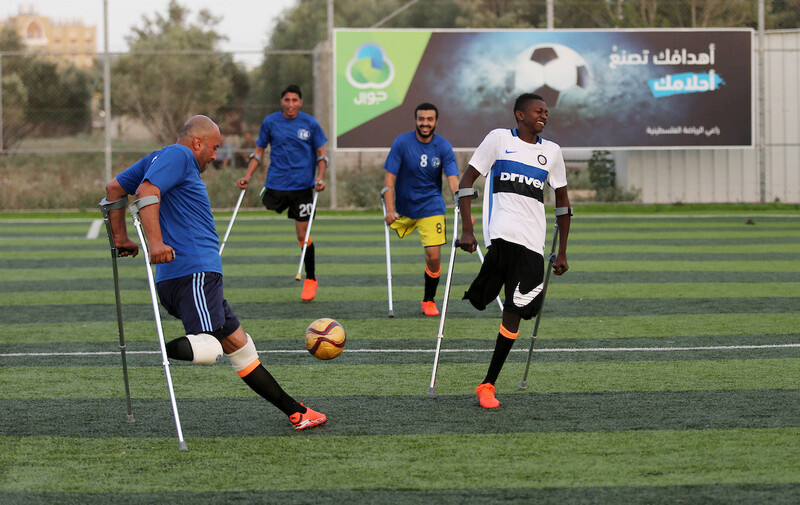 The team also faces material problems. Most of the players are from poor backgrounds and cannot afford the cost of buying specialized crutches, said al-Mabhouh.
Sports crutches cost north of $100 each. Currently the players use cheaper versions, but these are easily damaged.
Nevertheless, players are already beginning to feel the benefits of getting back to their passion, and they are determined not to let the challenges facing them get in their way.
"We're not weak," said Wahid Rabah, 42, the team's oldest player and a former Palestinian Authority employee. "We're able to play the sports we love."
Still, the father of five said that a few simple improvements would be nice. "We need changing rooms. People still stop to stare at us when we get changed after training."
Hamza Abu Eltarabesh is a journalist from Gaza.
Tags