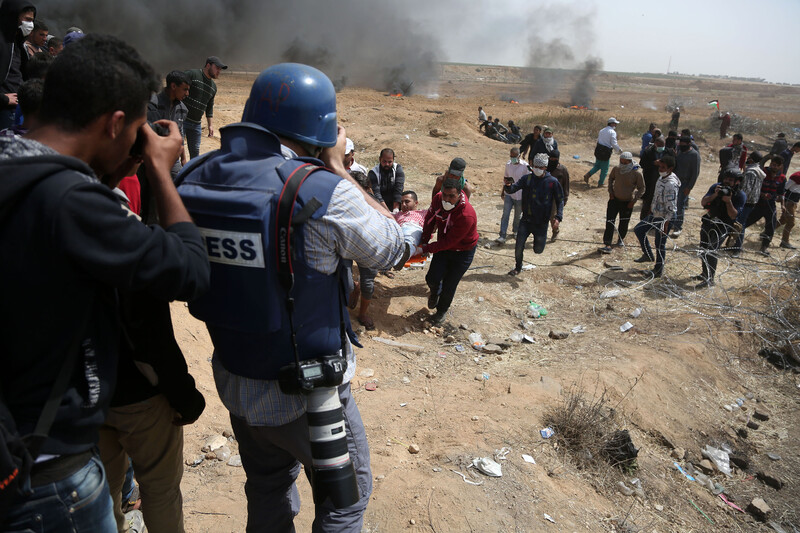 The Great March of Return series of protests have been bloody.
The Israeli military has reacted with deadly and purposeful force, killing and wounding at seemingly random. And still people have come from all over Gaza to demonstrate and protest their right of return to the lands from where they, their parents and grandparents, were once evicted.
With them we came, the journalists, watching and filming, bearing witness to the events as they transpired and talking to people to hear their stories and motivations.
For us, too, the protests have been dangerous. I was lucky to have a dermatologist father-in-law who could give me the required cream for a rash on my shoulder and abdomen that appeared hours after being exposed to tear gas on the day of the first demonstration on 30 March.
And from that relatively mundane example to the deadly, journalists have been very much in the line of fire.
So far, there have been two fatalities among those covering the protests. There have been a high number of injuries to journalists – as many as 66 over the four demonstrations held so far, according to Ashraf al-Qedra, a spokesperson for Gaza's ministry of health – prompting calls for the protection of journalists and investigations into the violence. Human right organizations and international watchdogs like the Committee to Protect Journalists have been at the forefront of these calls.
These have had little effect on Israel's behavior.
"Our duty"
Ahmad Abu Hussein, the latest journalist to die while doing his job in Gaza, was shot through the abdomen on 13 April during the third of the Great March of Return protests. The photojournalist was wearing a blue flak jacket that was clearly marked with the word "PRESS" emblazoned across the chest in capital letters.

Footage of his shooting shows he stood at a fair distance from the boundary – reported as "permissible" by the Israeli newspaper Haaretz – with a blue helmet and flak jacket amid a crowd of demonstrators:

The human rights group Al Mezan stated that Abu Hussein was some 200 meters from the boundary when he was shot.

Abu Hussein, 24, was rushed to a hospital in Gaza in critical condition, but was prevented by the Israeli military from leaving for better treatment in the West Bank or elsewhere for another two days.

He was eventually moved to the West Bank, but after several days in a Ramallah hospital, he was transferred to Tel Hashomer, an Israeli hospital, on 20 April to receive specialist treatment.
It was there he died on Wednesday, 25 April, five days after his colleagues in Gaza went back again to cover the fourth mass protest.
They remain undeterred. The story, most said, had to be covered.
Israa al-Buhaisi, 32, suffered from tear gas inhalation on 13 April, but had no doubts about returning for the most recent protest, on 20 April.
"I am afraid of tear gas," the reporter with the Iranian Al-Alam News Network told The Electronic Intifada. "But this will not hinder me from doing my job covering what's happening in the field."
Another photojournalist, Al-Araby Al-Jadeed's Muhammad al-Hajar, 32, was injured on 13 Friday, a bullet strafing his shoulder, but also came back with his camera and blue vest for the next protest.
"This is our duty," he told The Electronic Intifada. "We owe it to Yaser and Ahmad. It's our duty to uncover the Israeli crimes against the peaceful march."
Ridiculous accusations
Al-Hajar was referring to Yaser Murtaja, 31, the first fatality among journalists. Murtaja was shot in the abdomen while covering the demonstrations in eastern Khan Younis in the southern Gaza Strip on 6 April and died in hospital hours later.
Rushdi Sarraj, 25, was right next to Murtaja when he was shot.
"We were 300 meters away from the Israeli positions," he told The Electronic Intifada. "Suddenly, I saw him fall to the ground bleeding. His camera, which was set to shoot video, kept recording."
Sarraj, who co-founded the Ain Media company with Murtaja, is convinced his friend was intentionally targeted. He pointed out that Murtaja was shot through the unprotected part of his blue flak jacket – also clearly emblazoned with the word "PRESS" – suggesting a clear line of sight and therefore intent.
Avigdor Lieberman, the Israeli defense minister, later suggested Murtaja's killing was justified, claiming the young journalist was on the payroll of the military wing of Hamas.
"Once again we see how Hamas uses the media, ambulances and patients, including cancer patients who are sent to hospitals in Israel" to carry out "terrorist missions," Lieberman said.
Murtaja's local colleagues, like the International Federation of Journalists, derided Lieberman's comments as "ridiculous." And the Israeli minister's remarks also conflicted with news that Ain Media had been cleared for a USAID grant by the US State Department, for technical assistance and equipment, such as computers.
Such a grant – normally only offered after a lengthy and exhaustive process – would not be forthcoming if there was any suggestion that either of the founders had links to Hamas, which the US State Department classifies as a terrorist organization.
"Like a brother"
Murtaja, the father of a 2-year-old, was a well-known figure on Gaza's media scene and left many fond memories, not least among those with whom he came into contact as a result of his job.
Bisan Daher, 12, will never forget Murtaja. The journalist documented the girl's rescue from beneath the rubble of her family house during the Israeli offensive of 2014.
The eventual film, Bisan, was a co-production between Ain Media and Al-Jazeera, but was far more than just work for all concerned. The hours-long rescue was traumatic and cathartic at the same time, and Bisan came to consider those involved, including the paramedic who pulled her out as well as Murtaja, who was filming, as her relatives.
The girl lost most of her family in the deadly strike on her house in the al-Shujaiya neighborhood and now lives with an older brother who had not been home at the time of the attack. And Murtaja, touched, like all those who came into contact with the girl, became more than just a cameraman. He helped her through the counseling she received and would visit and bring toys.
"He was like a brother to me," Bisan told The Electronic Intifada, clutching a SpongeBob SquarePants doll that Murtaja had brought her.
Her brother, Emad, 27, said news of Murtaja's killing had caused Bisan to relive traumatic memories from 2014.
"She doesn't go out anymore and doesn't eat well, just like in 2014."
Deliberate targeting
The number of casualties among journalists suggests a deliberate violation of international humanitarian law. Journalists are considered civilians and therefore entitled to all the rights and protections afforded to civilians in war time.
That status was reaffirmed in 2006 by the UN Security Council, which unanimously adopted UNSC Resolution 1738 calling for an end to attacks on journalists in conflict areas.
The fact that in many, if not all cases, journalists were wearing clearly marked protective clothing, however, suggests that their wounding – and killing – by the Israeli military is deliberate policy.
That was also noted by the Committee to Protect Journalists in a letter to Israeli Prime Minister Benjamin Netanyahu.
"The shootings suggest that Israeli authorities could be trying to suppress media coverage of the protests," the watchdog stated.
Adham al-Najar is in little doubt that the number of injured journalists is a message from Israel.
The 32-year-old freelance photographer was shot in the leg a few hours after Murtaja's fatal shooting on 6 April while taking photos of protesters in the Zeitoun area southeast of Gaza City and near the closed Karni crossing for goods.
"I was wearing my flak jacket, marked with 'PRESS.' All I was doing was taking photos of these youths," al-Najar told The Electronic Intifada while waiting on a bed in the orthopedic department of Gaza City's al-Shifa hospital for a third surgery on his leg as a result of his injury.
"Israel is sending a message to all journalists that we're a target," al-Najar said. "They're trying to frighten us. They want to hide the truth, but we won't stop."
Al-Najar is defiant. His doctor, Muhanad al-Ajramy, says he is unlikely to walk normally again. The bullet shattered his knee. Tendons and muscles have sustained permanent damage. He is lucky, al-Ajramy said, that his right leg wasn't amputated.
But al-Najar says he will go back to reporting again.
"I'll be back in the field, even if I have to do so on one leg."
In another room in the same department, Khalil Abu Athra, 34, was recovering after an operation in which he had a metal brace inserted onto his left leg.
The veteran cameraman – in 14 years with al-Aqsa TV, this was the first time he had ever been injured, he told The Electronic Intifada – was wounded in the Rafah area, also on 6 April, despite wearing a clearly marked blue press flak jacket. Ebrahem Musalam, Abu Athra's colleague, who was with him that day, said there was no doubt in his mind that the reporter had been deliberately targeted by a sniper.
Abu Athra, too, was adamant that there could be no other explanation for his injury.
"I didn't even consider that I might be shot," the father-of-three told The Electronic Intifada. "I was very far away from both soldiers and demonstrators. But it seems that media were a target on the second Friday."
Hamza Abu Eltarabesh is a journalist from Gaza.
Tags