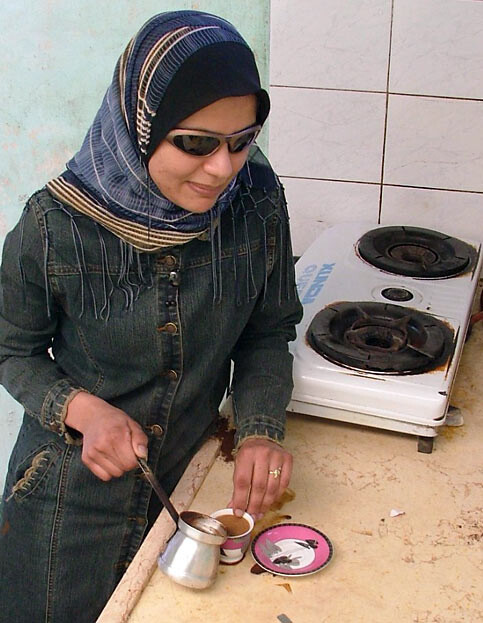 GAZA, March, 7, 2005, (WAFA) - Amani Al-Hissi, a 25-year-old Palestinian blind woman from the poor refugee camp of Al-Shati ("The Beach") in Gaza, studies Arabic literature, plays music, works as a radio presenter and depends on "help your self" as her strategy for managing the details of her own life.
Ms. Al-Hissi, was shot by an Israeli soldier while she was six years old. One week after the shooting, she lost sight in one eye. Four years later, she completely lost her eyesight.
Two hundred meters from the Gaza shore, in the alleys of the camp, Ms. Al-Hissi hosted us in her two-room house.
With black sunglasses, she was confidently moving between the rooms and the kitchen as if she suffered no problem in her sight. She began talking to us about her distinguished success at university. "Now I am studying literature at the Islamic University (of Gaza) and compete with my colleagues, I have 98% accumulative average," she said, smiling.
"Actually I like literature and arts, I work at (the local) Voice of Youth radio station as programme presenter. I present Birds at the Window, a weekly programme which deals with creative writing and arts for youth.
"I think my wound has a role in increasing my horizon of imagination and the talent of writing. I mean that the point of despair was turned into the point of hope and creativity."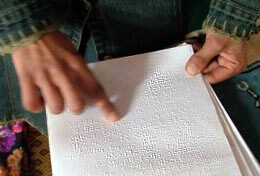 She took us to her room. Through systematical movement, she passed her forefinger on protrusions on Braille paper and read one of her poems.
In a corner of the home, an old wooden staircase leads to a third room. She went upstairs to bring down her old-fashioned accordion.
Later, she offered us a drink and confidently went to the kitchen to put the kettle on the cooker and carefully listened to the sound of water as it boiled.
Ms. Al-Hissi thinks that loosing her sight was one of the turning points in her life. She also believes that God bestowed her with abilities and skills to overcome this dilemma. She cooks, bakes, fries, washes clothes, plays music and does everything without help from others.
Answering a question on how she could realize that the bread or the fried potato is ripe? She said: "I depend on my senses to implement the principle of [help your self]. Through my senses I control everything."
Regarding her feeling with disability, she sighed and said: "I think it is really difficult. Imagine, the sea is just 200 meters far from our house but I can not see it. But, honestly, when I remember the people who lose their life or their children, or became quadriplegic during Israeli incursions, I feel am okay."
Ms. Al-Hissi recalled the days she lost her eyesight. She remembers the Israeli soldier who shot the teargas grenade at her during the 1987 Intifada.
"It was on 18 December 1987 when I was six years old. I was at my home, the Israeli soldiers were on the roof of a building close to our house, where they could clearly could see that I am just a little girl," she recalled. "One of them directed his gun at me and shot a metal gas bomb. It struck my left eyebrow, my blood streamed out, and I inhaled a big amount of gas and went into a coma. I will not forget that day,".
After one week, Al-Hissi list sight in one eye. And after four yours, she became blind.
"It was one of the unforgetable days. I was in the fourth elementary class, going to school with one eye, seeing the roads, my friends and enjoying our neighbouring sea. While I was at school, I had a headache and felt gloomy. The sight in my other eye failed and I returned home blind."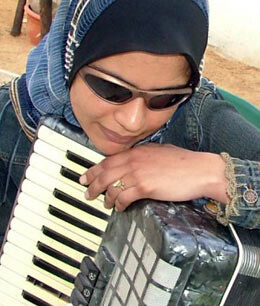 At the beginning, Ms. Al-Hissi faced several problems, especially concerning education. Her parents were in a shock, hesitant about whether she would be able to continue studying or not. The situation gave her a huge sense of challenge. Seeking different sources of knowledge, she has attended training courses on playing music, first aid, and many others. "Such sense pushes me to challenge the Israeli attempts to defeat me" she added.
The father, Kamil Al-Hissi 55, said that the Israeli Occupation Forces (IOF) did their best to abort his attempts to get urgent treatment for his daughter, and to hide evidence proving their involvement in the crime.
When his daughter was shot, he headed to see the Israeli commander of Gaza, who threatened him and ordered him not to tell anyone that the little girl was shot by an Israeli soldier.
Her father took his daughter to Saint John's Hospital in Jerusalem. Traveling between Gaza and Jerusalem requires passing through Beit Hanoun (Eretz) checkpoint, where an Israeli officer demanded Kamil Al-Hissi come for a meeting.
"The officer tried to make a deal with me. He said that he is ready to help me to get advanced treatment for my daughter, but under one condition, that I become a collaborator. I refused."
The father tried to prosecute the IOF but he was unable, as Israeli soldiers had stolen the medical report from the hospital.
Amani's mother, Samira, 50, said that the story of her daughter shows that Israeli soldiers need a lesson in humanity. "One day, I tried to travel to Jerusalem and asked for permission from an Israeli officer in Gaza."
"He said, 'I wish all Arabs would be blind'," she recalled.
On the occasion of the International Women's Day, Ms. Al-Hissi said that she wished to send two messages to both Palestinian and Israeli women.
She called on Palestinian mothers to have more patience, to challenge the arrogance of the Israeli occupation with their will in order to achieve their dreams, and to take care of their children.
As for the Israeli, Al-Hissi said, "I hope that the Israeli woman protects her son and does not allow him to join the occupation army. Because if he did so, he may kill children and maybe blind a girl."
As for her reaction, in the event of meeting the Israeli soldier who shot her, Al-Hissi said, "I will shake hands with him, and tell him 'thank you'."
Related Links