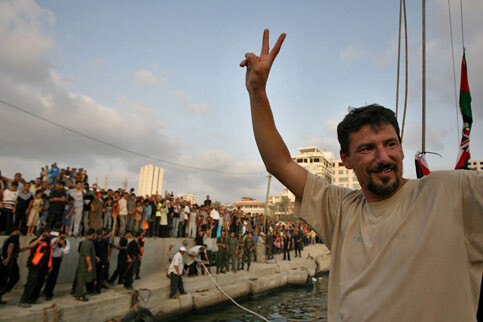 Tears filled the eyes of Ramattan News Agency's Head of African Operations Hayyan Jubeh when he caught his first glimpse of the skyline on the Gaza coast along the horizon of the Mediterranean Sea after a 37-hour voyage launched from Cyprus.

Jubeh, a 48-year-old Palestinian filmmaker from Jerusalem, is one of 44 international peace activists on board the ships. Spanning 17 countries, they arrived at dusk on Saturday on two boats (The Liberty and The Free Gaza) in a voyage organized by the California-based Free Gaza Movement, to break the Israeli siege on Gaza.

"It is an indescribable feeling, finally we did it, we broke the siege and arrived to Gaza," Jubeh said while tears showered his face reddened from the sun.

Jubeh and other activists lived through critical moments on their voyage to the Gaza Strip, passing several hours aboard the ships without any connection to the world.

He says that an atmosphere of despair filled the boats for a moment when they hesitated, not knowing whether to continue with their adventure or to retreat, especially after they went under attack by electronic piracy.

"We had no satellite connections, no mobile, no Internet and no means of connection; everything around us was blue water, we could not even make out where we were exactly, but we were determined to continue," Jubeh said.
"It is a [crucial] moment, and it is a strong lesson on how to make a decision amidst a moment of tension," he said, asserting that their determination and unshakable will allowed them to take such actions.

"It was a consensus; we decided to continue despite troubles, difficulties and threats, all of that because of a noble and human mission for those who suffer from the siege in Gaza."

"When connection was cut, we hesitated, but when we remembered the everyday struggle of patients and of children in Gaza, we decided to continue despite the threats from Israel," he said.

Several times, Israeli officials announced that the Israeli navy would not allow the two boats to reach Gaza, but they chose to continue.

The peace activists sailed to Gaza to show solidarity with the Palestinians against the Israeli siege imposed 14 months prior, after the elected Hamas government took over the Gaza Strip.

Jubeh hoped that other peace activists from the entire world would repeat the experience to help Gaza residents and to end the siege.

Jubeh, who joined the campaign as a reporter for Ramattan, pointed out that there was no contact between the peace activists and the Israeli authorities, mentioning that the activists received Israeli threats through officials in Cyprus.

Ramattan gave the activists hope to continue when it broadcasted an initial report saying that Israel would not ban access to the Palestinian regional waters.

He praised the sailors of the two boats who were so "brave and skillful" in dealing with the 370-kilometer (230-mile) voyage.

The difficulties Jubeh and his comrades faced stimulated his artistic skill and motivated him to produce a new film on the voyage.

"It is a unique and exceptional experience. I decided to make a film to show the world the difficulties the peace activists faced for the sake of peace and justice, and to encourage others to challenge prejudice," he said.

The last time Jubeh went to Gaza was in 1998 during the visit of the former US President Bill Clinton. He could not visit Gaza again because the Israeli authorities seized his ID, and those of his two children, Sophie, 13, and Yousef, 15. He said that the arrival to Gaza was a dream he achieved, and if there were to be a similar initiative to reach the West Bank he would participate and repeat the experience he had.

Jubeh has been moving around the world as a "tourist" using an Irish "tourism passport." He asserts that he will do his best to return to his homeland, Palestine.

Israel considers East Jerusalem as a part of Israel since it annexed the area it seized during the 1967 War, and Palestinians who live in East Jerusalem hold Israeli residency. Since the occupation of East Jerusalem in 1967, the Israeli authorities have revoked tens of thousands IDs belonging to Palestinian citizens from Jerusalem as a part of the Israeli efforts to Judaize the holy city.

Dozens of friends and colleagues surrounded Jubeh with warm greetings inside the Gaza harbor which filled with people to receive the two boats as they arrived on Saturday at sunset. The 44 activists began their tour of Gaza mainly to hospitals, schools and refugee camps.

Jubeh expressed his deep appreciation to the US peace activist Hedy Epstein, an 84-year-old Holocaust survivor who could not join the voyage.

"After two years of work and waiting for sailing, physicians advised Epstein not to join us in our voyage to Gaza. We miss her," he concluded.

Sami Abu Salem lives in Jabaliya Refugee Camp and works as an English news and features writer at the Palestine News Agency (WAFA). He has also worked at the International Press Center of the Palestinian Authority State Information Service, and works as a freelance writer for local newspapers, focusing on literature and arts. This article was originally published by Ramattan News Agency and is republished with the author's permission.

Related Links