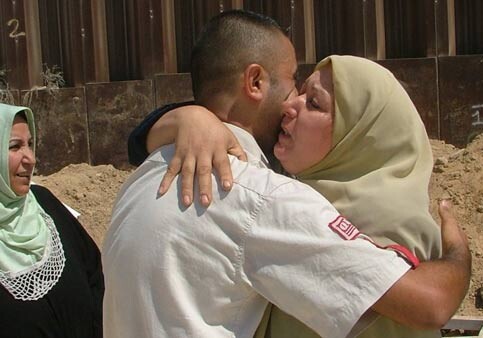 For more than five minutes the grandmother of 19-year-old Khaled Al-Najjar, has not stopped hugging or kissing him in the Salahiddine (Philadelphi) corridor on the Palestinian-Egyptian border.

"I have not seen my grandson for 11 years. The Israelis prevented me from traveling to Egypt and prevented my grandson from entering Gaza," said the crying grandmother.

Khaled is a Palestinian resident of the Egyptian city of Al-Arish, with half of his family in Gaza and the other half in Egypt. The last time they met each other was in 1993.

Across the Salahiddine route, hundreds of Palestinian families flowed from the Palestinian and Egyptian sides to see each other for the first time in years.

Hanan, 25, was starring the dusty faces of hundreds of women, looking right and left to find the face of her mother who she has not seen for five years.

Her mother, Um Hazem, was hiding half of her face with her mantle and tried to hide herself behind hundreds of citizens crossing the border with Egypt, as she did not want her daughter to see her crying. When Hanan saw her, she screamed "Maaaaaaaaam!" and hugged her tightly. Unconsciously, Hanan laid her head on her mother's chest like a child, while her mother did not stop massageing her hair and staring at her dusty face.

"For five years, I have not seen my mother," Hanan said, "The Israelis did not allow me to travel and did not allow her to reach Gaza."

"From Beit Hanoun City to Rafah City, I was crying in the car," she added. "I was crying as I still did not believe that I would be able to meet my mother. I had lost hope I would see her again but, now, it is a dream that has become a reality."

The families in Palestinian Rafah arrived at the border after crossing the destroyed Block "O", Yebna and Salahiddine Gate, after picking their way between huge piles of the rubble of thousands of houses destroyed by Israeli troops during the Al-Aqsa Intifada.

This area was so forbidden that nobody could step in for fear of being shot dead on the spot. The rubble is infused with streams of tears of horror, pain, and sadness.

Hugging, kissing, crying, tears, and smiles were seen everywhere at the border. Two old women, dressed in the traditional black dresses ornamented with red embroidery. They had arrived from Al-Arish, and sat waiting for their sisters to arrive from Gaza.

"I am going to Egyptian Rafah. I want to meet my parents. I have not seen them for 14 years," said Ahmed Abu Amra while carrying his little daughter.

He had imagined he would never see them again during the period the Israelis prevented both his parents and him from traveling in or out of the Gaza Strip.

Kamel Dhair, 29, from Khan Younis, had his hand on the shoulder of his wife as they walked towards the Palestinian side.

He hesitated before talking, then revealed that he married his wife, Bothaina, when he was studying political sciences in Egypt in 1999. When Dhair visited his family during a summer vacation, the Israelis prevented him from traveling again. For six long years, he did not see his wife.

Tens of young men and teenagers were crossing the border for fun. As most of them have had no chance to leave Gaza, they explained, they would like just to cross the border to taste freedom.

"I have neither relatives nor friends in Egypt. I just would like to pass just to feel that I am free. I am very thirsty for freedom, it is a good enough reason to pass," said Jamal Rafati, 34.

Rafati lives in Al-Maghazi refugee camp, and has never been allowed to travel out of Gaza.

An old woman carrying a basket on her head, Safiyyah Al-Bayyouk from Khan Younis reported that she was on the way to visit her daughter in the Egyptian city of Al-'Arish.

"I take these things to her because she is poor. I have never seen her since she was married 17 years ago. I have never seen her four children," Al-Bayouk said and left in a hurry, looking for a taxi.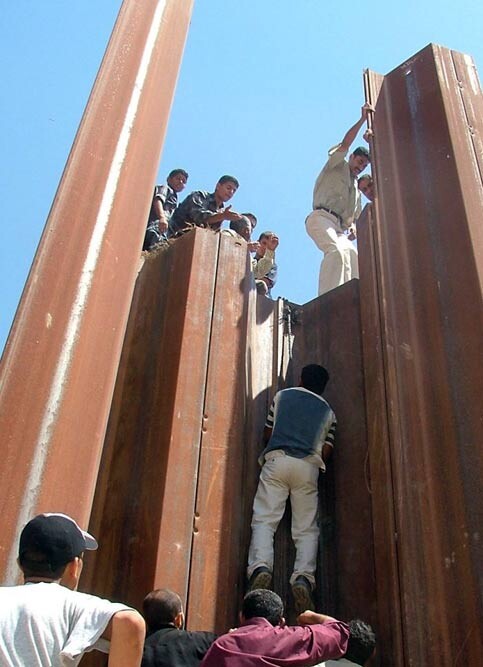 To avoid the crowd, several men crossed the iron wall at the border by climbing it by using thick tiles they tied to the top. Others were squeezing through small holes in the wall.

Dozens of medicines, different kinds of cheese, toys, and even live goats were carried to Gaza.

Some men, "wanted by Israel", were standing at the side of the scene and smiling. "This happiness," one said, "was achieved by our guns and the blood of martyrs. We will continue to make the same happiness in Jerusalem and the West Bank."

Sami Abu Salem lives in Jabalia Refugee Camp and works as an English news and features writer at the Palestine News Agency (WAFA). He has also worked at the International Press Center of the Palestinian Authority State Information Service, and works as a freelance writer for local newspapers, focusing on literature and arts.

Related Links