WAFA — The seeds of guava were still between 13-year-old Saber Assaliya's lips when an Israeli tank shot him in the waist. The boy was playing in a nearby orchard at the southern tip of the Jabalia Refugee Camp, in the north of Gaza.
Craving ripe guava, Saber and his cousins headed to the orchard close to his house. He was happy, sporting a new hair cut and new clothes.
"Dad, look, it is a new hair style. Is it nice, dad?" Saber asked his father, soon after he had his fresh haircut and minutes before being murdered.
On October 3, Saber was showing off for his neighbours and cousins the hair gel he used for the first time. He joined a group of children playing and helping their neighbour collect chickens after Israeli bulldozers destroyed his chicken coop.
Saber's cousin and eyewitness Mohammed Assaliya, aged 13, said that Saber was eating guava when three bullets hit him in the waist.
"The owner of the destroyed farm asked us to help him collect the chickens; some of us were helping him and others were playing football," Mohammed explained while revisiting the scene of the crime.
Mohammed was scared when we walked among the guava, orange, and olive trees where Saber was murdered. Mohammed stood and looked at the place were the Israeli tank was positioned, kept silent for awhile, then pointed and said, "there, the tank was there."
"Saber was standing near us, he picked a guava from a tree, and he had just taken his first bite when an Israeli tank began shooting. Soon we ran away. Saber tripped, fell down, and shouted, 'Hey, hey, help.' We did not reply. I told him, 'You are joking,' but when I looked at him I saw blood pouring from his waist while dust covered his new clothes and his gelled hair. The seeds of guava were still in his lips," Mohammed recalled.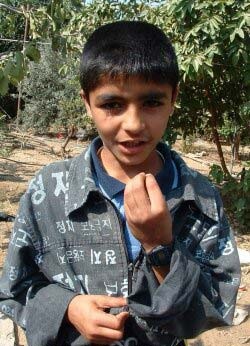 "The owner of the chickens carried Saber in his Volkswagen. Instead of carrying chickens, he carried Saber," he added.
Saber's 42-year-old father, Ibrahim, who works as a photojournalist, said that his son was happy in the minutes before his killing.
"During the incursion into Jabalia, I spend three days and nights at work, and [Saber] asked me on the phone to come back home, for he missed me … he asked for pocket money and went to the barber," Ibrahim said.
"Saber had his haircut and a shower and wore new clothes. He was so proud of his new haircut and styling gel. His clothes also were new. [Saber said,] 'Dad, look, I use hair gel and have new hair style, it is beautiful, yes, yes, it is beautiful, isn't it?'" Ibrahim recalled.
The last moment Ibrahim spent with his son was just ten minutes before Saber's killing. After showering, Saber chatted and drank tea with other family members. His talk focused on hair styles and clothes; his mother was also happy about the new haircut.
"I left the house and he was strutting among his cousins and friends in the area. Ten minutes later, I was informed on my mobile that Saber was wounded. Soon after, I headed to the hospital, but I found him lifeless," Ibrahim said, evoking the last moment he spent with his son.
Saber was an excellent football player, and enjoyed watching matches on TV.
"Lots of things died with him," Ibrahim said. "Just two weeks ago the coach of the Jabalia Youth Football Team asked Saber to join the team. Saber was so addicted to football; he wanted to be an international footballer."
Ibrahim mentioned that Saber suffered psychological trauma because of the previous Israeli attack on Jabalia in March 2003.
At that time, Israeli tanks were stationed near the family home and intense gunfire and missiles killed at least eight citizens and wounded scores of others.
Ibrahim explained that Saber's story is a long one. "When I got married, I suffered sterility for eight years. I received intensive medical treatment. I remember, I was heading home after a hard day of work, and I was astonished to see several people gathering near my house. My heart leaped up when I knew that they were coming to congratulate my wife for her first pregnancy.
"After eight years, Saber's first scream filled the hospital. I was extremely happy; I distributed sweets for all medical staff and patients in the hospital and the to those in the neighbourhood. I followed all the details of raising Saber," Ibrahim said while tears filled his eyes. "And in just seconds, the Israeli tanks turned him into a memory."
Related links: