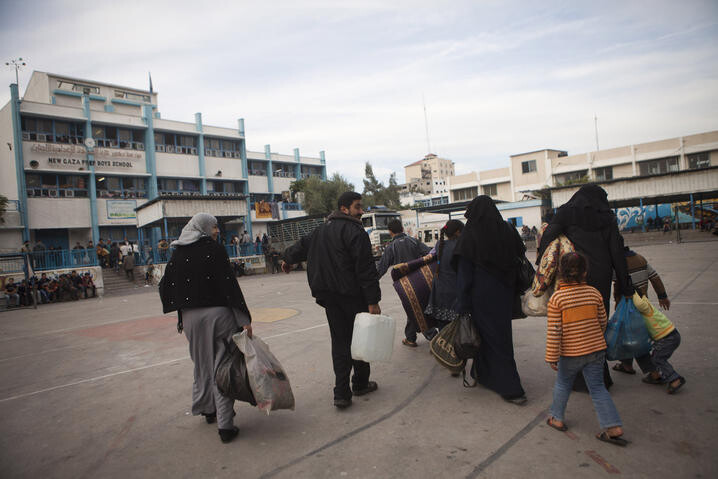 My parents, my sister and I had just reached my uncle Mahmoud's house in Khan Younis. Mahmoud was waiting outside the door and my sister and I jumped into his arms laughing with bubbly happiness. Then I noticed the little munchkins peering at us shyly.
These were the twins, Basma and Noor. They are three and a half years old. Then the youngest, little Farah, who everyone calls Faraj because of her huge cheeks, waddled in. Sa'eb, the oldest son, is now 15 years old. He was eight the last time I saw him. Now he has a faint moustache and a somewhat broken voice. The rest of the army of cousins were at school, since they take the afternoon shift due to overcrowdedness and lack of school buildings.
We went outside to see the land my uncle had planted. At the far corner was a pen with two lambs, two roosters, and a bunch of chickens. The lambs were eight months old and butted their heads on the wired fence to greet us.
"What are their names?" I asked.
"I don't know," Mahmoud shrugged. "They don't have names. Lamb and lamb. I'll tell you what, this is Linah and the other one is Deema."
Linah was a show off. He pranced and began jumping in the air, shaking his head like he had a mane of glossy hair. He propped his front two legs on the fence and swayed his head as I moved mine left and right.
As the afternoon wore on, part of the Alsaafin army all trooped in. Mohammad, Husam, Halima, Hanan. Roweida, Mahmoud's wife, couldn't express enough how glad she was that we were finally here in the flesh sitting on mattresses inside her home. My uncle Mohammad from Gaza City came bringing a fraction of his offspring as well. Adham got so tall. I thought he would never grow since he was always so tiny and skinny. And little Yazeed, the cutest thing ever with his shy smile and grown up way of talking, made all the more funnier because he couldn't pronounce the words right.
In what was to be a favorite topic of conversation for the next few days, my uncles lamented my weight, likening me to a toothpick, and began throwing fruit at me to resolve the problem. Then the conversation switched to the resistance, the victory, Ehud Barak's resignation, the rockets and the Israeli missiles.
"Whenever one of the resistance rockets would fly off, we'd say 'God be with you!'" Mahmoud said smiling. "Did you see the video clips of the soldiers crying and screaming?" His face turned serious. "And the bastards would target civilian homes. I can't forget the images of the rescue teams digging up the bodies of little children, like rag dolls."
"The first two days I couldn't walk," Roweida said. "I was crawling on my knees screaming trying to gather the children around me. The sound of the air strikes was terrifying."
By the third day, they all had left their house and went to a "safer area," where the air strikes were less frequent.
I realized I was running on barely two hours of sleep. Before midnight, we were all knocked out.
The next morning, we were all properly introduced to Abu il-Adas, the cross-eyed vegetarian asexual white cat. Its name literally translates as "Father of the Lentils" after Mahmoud caught the cat one time eating a bowl of leftover lentils.
Abu il-Adas thinks it's a human being. It sits regally on one mattress, surrounded by pillows, and eyes us all lazily and with supreme indifference.
I went to say good morning to the chickens, two roosters, and Linah and Deema. My cousins Sa'eb and Mohammad sneaked back twice to the house during the week of carnage to give them food. Roweida comforted herself by cursing the two boys, pushing away thoughts of their bodies lying lifeless and bloodied in the yard.
Our first day in Gaza started by visiting my grandfather's grave. My grandfather, 84-year-old Ibrahim Hasan Alsaafin, was older than the Zionist State of Israel when he died on 27 February  in the Khan Younis refugee camp, still yearning 64 years on to return to his village of Fallujah, a mere 15 miles away.
We drove through Khan Younis, not entering the refugee camp. There sure were a lot of women wearing the black niqab around here. To each their own.
We pulled in at the street next to Nasser Hospital on the left, where my mother gave birth to my brother almost 25 years ago. She never tires of telling the story and how the hospital was full of rats. Down that road there was a headstone marking the graves of seven Egyptian soldiers who were gunned down by Israeli soldiers in 1967.
We entered the graveyard. Since 80 percent of Gaza's population are refugees, the graveyard is divided up into plots of land belonging to each ethnically-cleansed village or neighborhood, complete with gates. We missed the Fallujah gravesite by a few meters and found ourselves next to the Yaffa gravesite.
"Who the hell leaves Yaffa to come and die in Khan Younis?" Mahmoud joked but the joke fell flat.
The Fallujah gravesite had a blue iron gate. Mahmoud unlocked the gate and we went in. We were greeted by faded graves.
We stood next to my grandfather's grave. I wished we could have seen him one last time. I was suddenly wracked with longing and grief.
"Hello Father," my dad said quietly.
We turned our palms upwards and prayed for Sido, crying silently. Then we each sprinkled water on his grave. According to the writing etched on the stone, he was 83 years old.
I walked around, trying to read the writings on other graves. My grandmother's brother here. My great grandmother Nabeeha buried in the Egyptian styled fusqiyeh — not a grave but an underground room.
Dear Sido, what would you say if you saw me now?
We piled in the car and drove along the sea, past the site where the Gush Gatif settlement was. We drove on and on, gaping at the thousand shades of the blue and green waves and the clarity of the water.
We parked next to an old Roman hill called Tel Reedan. I stood for a long time on the slippery seaweed covered rocks, marveling at the frothy waves and the emerald and periwinkle sea. So this is Gaza, where resistance is called resistance, and not nonviolent or popular or unarmed or peaceful resistance. This is Gaza, away from the donor-aid congested bubble of Ramallah and the hilarious but sad show of  the fake statehood bid at the UN.
A friend from Haifa told me that Haifa itself was enough for him, and if the Israelis took the rest of Palestine but left us Haifa he'd be happy with that equation. But he's never been to Gaza before. And even with Gaza, the whole coastline wouldn't be enough or feel like justice. The bantustans of the West Bank would revert back to being normal governates and cities of one country, the same one that holds the coastline and the Galilee and the Naqab and everything in between. I'd be happy with that equation.
Back to the house for dinner. Roweida brought out a piece of cloth one of my aunts had gotten for my mother when she was engaged. She lost it when she and my father moved to the UK, and over 20 years later, she held the piece of cloth in her hands, smiling in wonder.
After that, my sister and I were dropped off at a café in Gaza City, to meet with our beloved friends we had never met before but knew intimately from Facebook and Twitter. Sameeha Elwan, Yasmeen El Khoudary, Rana Baker — we all hugged each other like long lost friends, believing and disbelieving our eyes that we were finally meeting each other in person after a year or two of tweeting and facebooking. As Rana noted, the café would probably never allow us back in again after the hilarious and oftentimes inappropriate conversations we had.
It was an amazing feeling, to say the least. How hard is it to meet with family and friends when you're a Palestinian living under occupation? I called fellow EI blogger Mohammed Suliman from Yasmeen's phone, surprising him, and promised to meet him at his workplace. Sameeha noticed my notebook on the table and jokingly asked me if I was jotting down thoughts and impressions on each of them. Two hours were simply not enough. I was maybe a few minutes and another chocolate milkshake away from professing my deep love for them all, using flowery rhetoric and poetic gesticulations. We took a lot of pictures, needless to say. Who knew when we would meet again, and where?
We went to my uncle Mohammad's house to meet the rest of the family. Nada, Haya, Dina, Raghad. Adhan and Yazeed again. Areej, their mother. We laughed and teased each other, talking about everything under the sun.
Back to Khan Younis. My grandmother Halima had arrived but my cousins hadn't told her we were here in Gaza. My dad walked in first. I peeked from behind his shoulder. Sitto Halima, only a few meters away from me.
"Who are you?" she asked slowly.
My mother stepped forward. "I know you," Sitto said. Her eyes filled with tears. "I know this one."
My sister and I stepped forward, unable to contain our excitement. We started at her, then kissed her hands.
I peered into her green eyes.
"Who am I, Sitto?"
"Linah. You're Linah."
"And who am I, Sitto?"
"Deema. Deema." Sitto began to cry. We cried with her, kissing her over and over again. Her scarf slipped, and her shock of awesome henna dyed red hair filled the room's atmosphere.
"You're here, you're finally here."
Tags