Swimming is therapeutic for Fatima Abu Shidiq.
In 2014, her father was killed during the major attack on Gaza of that summer. Israel fired a missile towards the family's neighborhood in the town of Beit Lahiya. Her uncle's leg was blown off in the same incident.
Adapting to life without a parent has been a traumatic process – as it would be for any child. Sport has allowed Fatima to overcome some of her pain.
"I feel happy when I swim," she said. "Swimming has made me stronger against all the fear that I had because of the war and how I lost my dad. I just wish he was here to see me achieving success in my favorite sport."
Fatima – now aged 13 – is hoping to represent Palestine in the 2020 Olympic Games.
Sharaf Tantish, a swimming coach in Beit Lahiya, is trying to help Fatima realize her ambition. Her skill is not in doubt. She has already won a number of races at local level.
The main obstacle that Fatima must clear if she is to visit Tokyo for the 2020 Olympics is a political one. "We need open borders – without any travel restrictions," said Tantish.
"Unpredictable gateway"
For most people in Gaza, the only exit point to the outside world is through Rafah – on the strip's border with Egypt. A recent paper by the UN Office for the Coordination of Humanitarian Affairs described Rafah as an "unpredictable gateway."
Although the crossing has been open over the past few months, it was closed continuously – except for a few days per year – between September 2014 and May 2018. It is impossible to foresee if athletes from Gaza will be allowed to travel through Rafah for the 2020 Olympics.
Ruqaya al-Baba is another swimmer who has gone through enormous suffering.
Her mother and brother were killed during Operation Cast Lead, an offensive against Gaza in late 2008 and early 2009. Her mother was baking bread when Israel fired artillery on her home.
"It felt like the whole world was falling apart," said Ruqaya, now aged 12.
Ruqaya feels that developing her swimming skills is one way she can honor her mother's memory.
"My mother used to encourage me to do my best," she said. "My dream is to fulfill her wish and become a successful woman."
Challenge
She is among the participants in a swimming program run by a Beit Lahiya youth club.
The program began in 2015. The 30 boys and 20 girls taking part all lost family members during Israel's attacks on Gaza.
Sharaf Tantish, the coach, said that the program has managed to keep going even though "we have limited resources." The costs of running it have been largely paid by charities.
These bills are considerable. Renting a pool costs approximately $20 an hour, the price of a bathing suit for each girl is between $15 and $30 and a pair of good quality goggles can be as much as $50.
These goggles are difficult to find in Gaza's shops and markets. The club has managed to secure donations of seven pairs of goggles from abroad but that is not enough for all participants in the program.
Muhammad Tantish, 13, is one of the newer participants in the Beit Lahiya program. He joined it last year.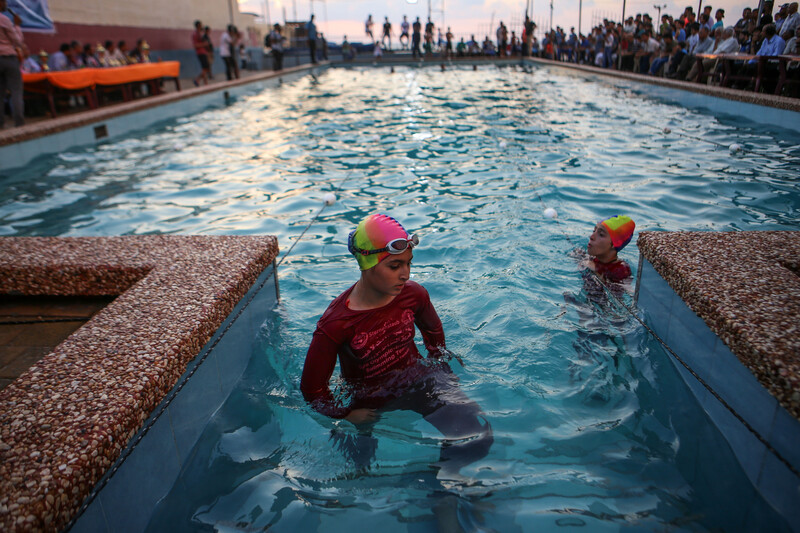 Muhammad's prowess was proven in August when he won a 2-kilometer race. Provided that the Rafah crossing remains open, he will travel to take part in an Egyptian training camp for swimmers within the next few months.
Before he took up swimming, Muhammad – a cousin of the coach Sharaf Tantish – earned a brown belt in karate. He now prefers water sports to martial arts. He is a big fan of the American swimmer Michael Phelps.
The swimmers of Beit Lahiya are not only thinking about honing their skills in the pool.
Fatima Abu Shidiq is hoping to become a lawyer, specialized in human rights. Muhammad wishes to study medicine once he has finished high school.
"I'm proud of how we can challenge the difficult circumstances we have here in Gaza," Muhammad said.
"We don't have well-equipped clubs and yet we still do well at many sports. My dream is to go beyond our borders and represent Palestine in international competitions."
Fidaa Shurrab is a writer and translator based in the Gaza Strip.
Tags