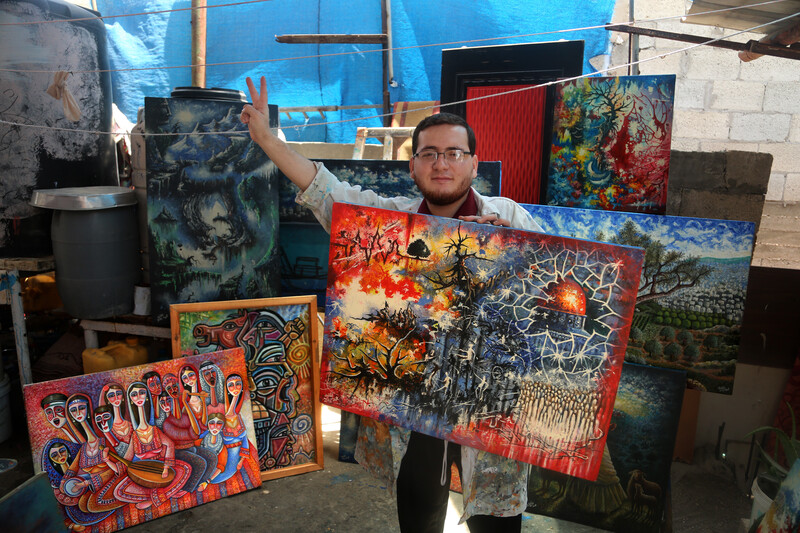 How can an artist capture the anger of a people when the most powerful politician in the world tries to discard their rights?
Mahmoud al-Moqayad may have succeeded in doing just that. After Donald Trump delivered a grave insult to Palestinians by announcing that the US was recognizing Jerusalem as Israel's capital, Mahmoud responded with a remarkable painting.
Titled "The Cry of Jerusalem," it appears to depict a storm hitting the city. Despite the air of both magic and menace, the Dome of the Rock stands tall; its gold contrasts with the dominant shades of blue, red and black.
The Dome of the Rock and the neighboring al-Aqsa mosque – one of Islam's holiest sites – have come to symbolize resistance and resilience.
"I followed the news about Trump's decision and I thought that everyone must stand against it," said Mahmoud. "I always believed in the strength of art and I decided to make a painting that expresses how Palestinians reject Trump's declaration. I chose those sharp colors to indicate that we will keep fighting until we gain back Jerusalem and our occupied lands."
The first major solo exhibition of Mahmoud's paintings was held in Gaza City earlier this year.
Inspired and proud
It featured a collection of work inspired by Palestinian history and culture and by the struggle for freedom. His subjects range from traditional weddings to memories of the Nakba, the 1948 ethnic cleansing of Palestine.
Aged 25, Mahmoud was born in Gaza. Married and with a child of his own, he still lives with his parents in Jabaliya refugee camp, where he grew up.
At the age of 1, Mahmoud was diagnosed with severe hearing loss.
"When we first learned that Mahmoud was deaf, we were very sad," said Mahmoud's mother, Subhiya, 45. "We did not know anything about this disability, and we were afraid that Mahmoud would have to stay at home with no opportunity of a decent life."
But his parents adapted. They learned of a kindergarten for children with special needs – part of the Atfaluna Society for Deaf Children – and at the age of 5 Mahmoud was enrolled.
It was at this age that his family and teachers began to notice his drawing ability. Mahmoud preferred color pencils, paper and his own imagination to playing with the other children, his mother recalled.
The school encouraged him and worked on developing his skills.
In grade three, Mahmoud won first prize in a drawing competition for school students held by the Islamic University of Gaza. It is something he still remembers with pride and it gave him the confidence to carry on, he told The Electronic Intifada in sign language.
But nothing was to come easy to Mahmoud. During one Ramadan when he was 8, he was playing with the kids in the neighborhood when a firework that he was unable to hear misfired and hit him.
He lost his sight in one eye and much of the sight in the other.
Mahmoud has refused to allow himself be defined by his disabilities.
"I will continue," he told The Electronic Intifada, "despite my disabilities and our poor conditions, to pursue my dream."
In 2008, he got his first break, taking third place in the Palestine International Award for Excellence and Creativity.
In 2010, he featured in a competition organized by Gaza's al-Quds TV channel. And since then, he has enjoyed steady progress.
In 2013, he participated in an exhibition in Turkey sponsored by the Trabzon municipality. In 2015, the cultural organization Rawasi of Palestine for Culture and Arts included his work in an exhibition of different Gaza artists.
"Great dedication"
Mahmoud uses both oil and water-soluble paints, though the former is his preference.
This year's solo exhibition came after he impressed officials during a project to paint murals around the Gaza Strip. Atef Asqoul, the culture ministry's general director, said Mahmoud proved to be among the best of 25 artists involved in the project and wound up responsible for most of the murals in the northern Gaza Strip.
"Mahmoud is a talented artist with great dedication to his art," said Asqoul. "He has proved to the whole community that having a disability is not a stigma."
"I have a God-given gift," Mahmoud told The Electronic Intifada. "I do not take ideas from anywhere else, I just pick up my brush and start painting what I feel inside."
Like everyone else in Gaza, Mahmoud has been affected deeply by Israel's siege and occupation.
There are few resources in Gaza or from the ministry of culture to support and promote local talent, said Asqoul. Gaza's inhabitants have to prioritize survival rather than expression.
As a result, the official said, most artists rely on foreign funding or recognition to have any hope of making a life from their art.
But travel is not a given for Palestinians in Gaza. While Mahmoud made it to Turkey in 2013, he was unable to go to Moscow earlier this year for an art exhibition because of the closure of the Rafah crossing between Gaza and Egypt.
"I will pursue my dreams. I want my work to be famous worldwide. And I will keep highlighting Palestinian suffering, aspirations and resistance in my work," Mahmoud said.
"We deserve a better life where we can achieve our dreams without the obstacles imposed by the occupation."
Fidaa Shurrab is a writer and freelance translator based in the Gaza Strip.
Tags