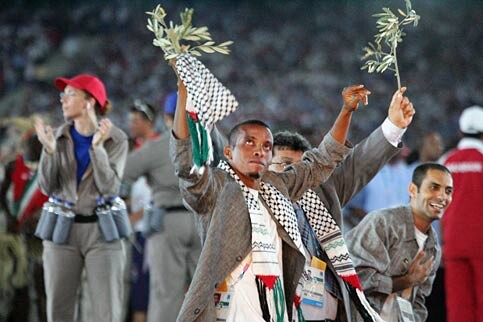 See update below.
The Internet information service Yahoo! has omitted information about Palestine's athletes competing in the 2004 Olympics at Athens.
Yahoo! has extensive Olympics coverage, one of the features of which is a search engine that allows users to look up any athlete by name or to look up all the athletes representing a country — except that the athletes from Palestine are mysteriously missing.
Although "Palestine" is listed in the menu of competing countries, selecting it to search for the names of its athletes produces "No Results." Picking any other country returns a list of athletes from that country. Searching for the Palestinian athletes by last name also yields "No Results."
According to the official website of the Athens 2004 Olympics, there are four athletes representing Palestine at the games, and Palestine is listed along with all the other National Olympic Committees.
They are, Sanna Abubkheet (Athletics), the flag-bearer for Palestine in the opening ceremony, who lives in Gaza and competed in the women's 800 metre race; Abdalsalam Aldabaji (Athletics); Sofia Sakorafa, originally of Greece (Athletics); and Ra'ad Aweisat of Jerusalem (Swimming).
Aweisat, who was the first swimmer to represent Palestine in the Olympics, did not do as well as he wanted to, but he told Australian Broadcasting Corporation radio after his race, "I swam for myself and for my country, not just for myself. Maybe in Beijing I can do something if I have got facility [sic] and very good coach and everybody, everybody help me." Aweisat also described the considerable challenges he faces training with poor facilities under foreign military occupation.
Yet on the Yahoo! results page for the 19 August 100 metre mens butterfly in which he competed, Aweisat is the only athlete listed with no country next to his name.
Unlike keyword-based search engines such as Google, Internet search directories such as Yahoo! bear special responsibility for accuracy as they seek to guide users to information via a proprietary indexing system. For several years, until the intervention of then-Birzeit University Public Relations Office employee Nigel Parry in the 1990s, there was no Yahoo! regional category for Palestine, and Palestinian sites were listed under "Israel". Yahoo!'s compromise at the time was to create a "Palestinian Authority" regional category, clearly still problematic as this avoided associating any actual geographic area with the Palestinian national identity.
The Yahoo! Sports exclusion of Palestine is either a simple oversight or a more sinister commentary on the 'appropriateness' of Palestinian Olympic inclusion by Yahoo!'s editors. Either way it is unacceptable.
UPDATE, 27 AUGUST 2004, 2:53PM CST
Following letters from many visitors to EI sent to Yahoo! Sports, the problems described above were resolved speedily. EI received the following response from Yahoo! Sports:

Hello,

Thank you for writing to Yahoo! Sports.

Thank you for bringing this to our attention.

We have corrected the problem you have referenced. The athletes representing Palestine are now accurately associated with Palestine — both on the country module and any results pages involving these athletes.

The problem you have reported was caused by a coding error in the data transmitted by our data provider. We sincerely regret any inconvenience this may have caused.

Thank you again for your email and enjoy the rest of the Athens Games.

Regards,

Nate
Yahoo! Customer Care
EI thanks visitors for taking the time to write on this matter and thanks Yahoo! Sports for its prompt and complete resolution of the problem within 24 hours.