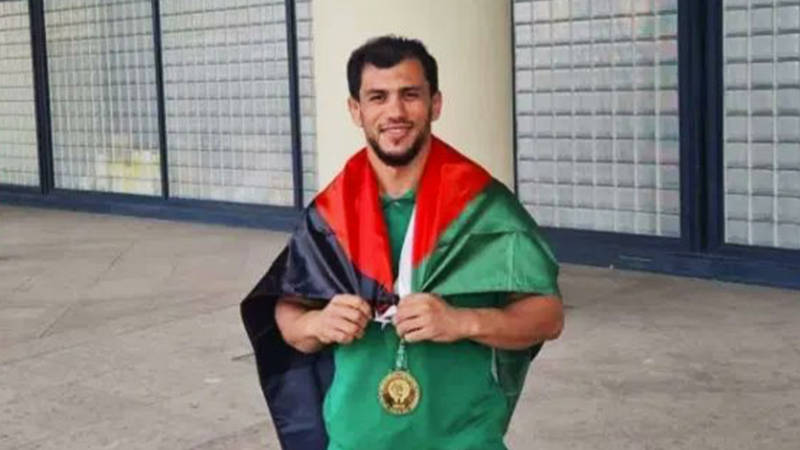 Sports federations are punishing an Arab athlete for refusing to compete against an Israeli in the Tokyo Olympic Games.
Algerian judoka Fethi Nourine forfeited a 26 July elimination match against Sudanese counterpart Mohamed Abdalrasool, as the winner of that round would have gone on to compete against Israel's Tohar Butbul.
"Any competition held under the Israeli flag is a recognition of not only the State of Israel, but also of the legitimacy of their occupation of Palestinian land," Nourine wrote on Facebook on 23 July.
His withdrawal eliminated the possibility of facing off against the Israeli.
Nourine explained that he refused to normalize with a representative of a "colonizer and an occupier."
"This Olympic competition was mine and I trained for it for years, but during my first contest, I encountered an Israeli," Nourine told Al Jazeera on 24 July.
"Withdrawal is not easy. But the goal and the message are much greater than this," he added, "that the Palestinian cause is just and the Zionist entity is a colonizer and an occupier."
Nourine denounced recent decisions by Arab states to normalize relations with Israel, calling it a "disgrace" for Arabs and Muslims.
Following Nourine's withdrawal, Abdulrasool was slated to face Butbul by default, but he withdrew from his fight with the Israeli as well.
Abdalrasool reportedly did not show up despite weighing in earlier.
He did not make a public statement, though Butbul's team had been informed that Abdalrasool had a shoulder injury, according to the Associated Press.
Punishment and sanctions
Nourine and his coach Amar Benikhlef were stripped of their Olympic accreditation and sent home, according to James Macleod, director of "solidarity" at the International Olympic Committee.
Macleod said the IOC was "concerned" and that it is "monitoring" the decisions to see if "there are flagrant abuses of the Olympic charter."
The International Judo Federation temporarily suspended Nourine and his coach while they conduct an "investigation, judgment and final sanctioning beyond the Olympic Games."
The Algerian Olympic Committee also withdrew Nourine and his coach's accreditation and imposed sanctions.
The IJF said the athlete and his coach's public statements were "in total opposition" to the philosophy of the IJF, which supposedly promotes "strict non-discrimination" and "solidarity as a key principle."
This is ironic, considering Nourine made his decision in solidarity with Palestinians living under Israeli occupation and apartheid.
The position of the International Olympic Committee is perverse given that for decades the body refused to allow apartheid South Africa to compete – a fact the IOC still boasts about.
Today there is growing recognition – including from B'Tselem, Israel's leading human rights group, and Human Rights Watch – that Israel commits the crime of apartheid against the Palestinian people.
But now, the IOC enforces "solidarity" not with the victims of apartheid, but with the state perpetrating it.
The IJF's punishment of Nourine and his coach also comes as no surprise.
In recent years, judo has served as a vehicle for sports normalization between Israel and nations with which it had no official relations.
As Israel's culture minister in 2018, Miri Regev, extensively lobbied IJF president Marius Vizer, to exclude the United Arab Emirates and Tunisia from judo events until they complied with normalization requirements.
The UAE Judo Federation then capitulated to Israel's demands to exhibit Israel's flag and play its national anthem at the Abu Dhabi Grand Slam in 2018.
Regev traveled along with her country's judo team to the competition, part of a blitz of Israeli normalization with Arab states gaining steam at the time.
She cried with emotion as the Israeli anthem was played in the Gulf country.
In 2020, Israel and the UAE announced the establishment of full diplomatic relations.
Political hypocrisy
While individual athletes are punished for taking political stances in solidarity with oppressed peoples, the International Judo Federation appears to be proud of its own political activities in support of the oppressors.

In 2018, the IJF's Marius Vizer held an apparently friendly meeting with Benjamin Netanyahu, then Israel's leader. The following year he promoted normalization by the United Arab Emirates for hosting Israeli athletes, saying it "opened a very important door for the future."

When Israel and the UAE announced they would establish formal diplomatic ties, the IJF bragged that it played a role in bringing this about.
Normalizing Iranian athlete
Meanwhile, Saeid Mollaei – an Iranian judoka now representing Mongolia – has dedicated his silver medal to the Israeli people.

Mollaei is an Iranian defector who is competing in the Olympics under the Mongolian flag.

He made headlines in 2019 when he was understood to have intentionally forfeited or lost rounds at the World Judo Championships in Tokyo in order to avoid matches with Israeli athletes.

Mollaei lost the match that would have qualified him to face Israel's Sagi Muki.

Israeli media and the IJF claimed at the time that Iranian intelligence agents and government officials pressured the athlete and his family not to face Muki.

It is unclear to what extent this is true.

Mollaei has been living in Germany, and has acquired Mongolian citizenship.

Mollaei helped train the Israeli Olympic judo team ahead of the Tokyo games.

Now, he is lending himself to anti-Iran propaganda by major Israel lobby groups and Israeli propagandists.

The IJF has previously tried to pressure Iran's national Olympic committee, which pledged in 2019 to "fully respect the Olympic Charter and its non-discrimination principle."

While Israel is not explicitly named in that statement, the move was understood by Israeli media as a response to Iranian judokas' refusal to fight Israeli athletes by forfeiting matches.

All eyes are now on Saudi judoka Tahani Alqahtani, who is scheduled to face off with Israel's Raz Hershko on Friday.

No matter what she decides to do, it will be a statement.
Tags