May proved to be an extremely cruel month for Ammar Banat and his family.
First, the family learned that the World Food Programme (WFP) was about to end the food aid on which they depend.
Next, they received a phone call telling them to evacuate their home in the Beit Lahiya area of northern Gaza as it was about to be bombed by the Israeli military. Their home was destroyed and they are now forced to live in a warehouse.
According to Ammar, news of the aid cut was a more "crushing blow" than being made homeless.
"They took away the food aid without any justification," he said. "It is impossible for us to survive without it."
Ammar is an unemployed father of six.
In recent times, the only work he has been able to find was as a farm laborer.
The work has not been steady. He would typically be hired for one day and then have no work for the following 10 days.
And – at approximately $8 per day – the wages have been meager.
For around seven years, he and his family have received a monthly food basket from the WFP, consisting of essential items like flour, sugar, salt and cooking oil.
Such aid has equally proven vital for his extended family. His brother Faraj – also left homeless by Israel's May attack on Gaza – has been receiving a voucher worth $47 per month from the WFP.
Faraj described the combined effect of the May bombing and the aid cuts as "an unbearable burden to bear."
"I have no money to feed my children," he said.
Forced to beg?
This month, the WFP is suspending aid to about 200,000 Palestinians. The cuts have been caused by a $51 million funding shortfall.
Further cuts – likely to impact 100,000 other Palestinian aid recipients – are expected by August, unless the funding gap is filled.
Most of Gaza's 2 million inhabitants are categorized as food insecure. They depend on aid.
The full blockade imposed by Israel has caused extreme hardship. According to the latest available data, unemployment now stands at 46 percent in Gaza.
Having a job often does not offer sufficient protection from poverty. Around 88 percent of employees in Gaza are paid less than the legal minimum wage stipulated by the Palestinian Authority (1,800 shekels or roughly $500 per month).
Salwa Warsh Agha is a mother of two children and lives in Beit Lahiya. Their one-bedroom home is small and dilapidated.
She has relied on a monthly WFP voucher of $30 for the past seven years. Without that payment, she fears that she will be unable to cope.
"Will I have to beg so that my children will be fed?" she asked.
The stress is exacerbating her health problems. She has undergone three eye operations and has constant back pain.
"Life in Gaza is hard," she said. "I have not been able to afford medical treatment and I am now struggling with high blood pressure."
Unable to pay her electricity bills, she tries to shrug off the prospect of being arrested or imprisoned for debt. "I'm already living in despair," she said.
"Vital lifeline"
Samer AbdelJaber, the WFP's representative in Palestine, is urging governments and businesses to plug the funding gap without delay.
"Ongoing donor support has enabled us to offer a vital lifeline to Palestinians and establish long-lasting food solutions in Palestine," he said. "It is crucial, now more than ever, to ensure that our efforts remain uninterrupted."
The United Nations has warned that there will be catastrophic consequences if donors do not provide the necessary funding.
Both the WFP and the UN agency for Palestine refugees (UNRWA) are experiencing severe financial problems. One major factor behind these problems is that the Russian invasion of Ukraine has shifted much attention away from Palestine.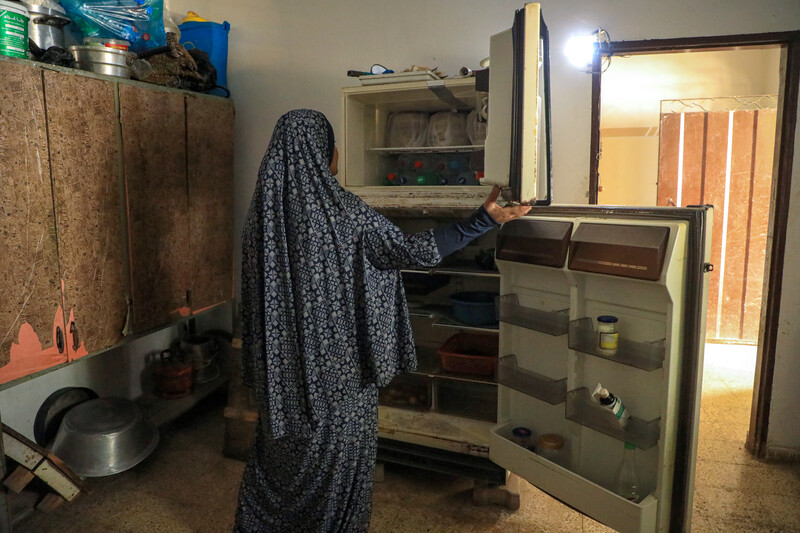 For Samah al-Qanou, being told of the WFP aid cuts "felt like a death sentence."
Her family has been receiving a monthly WFP voucher worth $47 for around a decade.
Her husband Kareem has long been unemployed. Both she and Kareem have a variety of medical issues.
Feeding their three sons is a major challenge even with the aid voucher. Their staple is bread baked in a clay oven.
"I have had to borrow money just to buy a bag of flour," Samah said.
Lacking basic food "casts a dark shadow" over occasions that should be joyful, she added. "I couldn't buy any sweets at all for Eid al-Fitr this year."
The aid cuts are bound to hurt small firms in Gaza, too.
Ahmad al-Baba runs a supermarket, which until recently served around 300 families. Many customers have used WFP vouchers to buy groceries.
The supermarket used to employ five people and rent four warehouses for storage in Jabaliya refugee camp.
"The sharp decline in demand has forced us to downsize," said al-Baba. "Now we only have one worker and one warehouse."
Aseel Mousa is a journalist based in Gaza.
Tags