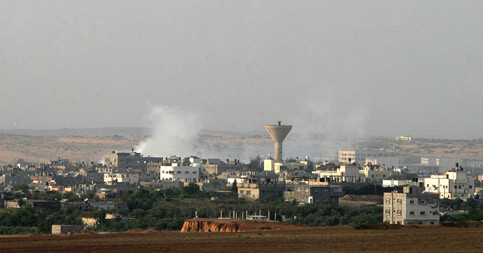 The Israeli army declared on Wednesday morning Beit Hanoun a closed military zone, demanding the residents to stay indoors. The Israeli army issued a warning thorough two local radio stations, Freedom Radio and Youth Radio, after they managed to occupy the signal for few minutes in the town of Beit Hanoun. The town is home to 28.000, only few miles a way from the Israeli city Sderot.

It's reported that the Israeli army conducted a large-scale offensive in Beit Hanoun at dawn, with combined air and ground forces including infantry, armored corps and engineer corps.

According to Palestinian sources, this incursion is the tenth that Beit Hanoun has been subjected to after the Israeli army left the Gaza Strip in August 2005. As of this writing, the death toll resulting from this last offensive stands at eight and more than 100 people have been wounded.

Palestinian President Mahmoud Abbas called the operation "a massacre" and an "abominable crime," while Palestinian Prime Minister Ismail Haniyeh declared, "This is the fruit of [Yisrael Beitenu Chairman] Avigdor Lieberman's addition to the government."

Beit Hanoun resident Nedal Wahdan, 47, explains, " The Israeli army say that this operation will be rapid without the re-occupation of the Strip. Are they trying to fool us? They still occupy us even after they left the Gaza Strip by turning it into a big prison. I can not go to my farms, fearing that a shell might him me or at least its shrapnel." He added, "Beit Hanoun used to be a paradise full of trees and planted fields; we used to barbecue between the trees, enjoying the singing of birds. But now it has become a desert because the Israeli bulldozers destroyed everything."

Basmah Al-Kafarnah, a 36-year-old mother of six children, says, "My children get scared and terrified whenever they hear tanks shelling. I don't have an alternative house to move to; it's very dangerous when shrapnel falls on the roof and hits the windows. The shells don't differentiate between militants and civilians. They are conducting random killings; they even killed animals in our field.

"God knows how many people they are going to kill this time," worries 31-year-old farmer Naem Al-Masri. "On the day of Eid El-Fitr they killed seven people. We have lost many loved ones; I wonder why the Israelis have the desire to commit ethnic cleansing. We demand that the international community intervene and stop this genocide. Do we Palestinians not have the right to live like the Israelis? The only solution to this crisis is to end the Israeli occupation to our lands. We need to breathe freedom."

Pointing to the dire nature of the situation, the Palestinian Foreign Ministry said on Wednesday that Palestinians are leaving the territories due to the harsh security and economic situation there.

Ahmed Suboh, a Palestinian Foreign Ministry official, said at a Ramallah press conference that over the last four months, foreign and Arab diplomats in the territories have authorized 10,000 Palestinians to enter their countries.

Student Ahmed Abu Harabid, 15, said, "I was wounded last week by shrapnel to my leg and abdomen. It hurts so much. I want to tell the Israeli children to feel how we feel; we don't enjoy our lives like they do. I want to be a doctor one day to help treat people, especially innocent babies and children. My uncle is imprisoned in an Israeli prison and my cousins lost their father two years ago."
While I was listening to the boy, group of young children came and invited him to play soccer in the street but his father shouted, "Son go inside the house. I don't want to lose you." The father said in a sad tone, "When he was wounded the last time, we thought he was going to die. Thank God he is still alive. We always worry. The drones are hovering in the skies so it's dangerous, I should go to my house."

Related Links

Yousef Alhelou is a producer, translator, and fixer based in the Gaza Strip.