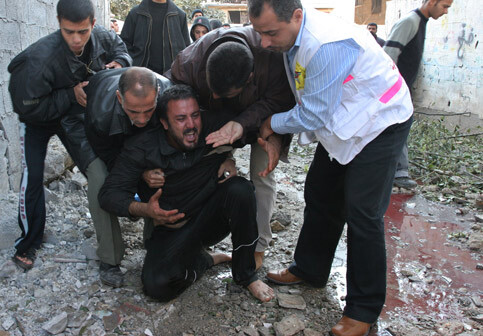 One day after the Israel army declared that it had pulled out and completed Operation Autumn Clouds in the northern Gaza Strip town of Beit Hanoun, 24 Palestinians were killed in Gaza and the West Bank, 19 people were killed and at least 45 were injured as a large number of shells were fired at the town. Another five Palestinians were killed in Jenin, northern West Bank by Israeli army fire.

The series of incidents began at 6 a.m., when eyewitness said that dozens of tank shells and missiles landed simultaneously in a small and limited area in Beit Hanoun. Ambulances found it difficult to evacuate the wounded. According to Palestinian sources, some of the shells landed on a house, killing 11 members of one family called Al-A'athamein, including a nine-year-old child and a 73-year-old woman. Israeli sources confirmed that artillery shells were fired Wednesday morning. Incredibly, they said it was not yet known whether the matter was a technical error or a human one.

Sources in Gaza reported that some of those killed were hurt after shells hit a group of civilians who arrived to aid those hurt in the first barrage. Residents in the area were called to donate blood for fear that the number of casualties would be higher. Khaled Radi, a Palestinian Health Ministry official, said all the dead were civilians. He said seven children and four women were among the dead.

Radi also said at least 45 more were wounded, all civilians. Four hospitals are treating the wounded across Gaza. Emergency and first aid director in the ministry of health, Dr Moa'aweyah Hasanein announced that the latest round of Israeli war crimes in Gaza has resulted in a new massacre in the northern town of Beit Hanoun. Nineteen innocent civilians, including seven children and four women, have been murdered brutally as they slept in their own house. This brings this week's toll alone to around 80 Palestinian martyrs and more than 350 have been injured.

In a huge demonstration outside the morgue at the Kamal Adwan hospital in the northern Gaza Strip, thousands called for revenge. Hundreds of Palestinians began marching in the northern Gaza Strip, in protest of the IOF operation in Beit Hanoun. The protestors chanted slogans against Israel and demanded revenge.

President Mahmoud Abbas declared a three-day mourning period, closing schools after the horrific massacres against civilians in Beit Hanoun northern Gaza. "This is a horrible, ugly massacre committed by the occupation against our children, our women and elderly in Beit Hanoun," he said in a statement. "We urge and call the Security Council to convene immediately to stop the massacres committed against our people and to uphold their responsibility to stop these massacres." During an emergency meeting of the Palestinian cabinet, PA Prime Minister Ismail Haniyeh announced that efforts to form a national unity government have been suspended after "this awful massacre."

The labor syndicate in Gaza called today for general strike and to urged citizens to visit the families of the victims and wounded people in hospitals. The government spokesman, Ghazi Hamad, appealed to the international community to mobilize and stop Israel from carrying out such massacres against unarmed Palestinians. " Israel is a nation that has no human values and is a disgrace to the modern world," he said.

Palestinian Health Minister Bassem Naim referred to the trend of similar incidents, saying that killing constitutes a policy and a target for the Israelis. He stated, "I have no words to describe the ugly Israeli massacre in Beit Hanoun this morning." According to Naim, "This massacre is added to another massacre which the town has only just emerged from. This morning's operation only proves that killing is Israel's target, and this is proved by the massive fire at the medical teams arriving at the area." Naim added that more proof was the inclusion into the Israeli government Avigdor Lieberman, who openly calls for the killing Palestinians.

"The massacre in Beit Hanoun proves that the Israeli government is committing war crimes against civilians," said Israeli Knesset member Talab El-Sana after the incident. "Palestinian children and women are murdered in their homes and in their beds. Olmert, Peretz and Halutz are war criminals who failed the first war and are committing war crimes in the second war." He called for "the end of the ongoing slaughter" and said "tanks cannot kill the dream of a people aspiring to independence and freedom."

Mohamed A'athamnah, 37, said, "The Israeli army claims that they pulled out from our town. They are not physically here but their smells and their bad image still here, they continue their brutal, horrific massacres against civilians in Beit Hanoun and in all the Palestinian territories. They want to achieve victory here after they were defeated in south Lebanon. They only understand the language of force. They are vampires who don't know mercy; the bodies of children scattered everywhere in the site … God be with us, the whole world turns a blind eye."

"It is the saddest scene and images I have ever seen," 29-year-old Majed Kafarnah said. "I saw people coming out of a house covered in blood. I started screaming to wake up the neighbors." Mona Al-Zanoiun, 41, said, "They destroyed the houses above our houses, killed women and children; they are criminals, they murder us in cold blood. Where is the international community and Security Council to see these massacres? We do not want them to send us food; we want them to take brave actions to stop these crimes." She described what happened to the town as akin to a tsunami and destructive earthquake.

Nidal Mater, 53, said, "Once again they commit massacres against civilians, but they will not break our sprit. We will not leave our land; all of us are ready to die for the sake of freedom." He added, "they use their arsenal to kill children and women. They are cowards; hatred has been engraved in our hearts and we will never forget. Where is their democracy? I wonder, are they just human beings like us? They destroy our agriculture fields, water, electricity networks and infrastructure — we cannot recognize our streets. Destruction is everywhere, even mosques, which are considered holy places, destroyed!"

Noor Masoud, 14, stated, "My message to the Israeli army is, well done — every day you prove to us that you are the most polite army of the world." She was crying when she spoke and added, "If you ask the trees and walls in Beit Hanoun they will tell you how merciful the Israeli army is! It's so funny when the Israeli government expresses its regret following this horrific, awful massacre."

Mahmoud Nasser, 33, said, "We rush from one mourning tent to the other because of the operation that only ended yesterday and already we have to deal with a new massacre. Difficult images, dead children, injured children with their faces torn. It's unbelievable." There was an ugly scene in the town's hospital as well, where mothers cried out as they carried their injured children. He added that all of Beit Hanoun "is busy with only one thing, moving the dead and wounded. All this between puddles of blood, lots of blood and body parts, next to some of the bodies were the schoolbags and sandwiches of children preparing to go to school."

Um Zeyad, 42, said that she had lost four of her children in the incident: Muhand, Mahadi, Arafat and Saad. "I am proud to be the mother of the Shahids [martyrs]; it is a great honor and we pray to Allah to compensate us," the bereaved mother said. She added two days ago "the Israeli army stole $1800 from my sister's house; another woman in the same house tried to prevent him from stealing the money, but he hit her by this gun to her head and she lost consciousness. The soldier refused to allow a woman to bring water, 42 of us were women and children trapped in one room."

I asked a man about what had happened and he started crying. Another man said, "It's normal to see a woman cry but it's very hard to see a man cry." He added, "We lost our houses, family members, loved ones and they destroyed our agricultural fields, citrus trees and olive trees, which are our only income. Today Palestinians united against one enemy."

Related Links

Yousef Alhelou is a freelance Palestinian journalist. He can be contacted at ydamadan@hotmail.com.