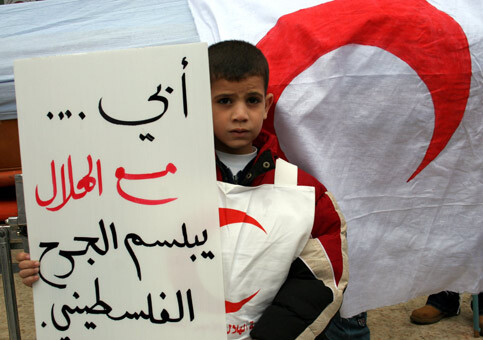 An Israeli Apache helicopter swoops towards northern Gaza and drops missiles on Beit Hanoun, leaving a plume of dust and destruction in its wake.

At least 52 Gazans have been killed since the start of Israel's 'Operation Autumn Clouds' in the Gaza Strip. Scores of Palestinians have been injured in this continued offensive, most of them civilians, including approximately 43 women, 30 children, paramedics, and journalists.

On Sunday, Israeli Prime Minister Ehud Olmert refused to say when Israel's offensive in the Gaza Strip will end, telling his cabinet the operation will continue until Palestinian rocket attacks significantly decrease.

Local radio stations in the Gaza Strip have broadcast around the clock for the fifth successive day in order to keep listeners informed of any breaking news, and playing patriotic songs saluting the resistance fighters and military wings. The resistance groups called their battle against the Israeli army "the battle of the faithful, free fighters."

While I was driving to Kamal Udwan hospital in Beit Lahiya and listening to a local radio station to get the news update, suddenly the Israeli army succeeded in occupying the airwaves for a few minutes. They played a recorded message warning the residents in the north to stay inside their houses and to keep away from militants and not offer them any assistance or protection.

Zeyad Abdul Dayem, an ambulance driver, said, "We had to wait today for 15 hours until the Israeli army allowed us to evacuate the body of a dead man who was killed by Israeli snipers who were positioned on the rooftops of high buildings belonging to Palestinian residents of Beit Hanoun".

Mohamed Al-Kafarnah, a 43-year old father of four children in Beit Hanoun, said, "I was not in Beit Hanoun when the Israeli army entered the town".

I asked how he was keeping in touch with his family. He responded, "I was lucky to talk to them for the last four days by mobile, but an hour ago they said their battery was running out and they don't have electricity in the whole town, so they won't be able to charge the mobile. Moreover, they cannot use telephone land lines because the Israeli army destroyed the telephone centrals and wire networks in the area."

"I'm so worried about them. They don't have drinking water, food, milk and medicine for the children who are suffering and scared."

He added: "People are in very critical situation. Some of them throw food to each other through the roof and windows. There are hundreds of Israeli snipers occupying peoples' houses and they shoot at any moving object; they have even killed animals".

When I asked him why he was in the hospital, he replied, "The reason why I'm in the hospital is because the body of my dead cousin is still in the morgue. We are waiting for the Israeli army to lift the siege, curfew, and to end their incursion in the town so that we will be able to bury him in the cemetery of Beit Hanoun."

Munir Abu Oudah, 38, said, "This incursion and offensive is different from the previous one. I think they are going to commit massacres like what they did in Jenin in the West Bank [in 2002]. This time, they destroy houses and carry out mass arrests of men of Beit Hanoun and take them to unknown destinations. They are even surrounding Beit Hanoun hospital, and the unmanned drones - or 'Zannanah' as people call them because they make a buzzing sound - don't stop hovering in the skies above our heads all the time."

"The Israelis do not allow us to make the call for prayer because they shoot at anyone who moves, including people who are trying to go to the mosque," says Zaki Kafarna, who won't allow his seven children to leave the house since his neighbor's son was killed last week. "The Israelis are everywhere. There are tanks everywhere, cutting up our citrus trees. Our children live in fear and they don't sleep at night," he says.

Aysha Gaben, a 45-year old school teacher who lives in Beit Lahiya near Beit Hanoun, said: "We are worried that the Israeli army will expand their incursion and escalate the offensive. I'm going to leave my house by tonight along with my family to stay in our relative's house in Gaza City." She added, "I cannot see the Israeli army killing my sons, or taking them prisoners; they do not know mercy, they are punishing all people in the Gaza Strip because of one Israeli soldier, but we have more than 10,000 prisoners behind Israeli bars."

"Thanks to the American administration who gave them the green light and participated in this incursion by sending American officers to help the Israelis and execute plans to wipe out our town," she continued, "the Israeli occupation army has made our lives miserable. We prefer death rather than being humiliated and deprived of dignity and freedom. The American administration is always pro-Israel. The UN headed by Kofi Annan does not care about our tragedy. I hope my words reach them and I want to ask them why we, the Palestinians, have to suffer. We expect you to use your role to end the Israeli occupation.

"The whole world should understand that we are conducting a war of independence. We are not terrorists as they portray us in the media … we are the victims of the Israeli occupation. Enough is enough! We are tired of this! Are they not tired? When will they realize that we are humans like them, dreaming to have our rights back and to have an independent state called Palestine?"

Related Links

Yousef Alhelou is a freelance Palestinian journalist. He can be contacted on ydamadan@hotmail.com.