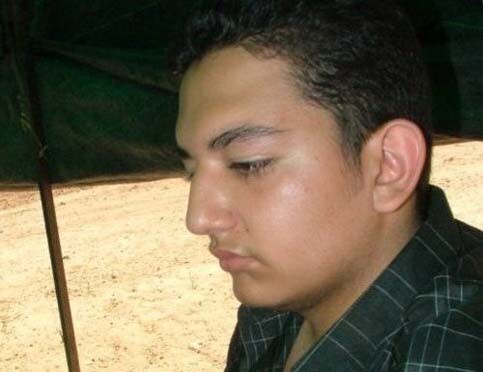 It is just an old house at the northern edge of Khan Younis, in the south Gaza Strip. Its asbestos ceiling, wrinkled walls, and old wooden doors ridden with holes reflect the cruel poverty of Abdelqader Ahmed, 57.
His 80-year-old mother, Fadhiyya Ahmed, spent yesterday in one of her favorite pastimes - being with her family. Sons, daughters, grandsons, and sons-in-law gathered around her, celebrating the return of her son Zakariyya from Saudi Arabia.
The family and their guests were eating lunch when an Israeli rocket slammed into the house. Zakariyya, 45, in whose honor the family had gathered, was instantly killed, as was his pregnant sister Fatima, 37.
Fatima's 18-month-old son, Khaled, was critically wounded and carried to the hospital. Another relative, Shaima, 25 and pregnant, was critically wounded in the attack.
They received treatment at the intensive care unit at Shifa hospital in Gaza, where physicians preferred not to talk to Shaima, as her condition is not stable.

Fadhiyya was wounded in the attack, and devastated by its consequences. She could not answer our questions, except with scattered words, as she said "My son, my daughter …Zakariyya is a genius, from KSA…Fatima teacher…children…a rocket…gifts…"
Zakariyya, a father of five and a news editor at Saudi TV, had just returned from Saudi Arabia to spend the summer vacation with his parents in Khan Younis.
In the cemetery, Zakariyya's 16-year-old son, Ahmed, cried while his father was laid to his final rest.
"I could not imagine that we would become orphans during our summer vacation in Gaza, yet it is our destiny," he said, crying.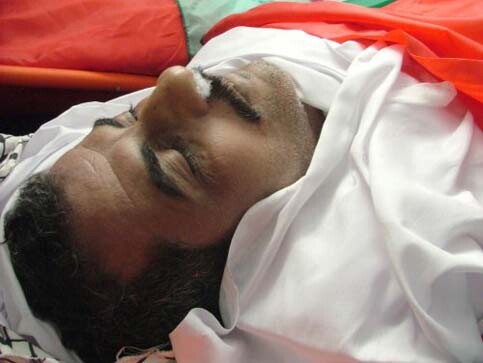 He added that his father had not come to Gaza in three years and decided to come this summer to spend the summer vacation with his parents.
"My father missed Gaza so much; he brought a lot of gifts to grandfather, grandmother, brothers, sisters and cousins," Ahmed said.
Ahmed revealed that his family has now decided not to go back to Saudi Arabia as they lost their livelihood and future there. "Our life has completely changed. I do not know what I will do."
Fatima's husband, Nidhal Wahba, said that his wife was waiting for him to join her at the lunch.
"I was to finish my work and join them. She phoned me to make sure that I would come as soon as possible," he said during the funeral today.
Wahba's eyes filled with tears when he recalled his wife, who just three days earlier had asked him to delay his birthday gift to her because of the economic crisis in Gaza.
"I do not know how to continue my life without her. Her two children also have become orphans. All this happened because the Israelis missed the target! It's unbelievable," he said.
Fatima was visiting her family in Gaza city after her brother Abdelrahman was killed two weeks ago during an Israeli airstrike on Gaza.
Abdelqader, Zakariyya's brother and the homeowner, said that while the family and their guesrs were having their lunch together, "we were so happy and some children were playing when the rocket hit the house."
He said that Fatima was talking and laughing with her sister, while their children yelled and played and the family talked all around. Suddenly, everything was turned upside down.
The rocket hit the house; he did not see anything because of huge clouds of dust until people carried him to hospital.
"It is unendurable life. We had been waiting for this nice moment for three years, but the Israelis turned it into a bloody moment. We can not bear such a life," said Abdelqader.
Sami Abu Salem lives in Jabalia Refugee Camp and works as an English news and features writer at the Palestine News Agency (WAFA). This article is reprinted by permission from WAFA. He has also worked at the International Press Center of the Palestinian Authority State Information Service, and works as a freelance writer for local newspapers, focusing on literature and arts.
Related Links