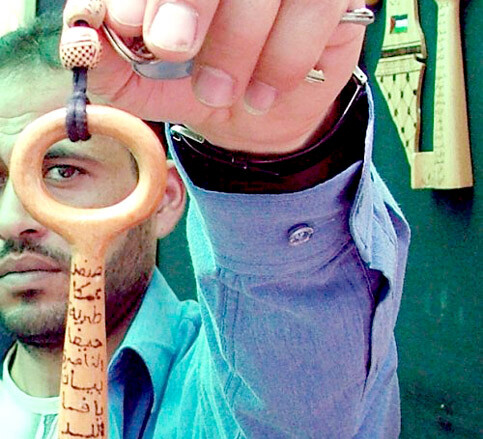 GAZA

(

WAFA

) — Different sizes of woody "key of return" ornamented with brandy names of Palestinian cities, were hanged in the tent of Nasser Flaifel 34, in Gaza. Other various Palestinian antiquities, including maps of Palestine, scattered at his small table and on the wall behind him. The sound of traditional Palestinian added a historic sense over the atmosphere.

Flaifel was so busy in writing brandy names on the keys with electric branding machine, said that the key is a symbol of Palestinians' "Right of Return" to their homeland.

"On the 57th anniversary of Nakba, the Palestinian people reiterate their adherence to their Right of Return, everybody expresses his adherence on his own way," Flaifel said, "it is my own way, making keys to remind ourselves and the world that we will never forget our right to return to our houses".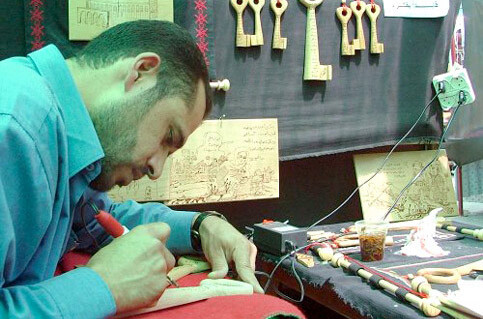 Nakba, is an Arabic term which means, "disaster", "catastrophe", "cataclysm" or "calamity". It is the term with which Palestinians usually refer to the 1948, when thousands of them were slaughtered and hundreds of thousands were forcibly expelled by Zionist gangs.

Two metal old keys were on the Flaifel's table. He said that the small one is the key of their house in the city of Beer Sheva while the big is the one of the garden. "These two keys are of our house in Beer Sheva, they are a valuable part of the patrimony my grandfather left for us," he said while carrying the two keys in his hand.
Flaifel's grandfather and all of his family were forcibly expelled from their house, in the city of Beer Shiva, in 1948 by Zionist gangs. The sons and grandsons of the family are still keeping the documents of possession of the house as well as their father's ID issued by the Palestine Government in 1938. "My grandfather left the key to my father, my father left it to me and I will leave it for my son, we will never ever forget our house, we are still waiting for the implementation of the UN resolution 194 and to return to our homeland".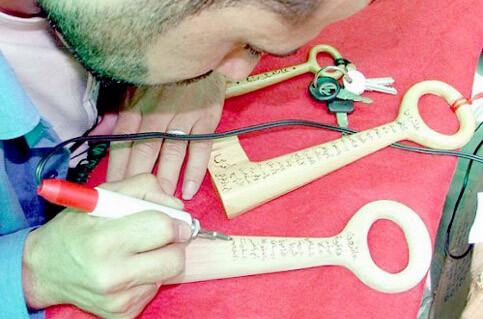 In 1999 Flaifel, and his family, visited their house in Beer Shiva, they were astonished to realize that the Israelis turned it into a synagogue. The garden also was still around it.

In the Palestinian traditions, on the wedding parties, the bridegroom gives a symbolic gift to the congratulators. Flaifel gave them the woody key. He said that he tried to arrange his wedding party on 15 of May which marks the anniversary of the Palestinian Nakba, but he changed his mind as it coincides the third anniversary of the death of his father.

Flaifel proudly said that the he presented the first key he made as a gift to the late President Yasser Arafat. "I was so proud when President Arafat was staring at my key and hanged it in his office in al-Moqata'a in Ramallah," he said.

Flaifel, is preparing to arrange his first exhibition, "for not to forget" which would include keys and artistic antiquities and symbols of Nakba. Flaifel, was arrested several times by Israeli Occupation Forces (

IOF

) in the 1987 Intifada.

"I was 17-year-old when I was arrested, I spent four years and a half in Israeli prisons, on the charge of fighting Israeli occupation. Through making keys, I feel as I am still fighting for my rights." He said that his "biggest dream" is to return to his grandfather's house. "I hope the UN resolution 194 will be implemented, to be able to return to our home and to be a warded compensation for tens of years living as a refugee."

Sami Abu Salem lives in Jabalia Refugee Camp and works as an English news and features writer at the Palestine News Agency (WAFA). He has also worked at the International Press Center of the Palestinian Authority State Information Service, and works as a freelance writer for local newspapers, focusing on literature and arts.

Related Links