The three-day-old baby Mohammed and his 23-year-old mother Maisa were sleeping in their room when an Israeli missile hit their house early this morning in the heart of Jabalia refugee camp, north Gaza.

"I do not believe [it], the rocket fallen from the sky near sons and daughter; it is a miracle it did not blow up," said Husseini Abu Salem, 46, the grandfather of Mohammed.

Shadi Abu Salem, the father of the baby, said he has just entered his room when the rocket hit the house.
"I looked at my new born baby and began change my clothes, I heard something heavy [break] through the asbestos ceiling and hit the ground," said Shadi, in a state of mild shock. "I carried my son and asked my wife to follow us out of the house, and screamed while calling [my] parents and brothers to leave the house."

At least eight family members were at their small house in the poor refugee camp. Nida, 14, said that she was sleeping on a mattress before the missile fell onto it.

"I [woke] up to drink water; seconds later, I laid down on an other mattress in the saloon. The missile [fell] on the first one where I was sleeping," she said.

Nida added that she could not move as she was frozen in horror. "I could not escape or even scream; my father left the room and took me with him."

The parents were sleeping while their three sons had nothing to do but talking together. The electric power was cut off and darkness was broken by several candles and kerosene lamp. They were astonished to see a missile "joint" their set.

Husseini, 46, the owner of the house, said he woke up when he heard something heavy fall on the ground and the dust filled the house "My son Shadi shouted and called all of us to leave the house soon," he said.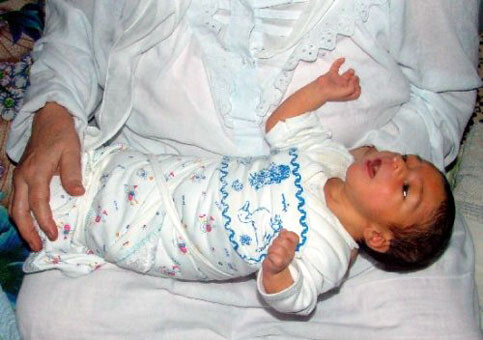 "I called my wife to leave and carried my daughter Nida with me out of the house," he said.

The 17-year-old son Mohammed could not describe his feeling when he realised that a missile "visited them in the house."

"Can you describe your feeling when a missile falls from the sky to sit beside you? Tell me, can you describe such feeling? It is …" said Mohammed, answering a question on his feeling.

Abu Salem's neighbours and relatives also left their houses among a state of panic and horror. Citizens in Jabalia were spending their night on the roofs observing the horrible sound of the helicopter and the drone which was a strong sign of bombardment.

George Abu Salem, the uncle of Husseini, who lives close to his brother's house, said he was on the roof and saw the rocket hit the house.

"I was sitting on the roof staring at the darkness and stars. I heard the helicopter, then I saw a piece of fire falling down. It hit my brother's house; all of neighbours carried their children and fled their houses," said George.

In their underwear and pajamas, tens of hallucinated peoples left their houses carrying their children, avoiding unexpected death.

Such a miracle saved the life of dozens of popr people in Jabalia as hundreds of them spent their night sitting in the alleyways and on the roofs.

Abdul Hamid Dawas, 44, was sitting on a mattress in an alley close to Abu Salem's house and said that hundreds of people could have been slaughtered should the missile have exploded.

"We have no electricity and it is very hot. We escape heat by sitting in the [alleys] or on the roofs; we have no other choice but to wait for our destiny," Dawas said.

Related Links

BY

TOPIC

: Israel invades Gaza

Sami Abu Salem lives in Jabalia Refugee Camp and works as an English news and features writer at the Palestine News Agency (WAFA). This article is reprinted by permission from WAFA. He has also worked at the International Press Center of the Palestinian Authority State Information Service, and works as a freelance writer for local newspapers, focusing on literature and arts.