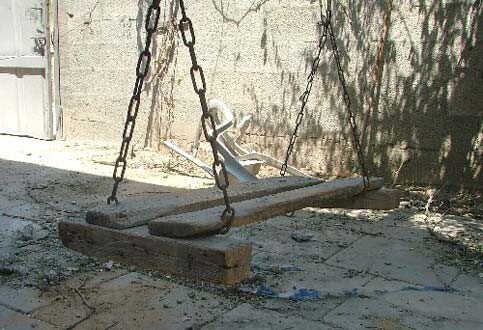 15-year-old Somaia Okal ignored her sister Maria as she asked her to leave the swing for her, while their mother Asma, 30, played with her 8-month-old infant Shahd, in Jabalia, north of Gaza.
This Wednesday, an Israeli shell hit their house and put an end to the laughing and chatter of the innocent Maria and Shahd. The mother was also killed, and Somaia critically wounded in the head; the 5-year-old, Amani, was wounded in the foot.*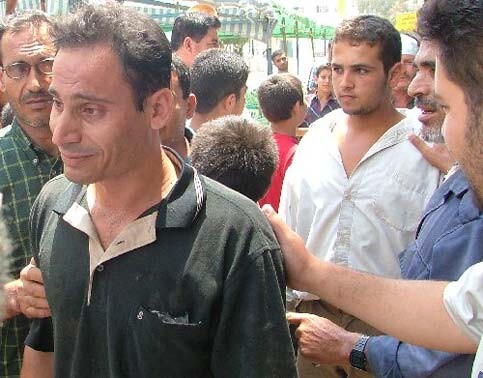 Samir Okal, 35, a father of seven, did not expect that the Israeli tanks will hit his house as he lives in the "serene" neighbourhood of Abd Rabbu. Even his relatives wanted to leave their homes and stay at his house because it enjoys a reputation for "safety."
Okal could not stop crying while telling how he lost his wife and two of his little daughters. "We had our lunch together, then we realised that Israeli tanks shell our neighbourhood. I closed the window and took my family to the garden in the front of the house."
Okal and his wife tried to calm down their children. The wife played with her baby and Somaia was playing with a swing while Maria was waiting for her turn.
"A shell hit the wall of the garden, I did not see anything because intense dust filled the place. I did not see my children or my wife. One second after, I heard the moaning of the baby and the sighing of my wife."

When the dust had vanished, Samir was grief-stricken when he saw that blood covered his wife and children. He carried the baby and ran out of the garden. Some neighbours arrived at the scene and carried the rest of the family to the hospital in a private vehicle.
Eyewitness, Eid Okal, the cousin of Samir, said he saw: "Somaia lay under the olive tree near the swing while blood streamed from her head. Maria was under the window and the mother near the smashed chair."
In Awda Hospital, north of Gaza, Okal was moving between the rooms, following up on his family's cases. Maria and Shahd were instantly killed and his wife joined their two children minutes later. Somaia was carried to the Intensive Care Unit after being hit with shrapnel in the head.
The mother and her two little daughters were among 30 citizens killed during the Israeli bombarding of separate areas north and east of Gaza.
It was not easy to reach the house in the neighbourhood which seemed occupied by ghosts. The gunshots and shelling were still echoing in the streets.
Most of Okal's neighbours left their houses to avoid the indiscriminate shells and gunshots. They escaped to what they hope will be safer places - the homes of relatives and friends, or public institutions.
Mr. Jamal Hammad, Head of Media Department at UNRWA in Gaza, said that more than 100 families left their houses and lived at its schools north of Gaza.
Other families stayed at their homes as they believe that there is no more security anywhere as long as the Israeli tanks, jets, and military boats target everything - even houses.
Okal's knees gave in and slowly he fell down when the corpses of his two little children and wife arrived in two ambulances.
He could not stop his tears while recalling either his wife who encouraged and supported him in building a new house, or his children.
"We enjoyed Shahd's talking and gurgling - his teeth have just begun to appear," he said.
Maria was eager for the new school year, as she wanted to go to kindergarten carrying a new bag. And Somaia also insisted her father buy new clothes and a bag for the new school year, which will begin in one month without them.
The wife has passed away with her infant, no more baby talk. Maria will never go to kindergarten or enjoy her new bag. Somaia, who was forced by the shell to leave the swing, does not yet know what happened to her sisters and mother, and still suffers her critical wounds at the intensive care unit.
Sami Abu Salem lives in Jabalia Refugee Camp and works as an English news and features writer at the Palestine News Agency (WAFA). This article is reprinted by permission from WAFA. He has also worked at the International Press Center of the Palestinian Authority State Information Service, and works as a freelance writer for local newspapers, focusing on literature and arts.
*Editor's note: Somaia Okal died a week later of her wounds.
Related Links