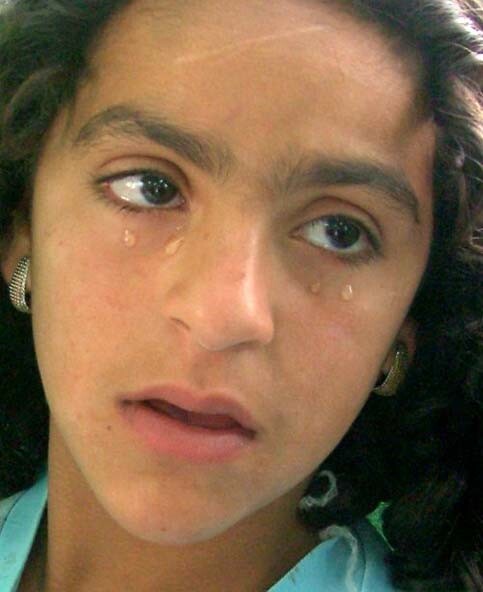 The tears have not yet left the innocent face of one astonished girl, Huda Ghalia, 12, who lost 7 members of her family yesterday, while they enjoyed their weekend at the shore in the town of Beit Lahia, north of Gaza.
Huda and her sisters and brothers were happily enjoying their first weekend together without thinking of homework, as they recently completed their school exams.
The Ghalia family went to a less populated area at the northern part of the beach, where white sand dunes and little wild plants were scattered.
They preferred to sit close to the shore, where the children were happy to play with water and the white, clean sand, and their mothers were happy to see the rare smiles on the children's faces.
Huda's father, Ali, 45, a farmer, cooked corn before playing cards with other family members. Hanadi, 18 months old, was laying in her cradle as her mother rocked it.
These enjoyable moments did not continue for long. Soon, the Israeli navy gunboats shot two bombs among the beachgoers.
Ali hailed a taxi and called for his family members to leave quickly, as soon as possible, and they collected their luggage, the children collected their toys, and they fled the now-dangerous beach.
Huda, who was lightly wounded in the arm, said that after her family left the scene of bombardment, they sat between sand dunes, waiting for a taxi.
"I was eating corn and my mother was breast-feeding Hanadi. Other children were playing with toys, and my sister Amani was hugging her baby, Mohammed," said Huda, as she cried.
"My sister Sabreen was making domes with sand and Ilham was laughing at her. Ilham was trying to pick up a piece of corn and asked me to not go far because the taxi was on its way."
"Suddenly, a rocket hit our family. I was only several meters away. The rocket fell among my mother, father, sisters and brothers. The dust was so intense that I couldn't see anything," she said, while laying on her bed at Kamal Udwan Hospital.
Seven members of the family were killed on the spot - the father Ali, 45, his son Haitham, 6 months, daughter Hanadi, 18 months, daughter Sabreen, 3, daughter Ilham, 7, daughter Alia, 25 and Ali's second wife, Raifa, 26. Several other women and children were wounded.
"I was so scared and ran away for several meters, and then I came back. I saw my brothers and sisters bleeding. I saw a head and hands but did not realize to whom they belonged. I saw my father - he was dead, lying on the dunes."
Eyewitness, Moneer Ghabin, said that he saw the "unbelievable and horrible" scene at the sea soon after the bombardment.
"My friends and I had just arrived at the sea to spend the weekend. We heard a strong explosion and went to inspect what happened. It was unbelievable and horrible," Ghabin said.
"Huda was running between the sand dunes as if she were looking for something. She was weaving between the bodies, and the body parts, of her family. She was scared, astonished, surprised and crying," Ghabin said.
Ayham, 20, another of Ali's sons, said that he was talking to his father just seconds before the attack.
"When the shell hit us, I do not know what happened. Within seconds, I realized that my family had been turned into a heap of flesh. Unconsciously, I carried someone's hand or leg - I'm not sure whose. I did not know what to do, and do not know why it happened," Ayham said.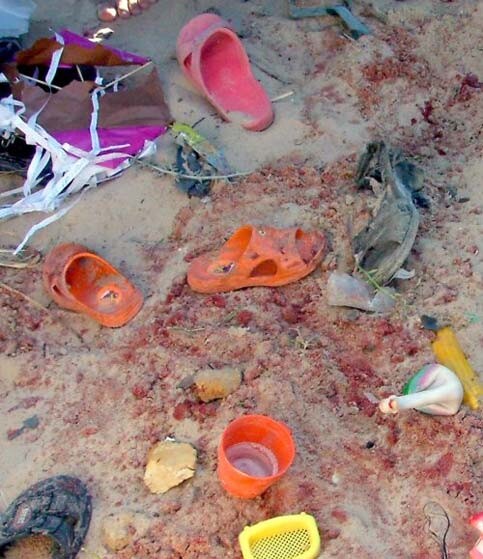 At the scene, yellow corn was covered with red mud. Pink and orange children's shoes lay among different toys, scattered near a mattress saturated with blood.

The white sand was turned into red mud where a tuft of little girl's hair and pieces of flesh were covered with a kite.

Tens of people gathered at the scene gazing at the shoes and children's toys. They wers shocked and appalled by what had happened.

Samir Kullab, 33, was carrying his bag leaving the shore. As his children followed, he said that the Israelis committed this crime because "they feel angry to see Palestinians enjoying their lives."

Kullab said that he could not understand why it happened and promised that he will never come, or allow his children to come, to see the sea again.

Sami Abu Salem lives in Jabalia Refugee Camp and works as an English news and features writer at the Palestine News Agency (WAFA). This article is reprinted by permission from WAFA. He has also worked at the International Press Center of the Palestinian Authority State Information Service, and works as a freelance writer for local newspapers, focusing on literature and arts.

Related Links

Serious Escalation in Israeli Attacks: 14 Palestinians killed in past 24 hours in the Gaza Strip, including 2 parents, 5 of their children and 2 brothers; 36 injured, Field Report, PCHR (11 June 2006)
Gaza: On the Beach, Mona Elfarra (11 June 2006)