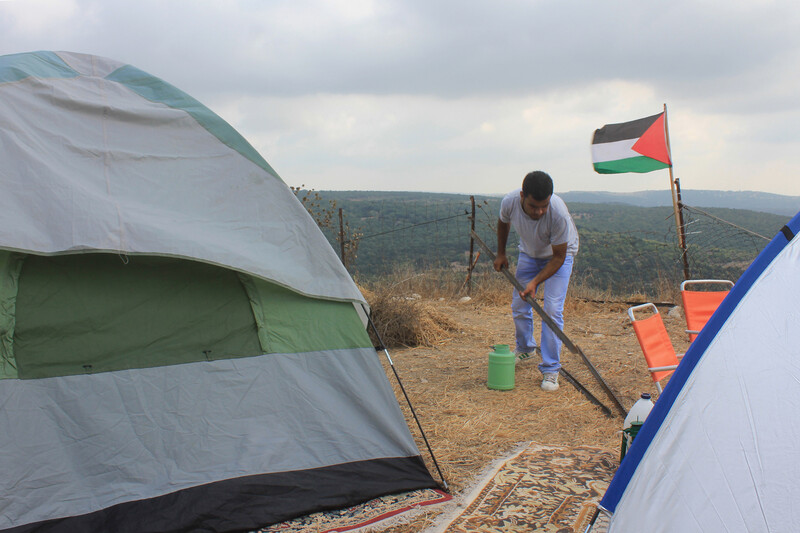 Young people with family connections to Iqrit, an ethnically-cleansed village in the Galilee, assembled recently for a week-long "camp of return."
According to organizers, more than 200 participants between eight and eighteen years old registered and attended the camp in Iqrit, which was destroyed by Israel's military in 1951.
The village's vibrant green hills — situated in the northern Galilee region of present-day Israel and hugging the boundary with Lebanon — are dotted with campers' tents and the decaying rubble of demolished homes.
The "Camp of Return" has been held annually since 1996. For many years, its participants left Iqrit after only a week. Activists have, however, now decided to complement the annual camp with a constant presence in the village.
The camp was "a major success this year," Nizar Ashkar, a 25-year-old Palestinian activist splitting his time between Jaffa and Iqrit, told The Electronic Intifada.
Over the past few years, campaigners have decided to take increasingly direct action towards realizing the right of return for Palestinian refugees and internally displaced Palestinians who were forced from their land and historic communities in present-day Israel.
In August 2012, approximately two dozen internally displaced youth from Iqrit, deciding Israel will never deliver justice on its own, took matters into their own hands and returned to their ancestral village.
According to Ashkar, "It was the first camp after the youth from the village decided to implement the right of return. It was a special camp in many ways, and so many people have learned about Iqrit in just a year."
The camp was not limited to Iqrit's refugees and their descendants: Palestinians from across present-day Israel, Jewish Israelis, and a handful of West Bank Palestinians who were able to obtain permits came to visit the camp throughout the week.
Impact
Ashkar, who works each year as an instructor, explained the impact of the 2012 return on the youth camp. "I think that this year the camp is very different politically because the people there — especially the youth — understood that Iqrit's case is part of the Palestinian story."
Ashkar's grandparents on both sides are internal refugees. His paternal grandparents are from Iqrit and his maternal grandparents from Birweh, the birthplace of the renowned Palestinian poet Mahmoud Darwish.
Unlike the past, he continued, "this year the Palestinian flag was all over the camp. Every morning the youth sang the Palestinian national anthem.
"There were large signs and banners against Israel's recent attacks on Palestinians citizens, including the government's project to recruit Palestinian Christians into the army and also the Prawer Plan," Ashkar said, referring to Israel's plan to displace 30,000 Palestinian Bedouins in the Naqab (Negev) region.
In addition to workshops about Palestinian folk music and dabke dance, and even one workshop about the history of Handala, a popular Palestinian cartoon character by assassinated artist Naji al-Ali, several workshops focused on Iqrit's history and plans for its future.
"I ran a workshop for ages 13 to 15, and I asked them to imagine the full return to Iqrit and to draw and explain Iqrit after they return to the village," said Ashkar. "I saw lots of creativity."
Among those who delivered lectures was a guest speaker, who told his personal story from Israel's 2002 assault on Nablus during the height of the second Palestinian intifada.
Films about Palestine were also screened at the end of each day, including Mohammed Bakri's acclaimed documentary Jenin, Jenin. "Activities aimed to emphasize the connection between Palestinians everywhere," Ashkar noted.
"Return is permanent"
A large makeshift soccer field stands in the middle of the village, built by the campers and instructors. Palestinians from across present-day Israel traveled to Iqrit to attend a friendly soccer tournament organized as part of the camp.
"It's more than a soccer stadium," said Ashkar. "Having a football stadium in a village like Iqrit is not something trivial. It is symbolic of our willingness to return, and it tells Israel that this return is permanent."
A soccer pitch, he added, was able to simultaneously deliver a political message and reach out to the youth. "It was amazing to see the stadium built amid the ruins of our destroyed homes."
One evening during the week, a few Jewish Israeli youth from a left-wing camp visited Iqrit and helped campers plant a small garden to show their support for work aimed at achieving justice for Palestinians.
The garden and the stadium were placed on the very edge of land confiscated for a Jewish farm at the borders of the camp.
The camp's success and overwhelming optimism, however, are not without threat. After a year of uninterrupted residence, the returnees worry that Israel will evict them again as soon as the opportunity arises.
"We're going to keep building"
The Israel Lands Administration has allegedly threatened to destroy the soccer field. Police came in the middle of the week and photographed the camp and the soccer pitch, giving campers a deadline to tear it all down.
"Even though [Israel] doesn't want us to return, we're going to keep building … and we don't care about their warnings," Ashkar said. "We are already used to their provocations. If they come to tear down the camp, I hope that we will be able to resist it."
When Israeli forces demolished structures on Iqrit throughout the past year, "they came during the middle of the night and when there were very few people there. I hope there will be enough of us," he said. At least 12 persons are present in the village at any given time because they live there in shifts.
Despite the several deadlines and warnings it has received from the Israeli police, the Iqrit Community Association intends to continue building on the land. "I don't think Israel will come and evacuate us," Ashkar predicted. "People are paying a lot of attention now."
Over the course of the past year, Iqrit has grabbed the attention of media and activists all over the world. Numerous journalists, writers and filmmakers have traveled to hear the returnees' story.
"Wind of hope"
This is "a trigger for Palestinians in Israel," said Ashkar. Around 1.5 million Palestinians live in present-day Israel and have Israeli citizenship, despite a complex legal system that treats them as second-class citizens.
Over the past few years, Palestinian citizens of Israel have been targeted by a large number of discriminatory laws.
Although many of these laws focus on stifling the right to protest for Palestinians, Iqrit has become an example for other young activists.
Earlier this month, a group of internally displaced youth set up camp in Kafr Baram, a village that was destroyed and depopulated in 1953.
"They decided to use [Iqrit's] model [of return], and I'm sure others will do this in more villages, too," Ashkar said.
"The Israelis are scared of this because they are not happy that our story is being spread all over the world; they're not happy that we're here at all," Ashkar said. "But the Palestinian youth are also feeling different. Iqrit is a wind of hope for us and for others."
Patrick O. Strickland is an investigative reporter for Mint Press News. His writing has appeared at Al Jazeera English, Truthout, AlterNet and elsewhere. Follow him on Twitter: @P_Strickland_.
An earlier version of this article stated that Kafr Baram had been destroyed in 1948, rather than 1953. This has now been corrected.
Tags