Amir Ashkar's grandparents were driven from their home in Iqrit, a Palestinian village in the northern Galilee region of present-day Israel, in 1948. Just three years later, on Christmas day of 1951, the Israeli military rendered the refugees permanently displaced when it razed the entire village, leaving only a church and a graveyard intact.
Along with approximately a dozen other descendants of refugees from Iqrit, Ashkar, 19, set up a tent and began to rebuild his ancestral village in August 2012.
"It is amazing how much support our return to Iqrit is receiving," Ashkar told The Electronic Intifada on 21 April, as hundreds of Palestinian citizens of Israel poured into the village for Easter celebrations.
The traditional religious ceremonies were accompanied by an art festival that included musical performances, plays, lectures, tours and other cultural events.
Hundreds of Palestinian citizens of Israel — from Christian, Muslim and Druze communities alike — attended the festivities. Others also came from the occupied West Bank, including East Jerusalem.
"We chose to hold the festival in Iqrit because they taught us all a lesson," Yazid Sadi, one of the organizers, told The Electronic Intifada. "They taught everybody a lesson about how to return and did not wait for the Israeli authorities' permission to return to their land."
According to campers who spoke to The Electronic Intifada, approximately a dozen persons live in Iqrit on a permanent basis, though the number fluctuates at times.
"Very difficult"
During the nearly two years they have been living in Iqrit, the youth have overcome a number of challenges.
The Israel Land Authority has forbidden them from building or fixing any structures other than the historic church and an outhouse. Surviving two winters in tents and inside the church, Ashkar said, was "very difficult."
"The first winter was especially hard for us," he explained. "The church's infrastructure was very unstable and not good for the cold weather. At one point, rain water flooded the church and was knee-high."
"For this winter," Ashkar said, "we had to work since mid-summer to prepare everything. We had to fix the church up, to gather and chop enough wood for the winter, and make sure all is ready."
Israeli authorities also demolished any structures that the campers built, including a garden and a small soccer stadium, and repeatedly uprooted trees that were planted. "They come on both official and unofficial visits," Ashkar said.
"Sometimes the police or someone from the land authority will show up. But other times something like a guy who looks like a hiker taking pictures of [the area] will come and then authorities show up later."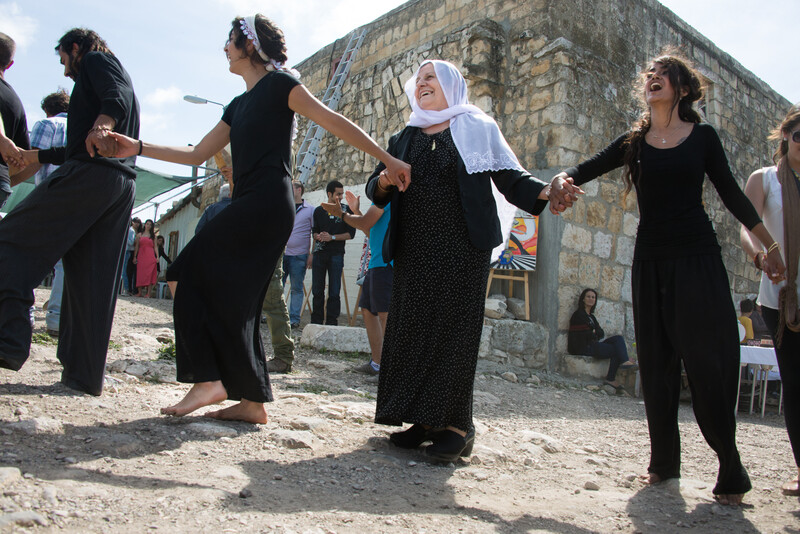 The day after the Easter art festival concluded, officials with the Israel Land Authority arrived in Iqrit and confiscated a performance stage, sofas, a bed, tables, chairs and the personal possessions of several youth staying in the village. They also uprooted several newly-planted trees, according to an activist in the camp.
Whenever their plants are destroyed, Ashkar and the others always replant them.
Campers also struggle to balance the demands of their personal lives with their commitment to staying in Iqrit.
For Ashkar, it has meant coming back and forth between Iqrit and a café job, struggling to visit his family enough and finding the time to prepare for university studies that will begin this fall in Germany.
Drone crash
At approximately 1pm on Monday, just a couple of hours into the festival, a pair of monitoring drones launched from a nearby Israeli military base circled over the village a number of times.
One of the drones crashed in a field next to Iqrit's historic cemetery, where several people were visiting the graves of relatives. Israeli soldiers came, loaded the device into a jeep and swiftly sped off.
Youth living in the village told The Electronic Intifada that drones are common in the area. It is not clear if the devices are used to monitor Iqrit or are common in the area because of the village's close proximity to the border of Lebanon.
Asked about the drones, organizer Yazid Sadi said: "I think Israel is a bit worried about what we are doing here. They don't like the idea of Palestinians from all … parts of Palestine coming together and uniting."
Return without permission
Taking Iqrit's cue, other groups have also decided to return to their villages without waiting for Israel's permission.
Elsewhere, activists have returned to the villages of Kufr Birim and Ghabisiyya in similar initiatives. A new group, al-Awda ("Return"), is working to encourage the descendants of internally-displaced Palestinian refugees to exercise their right of return.
In Kufr Birim, the Israel Land Authority has issued demolition orders and threatens to raze a number of structures.
"The Israeli authorities are scared of our return," said Amir Toumie, 18, whose grandparents were relocated in Haifa after being expelled from Iqrit.
Toumie explained that the direct actions in Iqrit and other villages challenge Israel's policy of pushing Palestinians off their land in present-day Israel and the occupied West Bank and Gaza Strip.
"It is the same occupation here and there," he said. "The conditions are different, but it's the same struggle."
Sowing division
Meanwhile, Israel is attempting to sow division between Christians and the rest of the Palestinian minority inside present-day Israel.
Most recently, Palestinian youth groups and grassroots organizations in Israel have decried the state's increased efforts to recruit Christians for service in the military.
In February, Israel's parliament, the Knesset, approved legislation that differentiates between Christian and Muslim citizens of Israel by segregating their representation on a national employment commission.
That legislation also drew condemnation by Palestinian human rights groups in Israel, who issued a joint statement criticizing the move as "a policy that seeks to fragment the original people of the land into small groups with narrowed identities to replace their national identity."
Toumie explained that the turnout for Iqrit's festival — including Palestinians from across historical Palestine and various religious communities — is a rejoinder to Israel's divide-and-conquer efforts.
"We are one people," he said.
Despite Israel's attempts to make life difficult for the campers and to fragment the broader Palestinian community, the youth vow to remain in Iqrit.
"We are staying here," Amir Ashkar said. "We already lost the land, the most important thing, once. At this point we have nothing to lose."
Patrick O. Strickland is an independent journalist and frequent contributor to The Electronic Intifada. Find his reportage at www.patrickostrickland.com. Follow him on Twitter: @P_Strickland_
Tags