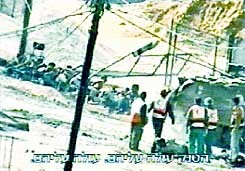 "Jenin Jenin", a 54-minute documentary made by Palestinian filmmaker/actor Muhammad Bakri, features at the International Documentary Filmfestival (

IDFA

) in Amsterdam. This film is Bakri's most cutting statement yet. Bakri says that the film is about "human suffering as such - about a wounded soul, a demolished home, a felled tree, a picked flower, a broken heart."

Bakri films in Jenin refugee camp after the atrocities of April 2002. He records the testimonies of local residents, men, women and children. Bakri's movie provides residents permission to speak. As his previous production "1948", Bakri records testimonies of the Palestinian collective memory. Palestinians interviewed in "1948" describe the moments when they became refugees and lost everything: their homes, their land, their villages, and their dignity. They described the brutality in which they were deported, or the fear of massacre that made them and their families flee for their lives.

It is sad to hear these testimonies and see their faces. Likewise, "Jenin Jenin" speaks for itself. Wounded human souls, people who have experienced devastation, talk about the hopes they once had, about the calamity they've suffered, about their home that was demolished.

Bakri has said that he's out to tell the world: "Look where the terror springs from. Look at the fertile ground, at the infrastructure that you've created, upon which terror has blossomed. And then, perhaps, they'll do some soul searching."

This film shows the extent to which the prolonged oppression and terror has affected the state of mind of the Palestinian inhabitants of Jenin. Bitterness and grief are the prevailing feelings among the majority of the population. Many have lost loved ones or are still searching for victims and furniture among the debris.

This week, twice "Jenin Jenin" will be shown at the International Documentary Filmfestival in Amsterdam. Over the past thirteen years

IDFA

has become one of the world's leading documentary film festivals with more than 200 documentaries and an audience of over 90,000.

IDFA

offers a diverse platform for screening and debating films, as well as discovering new documentary trends.

"Jenin Jenin" is a depiction of a factual situation: a refugee camp, people who were expelled from their homes in 1948, who made their homes here for 45 years, who tried to live somehow and have now experienced a second Nakba. It's a record of their pain.

Some might think that "Jenin Jenin" is not a "balanced film" with an "evenhandedness" approach with views and reactions from both sides. Bakri explains: "This is not a film about the military operation and the reasons that led to it. It's a film about people, about the situation. About what happened to them as a result of the situation. About the people who live in the camp, who lived through this inferno, who, in five minutes, lost all that they had built over the past forty-odd years. I had no intention of making a balanced film. I called it one-sided for good reason."

"Jenin Jenin" is dedicated to Iyad Samudi, the producer of the film. Samudi returned home in Yamun near Jenin after the shooting of the film was completed. On June 23, as Israeli forces besieged Yamun and Samudi wanted to leave a military closed area with three friends, he was shot and killed. "Jenin Jenin" opens with a moment of silence, in which Samudi is seen smiling and a caption reads: "To the memory of Iyad Samudi, acting producer of 'Jenin Jenin,' who fell victim to IDF bullets on June 23, 2002 after the end of filming, in Kafr al-Yamun."

A little girl, who does not seem to be much older than twelve, tells her story but knows no fear. The ongoing violence in her day-to-day life only nourishes her feelings of hatred and the urge to take revenge. They will keep on producing children, who can continue the fight against injustice. The sad question forces itself on the spectator. What will become of a country, a people when its children are confronted with war and violence from a very early age?

Related Links:

Tags