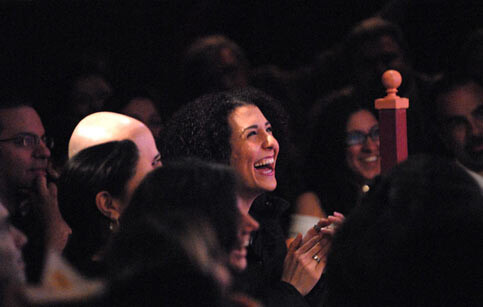 Any Arab who has watched a few movies in their time knows that their people and Tinsel Town have a few things to work out. With no shortage of caricatures, stereotypes, and other negative portrayals flickering across cinema screens year after year, passing unnoticed in American society bar the reflexive condemnations by Arab American groups, it was high time someone did something proactive.
The New York Arab-American Comedy Festival, which held its third annual event in Manhattan last November to sold out crowds, took the Festival on the road to the industry's front door — Hollywood, Los Angeles — from 24-26 January 2006.

The postcard invitations sent to members of the entertainment industry bore the legend, THE ARABS ARE COMING! in a lurid font reminiscent of the 1966 comedic political satire, The Russians Are Coming, the Russians are Coming.

Two shows of comedic short theater plays over two nights at the Hudson Mainstage Theater quickly turned into three shows as the first two were sold out before the festival even arrived in California. The third and final night's stand-up comedy show at the Laugh Factory, which showcased eight Arab-American comics, was similarly sold out before the night and some audience members were forced to watch the show in the packed club on TV monitors inside the performers Green Room.

Stand-up comics who performed at the show included host Aron Kader (Comedy Central's Premium Blend) , Ahmed Ahmed (Punk'd), Jimmy Gosen (AATV), Ronnie Khalil (The Miami Comics), Nasry Malak (Fahrenheit 9/11 DVD extras), Helen Maalik (Oxygen network), Dean Obeidallah (ABC's 20/20, CNN, Tough Crowd with Colin Quinn), and Maysoon Zayid (As The World Turns, Law & Order, MTV).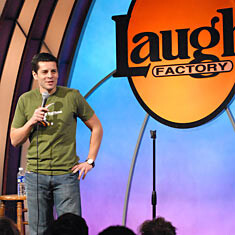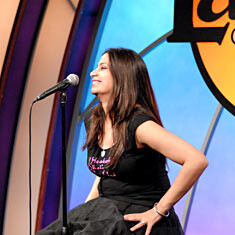 Founded in 2003 by Palestinian-American comedians Dean Obeidallah and Maysoon Zayid, the New York Arab-American Comedy Festival was created to showcase the talents of Arab-American actors, comics, playwrights and filmmakers to the Arab-American community, to Americans from other ethnic groups at a time in history where

US

relations with the Arab world are at their worst, and to an entertainment industry that sees Arab actors primarily as "Terrorist No. 3" in their cast list.

"We brought the Festival to Hollywood," Obeidallah told EI, "because we were tired of simply complaining about the way Arabs have been portrayed negatively in films and television programs. The only way we can truly hope to change our image is to get directly involved in Hollywood as actors, writers, directors and producers."

After three years, the Festival has become a hotly anticipated annual event in the New York Arab-American community, but no one was really prepared for the reaction in LA.

Festival Industry Coordinator Ryan Shrime described the overall response to the Festival as "breathtaking", and the reaction of the approximately 100 casting directors, agents and other industry members as "heartwarming and supportive".

"As I've been following up with them over the last couple of days, I've been overwhelmed by the outpouring of unabashedly positive feedback."

In an e-mail to Shrime, Big Picture Productions partner Stuart McFaul wrote, "The talent you assembled — and the potential for all of them in the entertainment industry — is tremendous. I will long consider it my pleasure to have been present to see the cutting-edge Arab-American comedy. Onward and upward!"

Actor Ramsey Faragallah (The Interpreter, Celebrity, Conspiracy Theory) spoke of the audience reaction to the show as "absolutely surprising."

"Speaking to people after the show," Faragallah told EI, "I could see just how moved they were about seeing their own culture on stage. One man told me that he had lived in the USA for 27 years, and from watching TV and seeing movies had actually started to believe the stereotypes, and was very grateful for the Festival."

Faragallah and Festival Co-Producer Waleed F. Zuaiter starred in Dean Obeidallah's comedic theater short, And now a word from our sponsors…, an informercial parody in which "Mustapha" (Faragallah) and "Marwan" (Zuaiter) — otherwise known as "

M&M

" — offer a course in "How to be a Real Arab in Five Easy Lessons." Complete with shirts missing the top four buttons, gold chains, and lots of chest hair, the two cover required Arab vocabulary, how to walk and dress like an Arab, and how to haggle in Macy's Department Store.

Joined by their cousin "Mona" (Hend Ayoub, star of last summer's movie Private), who offers Arab women similar advice including how to dance in a way that attracts "the right kind of Arab man" and promotes her book "32 Ways To Have Fun With Men Before You Are Married While Tech-nically Remaining A Virgin", the show definitely walks dead on, along a fine line of self-parody with hilarious results that didn't fail to bring down the house night after night.

"One of the better memories was going out on stage," Faragallah told EI, "and seeing two women sitting in the front row in hejab (Muslim headscarves). I immediately thought that they were going to somehow be offended and get up and leave, especially when Hend came out on stage. Well, Hend came out and I'm peeking from backstage. The audience is laughing and these two women are just howling with laughter. I realized I had actually begun to believe some of the stuff I see in the media too!"

Another wildly popular show during the Theater Nights was Lameece Issaq's A-Date, the story of an international Arab video dating service owned and run by the neurotic Miriam Shelebeh (played by Festival Co-founder and Co-executive Producer Maysoon Zayid), whose single aim in life is to marry off her unwilling daughter Lamia (played by Leila Buck).

The characters that populate the videos include "Sheik Mohammed Hussein Abu Sim Sim" (played by Laith Nakli), a narcoleptic traditional Arab who is looking for a third wife to control his other two, and "Maysoon" (played by Maha Chehlaoui), a hejab-wearing feminist lesbian who finishes her otherwise sweet but assertive intro with the declaration that "The mentally shackled need not apply!"

"The LA experience was moving," 'A' Date's writer Issaq told EI, "because here we are, in a new environment, among a new audience of Arabs and Arab-Americans who received us with such warmth and enthusiasm, who before this week had no idea we existed! To see these people react with such happiness was very touching. They are finally hearing their stories, seeing representations of people they recognize from their own lives, and situations that they are familiar with that don't leave them feeling isolated, marginalized or detested. They got to laugh and relate and feel like they were a part of something and to be a part of that was an honor."

One of the goals of the Festival is to showcase Arabs in generic roles, instead of just Arab roles. Jana Zenadeen's Love in Las Vegas tells the story of a bride (played by Zenadeen) and groom (played by Ryan Shrime) on their wedding night, two days after they met at the strip club where she works. Basically a comedic love story, Love in Las Vegas is a story of revelations, starting with the fact that the bride is pregnant with rapper 50 Cents' baby and ending with the groom inadvertently outing himself as gay when a male rubber doll pops out of his suitcase.

Many of the shows included strong political content relating to America's relationship with the Middle East and the Arab-American experience after 9/11 and during War on Terror.

Neil Potter and Bethel Caram's Train tells the story of an Arab-American couple (played by Joseph Kamel and Najla Said) on their way to meet the parents, who get freaked out by some suspicious-looking Arab men on the train.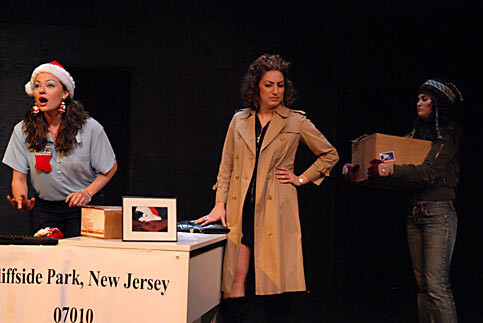 Maysoon Zayid's Hi Joan! tells the story of an encounter between Joan (played by Hi Jinks host Leila Sbitani), a

US

Postal Service employee, and Dania (played by Tamar Vezirian), a Palestinian American woman who spends her time in the post office fruitlessly trying to mail a package to her aging grandmother in "Bethlehem, Palestine" in time for Christmas.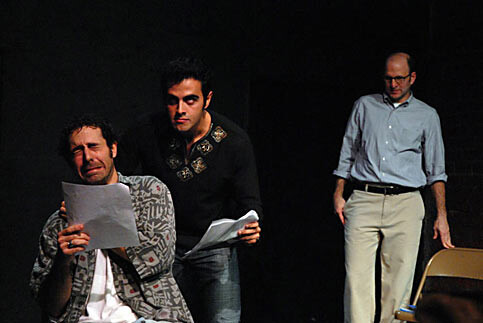 But perhaps the most appropriate piece for the

LA

showcase in front of Hollywood industry members was Sam Younis' Browntown, a satire exploring the issue of cultural stereotyping of three brown-skinned actors at an audition for a less-than-original

TV

movie, The Color Of Terror. "Omar" (played by Festival Co-producer Waleed Zuaiter) and "Malik" (played by Ryan Shrime) are Arabs, but "Vijay" (played by Sam Younis) is an Indian who keeps getting cast in Arab roles to the other two's dismay. The three arrive for auditions for the parts of Mohammed the terrorist and Chemical Ali.

"Omar", sick of all the terrorist roles he's forced to audition for, decides to throw the audition after a waiting room argument with the irritating "Vijay", and delivers his lines as Mohammed the terrorist in an Indian accent "like Apu the grocery store clerk from the Simpsons", complete with finger wagging and side-to-side head shaking.

The oblivious white casting director is all over it.

"It's great! It's great! What you are doing is great. But you don't need to be so respectful. When you say "I take care of my wives", you mean, "If they cross me, they die", you know? Just keep in mind that this guy is a devout Muslim. You're not afraid to detonate yourself at any moment, because your religion is telling you that you'll go to heaven for it. You're angry, and you want those virgins. That's what's driving you. You're a walking time-bomb. You know what I'm saying?"

When "Vijay" is called in to read Chemical Ali's part, and delivers it in an aristocratic English accent that has worked for him in these kinds of roles so far, the two can barely focus on what they're doing, so shocked they are at each other's accents.

The industry section of the audience were laughing out loud through Browntown, recognizing the appropriateness of the parody.

"Our hope," Festival Co-Founder Dean Obeidallah told EI, "is that ultimately the Festival will result in in more opportunities for Arab-Americans in the entertainment industry so that we can influence Hollywood to depict us accurately."

As one Arab-American producer wrote to the Festival, after seeing the show, "I woke up this morning feeling like I had done a million sit-ups, that's how hard I laughed… seeing the turnout last night made me so proud and I didn't realize how supportive Arabs are of each other."

And that, in a nutshell, is why the New York Arab-American Comedy Festival is the perfect antidote to the War on Terror.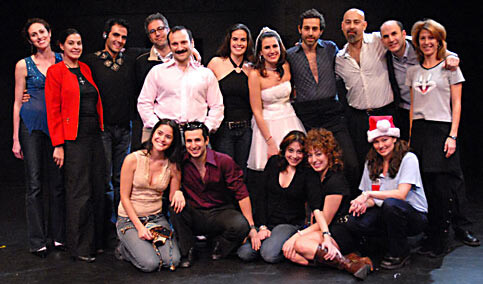 Related Links
BY

TOPIC

: Comedy
Nigel Parry is one of the founders of the Electronic Intifada and lives in New York City, where he offers communications solutions through his business, nigelparry.net. He accompanied the New York Arab-American Comedy Festival to LA for the recent showcase, to photograph the shows. The Electronic Intifada was a proud sponsor of both the November 2005 Festival in New York, and the January 2006 Festival in Los Angeles.