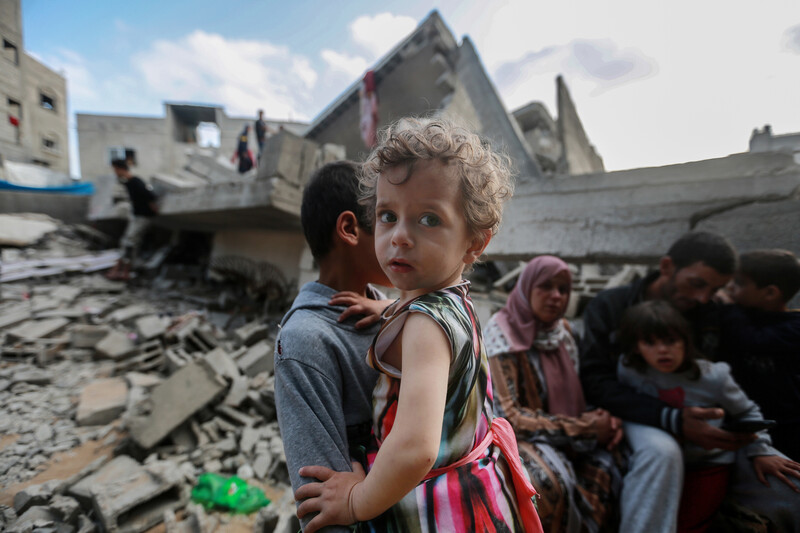 The Israeli military, police and armed civilians killed more than 50 Palestinians during May, which witnessed yet another deadly and destructive attack on Gaza.
At least 33 Palestinians in Gaza were killed during five days of intense cross-boundary fire that began when Israel launched a surprise attack by assassinating three Islamic Jihad leaders in their homes.
Several of the targeted resistance leaders' family members and their neighbors – including several women and children – were also killed in those first strikes on Rafah and Gaza City.
Israel targeted and killed three more Islamic Jihad leaders in the following days. The resistance faction responded by firing hundreds of rockets toward central and southern Israel.
Initial reports suggest that at least three of the fatalities in Gaza during the five-day escalation were likely the result of rockets fired from the territory that fell short of Israel.
The UN's human rights office said that at least 13 civilians, including seven children, were killed during the Israeli offensive.
Those killed include Dania Adas, a student of accounting who was planning to wed in July, and Iman, her 17-year-old sister. The sisters were killed in an airstrike using a US-sourced warplane that killed Islamic Jihad leader Khalil al-Bahtini, along with his wife Laila and their 4-year-old daughter Hajar.
Jamal Khaswan, a Russian national and dentist who chaired the board of al-Wafaa Hospital, was killed in a strike targeting Islamic Jihad leader Tariq Izzedine. Khaswan died along with his wife Mervat and 19-year-old son Youssef when the ceiling of their home collapsed as they slept.
Izzedine was killed along with his children Ali, 8, and Mayar, 12.
Palestinian rocket fire from Gaza meanwhile killed an 80-year-old Israeli woman and a Palestinian laborer from Gaza who was working in the southern Naqab region before an Egyptian-mediated ceasefire brought the escalation to an end on 13 May.
It was the second ceasefire reached in May; resistance factions in Gaza fired rockets towards Israel following the death of Khader Adnan after a lengthy hunger strike in Israeli detention on 2 May. Israel continues to withhold Adnan's body, along with those of at least 132 other Palestinians, some since 2016, according to the UN.
One Palestinian civilian in Gaza was killed as a result of Israeli bombing in response to the rocket fire.
After the day-long exchange of fire on 3 May, members of Israeli national security minister Itamar Ben-Gvir's extreme-right Jewish Power party boycotted parliament in protest, insisting that Prime Minister Benjamin Netanyahu should have meted out a more hardline response in Gaza.
Rather than acts of military necessity, the assassinations of Islamic Jihad leaders were likely a capitulation by Netanyahu to Ben-Gvir's demands in order to preserve his fragile ruling coalition, despite Israel risking a regional spillover of armed hostilities by doing so.
"Pressure cooker" executions
While a regional escalation was averted, Israel's routine killing with impunity carried on in the West Bank during May.
On 1 May, Israeli troops shot 17-year-old Jibril Muhammad Said Kamal in the head during a raid in Aqbat Jabr refugee camp near the West Bank city of Jericho, killing him.
Israeli troops killed three Palestinians – Muath Masri, Ibrahim Jabr and Hasan Qatnani – belonging to the armed wing of Hamas during a raid in Nablus on 4 May.
Israel appears to have used the "pressure cooker" procedure during the raid, a form of extrajudicial execution by which occupation forces fire progressively more powerful weapons at a targeted building in an effort to force those inside to surrender.
Israel claimed that two of the slain men carried out a shooting attack in the Jordan Valley three weeks earlier that resulted in the deaths of an Israeli-British settler and two of her daughters.
Also on 4 May, Iman Ziyad Odeh, 26, was shot and killed by Israeli troops during an alleged stabbing attack in Huwwara, a town south of Nablus.
Her death may also constitute an extrajudicial execution.
B'Tselem, an Israeli human rights group, has said that Netanyahu is responsible for "the transformation of police officers, and even of armed civilians, into judges and executioners" who shoot and kill Palestinians in the streets.
That deadly vigilantism, spurred by racist incitement by Israel's top leaders, all but certainly factored into the shooting death of Diyar Omari, a 19-year-old Palestinian citizen of Israel, on 6 May.
Israel claims that Omari was killed in the north of the country during a road rage dispute. But video of the deadly encounter shows Omari being attacked by an Israeli man identified as Denis Mukin, who is seen removing the teen from his vehicle and then opening fire at him as Omari attempts to get back into his car.
Later in the month, Israeli police raided Sandala, where Omari lived. The raid was intended to intimidate people accused of protesting against the young man's killing, Adalah, a group that advocates for the rights of Palestinians in Israel, suggested.
Police violently searched several homes and arrested 13 Palestinians during the "quasi-military" operation in Sandala, Adalah added.
Left to bleed
Also on 6 May, Samer al-Shafei and Hamza Khayroush, both 22, were killed in a military raid in the West Bank city of Tulkarm.
Israel claimed that the two men had carried out a shooting attack at a nearby settlement earlier in the week, injuring a civilian.
Graphic video shows al-Shafei and Khayroush laying on a tin roof, apparently lifeless, as Israeli troops search them, turning one of their bodies over with his foot. The video does not show the troops attempting to provide first aid.
Eyewitnesses told Palestinian media that the soldiers left the men to bleed and fired at them at close range to ensure they were dead.
The Tulkarm raid appears to be yet another extrajudicial execution operation in which the intent was to kill rather than apprehend the wanted men, despite capital punishment being banned by Israel.
On 10 May, amid Israel's military offensive in Gaza, troops killed two Palestinians – Ahmad Jamal Assaf, 19, and Rami Walid Qatanat, 25 – in Qabatiya, a town near the northern West Bank city of Jenin.
The Israeli army said the pair opened fire from a car before they were killed.
A third man – Aws Jamal Hamamdeh Kmeil, 30 – was also shot and died from his injuries the following day.
Also on 11 May, Ghazi Yusif Mustafa Shihab, 66, died after he was shot in the stomach by Israeli troops during a raid on Nur Shams refugee camp in the West Bank city of Tulkarm.
Israeli troops killed two Palestinians in the West Bank city of Nablus on 13 May.
Israeli undercover forces invaded Balata refugee camp in the northern West Bank city and besieged the home of a wanted Palestinian, firing several rocket-propelled grenades at the two-story building, according to the Palestinian Center for Human Rights.
The rights group said that during the daytime raid, Saed Jihad Misheh, a 32-year-old merchant, was attempting to reach his workplace when he was shot in the head by an Israeli sniper, killing him.
While Wasim Adnan al-Araj, 19, was attempting to evacuate Misheh, he too was shot in the head by an Israeli sniper and killed, his body falling on top of that of the other slain man.
That same day, 33-year-old Ahmad Muhammad Atatreh was shot and killed by Israel's paramilitary Border Police at a checkpoint in the northern West Bank.
Israel's Border Police claimed that Atatreh ran towards Checkpoint 300 near the settlement of Shaked while brandishing a knife. No Israelis were hurt in the incident, as is frequently the case in supposed attacks resulting in a Palestinian fatality.
The official Palestinian news agency WAFA said that Atatreh was shot while riding his bicycle near the checkpoint and that soldiers left him to bleed to death on the ground, preventing Palestinian paramedics and bystanders from coming to his aid.
On 15 May, Saleh Muhammad Saleh Sabri, 22, was shot in the chest during an Israeli raid in Askar refugee camp near Nablus. Israeli troops raided the home of Abdulfattah Khrousheh, who was killed during a raid in Jenin during March, in order to prepare for its demolition.
Killed without warning
Israeli forces killed three Palestinians during a raid in Balata refugee camp on 22 May.
Muhammad Bilal Zaytoun, a 31-year-old cleaner with the Nablus municipality, was shot without warning when he stepped out of a vehicle upon returning home from work and was left to bleed on the street. He died as a result of his injuries.
Resistance activists became aware of the presence of Israeli troops in the camp following Zaytoun's shooting and two fighters – Fathi Jihad Rizq, 30, and Abdullah Yousef Abu Hamdan, 24 – died in an ensuing exchange of fire.
On 26 May, Alaa Khalil Qaisiya, 28, was shot and killed by a setter after allegedly attempting a stabbing at a synagogue in Teneh Omarim, a settlement south of the West Bank city of Hebron.
A 38-year-old Palestinian intelligence officer died after being shot with two expanding bullets that injured his liver and lung during an Israeli raid in Jenin on 29 May.
The death of the officer – Ashraf Muhammad Amin Ibrahim – brings to at least 155 the total number of Palestinians killed by the Israeli military, police and armed civilians so far this year.
Two dozen people in Israel and Israelis in the West Bank were killed by Palestinians in the context of the occupation during the same period, or died from injuries sustained previously, including the two people killed by rocket fire from Gaza in May.
An Israeli settler was shot and killed while driving near Hemesh settlement in the area of Jenin in the northern West Bank on 30 May. The Fatah-linked al-Aqsa Martyrs Brigades claimed responsibility for the attack.
The following day, Chana Nachenberg, 52, died in a Tel Aviv hospital from injuries sustained during the 2001 bombing of Sbarro pizzeria in Jerusalem. Fifteen others, including seven children, were killed during the attack, in addition to the Palestinian bomber.
The New York-born Nachenberg, whose 3-year-old daughter survived the attack without physical injuries, never regained consciousness after the bombing.
Meanwhile, Rami Ezzat Bakr, a 45-year-old Palestinian fisher, was killed after his vessel was allegedly struck by an Egyptian gunboat during May. Another Palestinian fisher survived the assault.
Six Palestinian fishers have been killed by the Egyptian military in recent years, according to the Palestinian Fishermen's Syndicate.
Also during May, the Palestinian herding community of Ein Samiya near Ramallah, the seat of the Palestinian Authority in the West Bank, was forced to evacuate following increased settler attacks and after years of Israeli demolitions of homes and the community's only school.
Israeli settlers also attacked and set fire to several structures in Burqa village near Nablus following the visit of a European-led delegation of diplomats.
Burqa has endured years of attacks by settlers from Homesh, a nearby outpost built on land owned by Palestinians from the village.