Dania Adas and Muhammad Saad had planned a future together.
They would get married in July and were hoping to have children as soon as possible. If they had a boy, they would call him Samih – after Muhammad's father.
Both Muhammad and Dania lived near each other in Shujaiya, a Gaza City neighborhood. They were both aged 19.
"She told me that she had fallen in love with me at first sight," said Muhammad.
The couple signed a marriage agreement in March. They had not yet held a party to celebrate their engagement as they wanted to prepare the apartment where they would live first.
Dania was studying accountancy. She and Muhammad – a cryptocurrency trader and tailor at his father's sewing workshop – had hoped to establish a business together.
On Monday, Dania had classes until around 4 pm. She did not have much time to relax afterward as she had to submit some assignments the following day.
About 6 pm, Muhammad called to see her, bringing a kebab and a coke.
"She looked more beautiful than I'd ever seen her before," Muhammad said. "I told her she was more beautiful than the moon."
Muhammad stayed with her until after midnight, helping with a number of assignments.
He was very tired by the time he went back to his own home. He had not been away from Dania for long when he had a premonition that something dreadful was about to happen.
Less than two hours had passed by the time Dania's father alerted Muhammad's family that Dania had been taken to al-Shifa hospital.
Muhammad and his parents hurried there.
It was too late: Dania had already died. Her sister Iman, 17, was undergoing emergency surgery; she would die later that day.
"I fell to the ground when I saw Dania and burst into tears," Muhammad said. "I hugged her for almost 10 minutes until I was told [by staff] that I would have to leave. Her face was very beautiful."
Muhammad and his parents stayed in the hospital until about 7 am. Back home, he collapsed a number of times.
"How am I guilty?"
The funeral for Dania and Iman took place at al-Omari mosque in Gaza City.
Muhammad recited Surah Yaseen. Dania liked to recite those verses from the Quran while praying.
He embraced and spoke to her dead body at the funeral.
"I asked her: 'Why did you leave me? Didn't you promise me many times you would never leave me alone?'"
Dania was among the first victims of the latest Israeli attack on Gaza, which began in the early hours of Tuesday morning.
She was a neighbor of the Islamic Jihad leader Khalil al-Bahtini, who was killed in an airstrike – using a US-sourced warplane – along with his wife and 4-year-old daughter.
Iman and Dania were extremely close.
"They were martyred while sleeping in the same bed," said Muhammad. "Their room was right beside al-Bahtini's house."
Dania knew exactly the kind of wedding she wanted.
It would be celebrated in a villa. At her request, Muhammad had booked al-Shorouq Chalet, a popular location for holidays and parties.
"She loved the color red," he said. "She had asked me to have red picture frames on the walls in our home."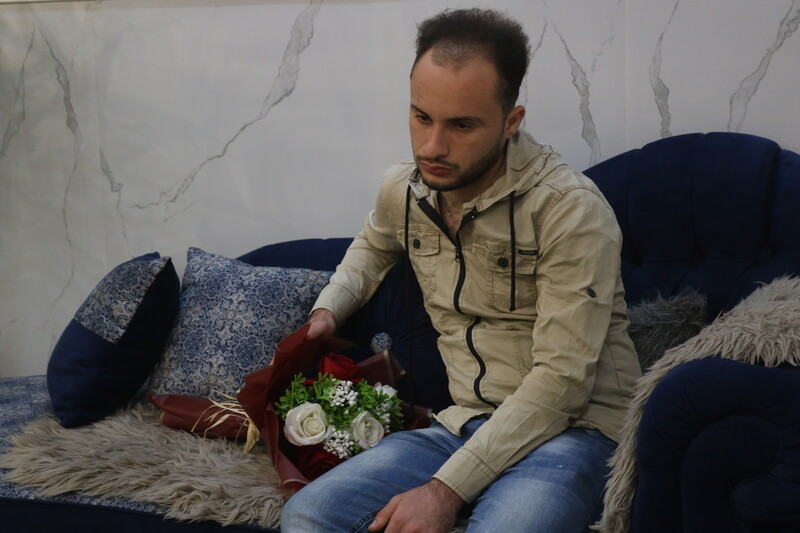 Muhammad is in deep shock. As he sat on a navy sofa – which Dania had asked him to buy – it was evident that he could not grasp the enormity of what has happened.
Holding a bouquet of flowers that Dania gave him recently, he said: "Everybody loved Dania. She would do anything to make me happy."
"We are not terrorists," he said. "How am I guilty? Why did they take my love away from me?"
Dania and Muhammad had planned a future together. Their future has been denied to them by Israel.
Ahmed Al-Sammak is a journalist based in Gaza.
Tags