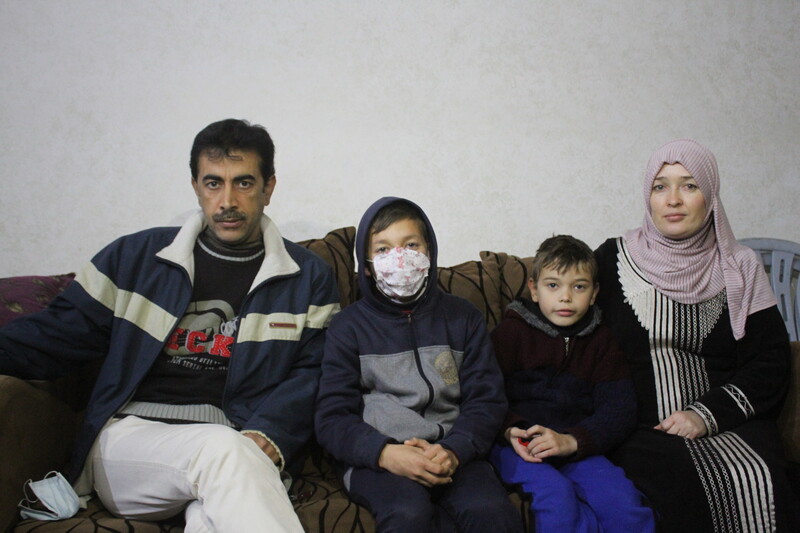 Tatyana Toplalova is extremely worried about her only brother.
Living in the city of Odessa, he requires regular treatment for kidney problems. He has remained in Ukraine since Russia began its military invasion in February.
"I am scared to death for him," she said, pointing out that there are "shortages of food, medicine and other essentials" in Odessa.
Tatyana does not have any news about her grandparents and other relatives from the Donbas region of Ukraine. She cannot contact them by mobile phone or via the internet because of the war's effect on communication networks.
As she lives in Gaza, Tatyana is no stranger to extreme violence. She has witnessed four major Israeli offensives since December 2008.
She is so accustomed to such attacks that she and her husband Dr. Bahaa al-Ashqar joke about how they prepare for them.
"Tatyana has survived four wars," Bahaa said. "So she would always advise her brother to keep plenty of food and medicine in storage. And to put all his important documents, jewelry and money into a bag so that they are ready if he is in danger and needs to flee. That is what Tatyana has done during the Israeli wars on Gaza."
Trauma
The couple's sense of humor belies the trauma they have experienced.
In January 2009, Bahaa's brother Muhammad was killed by Israel during the attack codenamed Operation Cast Lead.
"I don't know why they killed him," said Tatyana. "He was a poor taxi driver with no involvement in military activity."
Tatyana and Bahaa met in Odessa during the 1990s. They were introduced to each other by Tatyana's brother, a friend of Bahaa.
Bahaa studied medicine in the city, while Tatyana studied economics.
The couple married in 1999 and six years later moved from Ukraine to Gaza.
While Bahaa secured a job with Kamal Adwan hospital in the northern Gaza city of Beit Lahiya, Tatyana has not been able to find work outside the home.
Determined to stay
Despite all the violence and hardship she has witnessed in Gaza, Tatyana is determined to stay.
"I won't leave Gaza for any reason," she said. "My husband and my [four] sons are here. Gaza is now my second home."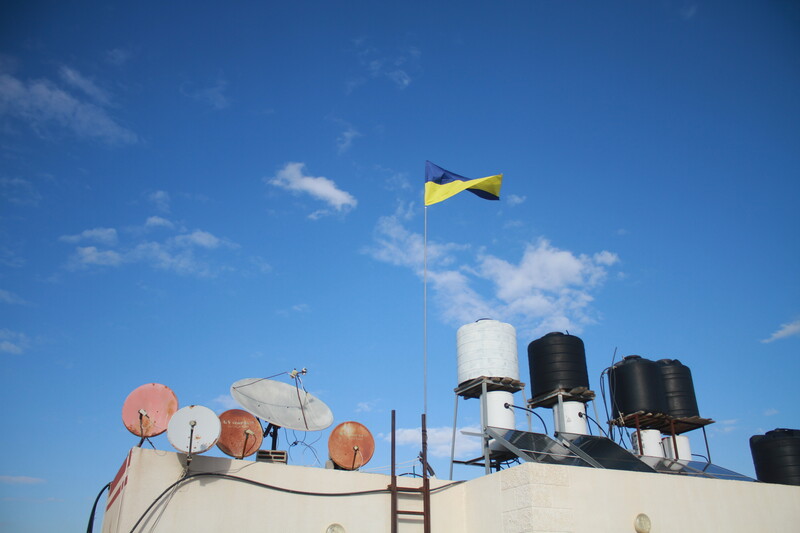 Gaza is more cosmopolitan than many people realize. Tatyana notes that her family has celebrated birthdays and religious occasions with people originally from Russia, Romania and France.
Yet the invasion of Ukraine has had an adverse effect on some friendships. Some Russians in Gaza have sided with Vladimir Putin, their country's president, and have told Tatyana they no longer wish to speak with her.
According to Tatyana, it is "very strange" to be cold-shouldered because of her ethnicity. As her own father is Russian, she finds it hard to comprehend why some Russians are shunning her.
"We have been living together as one family in Gaza for decades," she said.
Tatyana keeps in touch with other Ukrainians in Gaza via WhatsApp and Telegram groups.
"Some of the Ukrainians in Gaza have lost relatives," she said. "I know one woman whose mother was wounded. I am really anxious about the situation."
Approximately 800 Ukrainians live in Gaza.
They are generally well-educated. A large proportion are trained doctors.
Staying strong
Dr. Natalia al-Hasumi has not been able to speak with her family in Kherson, southern Ukraine, since the day after the Russian invasion. She has managed to get some details about them from relatives in other parts of Ukraine.
Having experienced three large-scale Israeli attacks on Gaza, she now has a "kind of immunity that helps us stay strong when my children ask me about my family [in Ukraine]," she said.
She even finds some of the questions amusing.
"My sons always ask me: 'Mom, why is there a war in Ukraine? Is Israel there?'"
Natalia met Imad al-Hasumi while they were studying medicine in Crimea.
They married in 2005, moving to Gaza six years later. Being qualified doctors meant they had no difficulty finding work.
"I didn't expect the conditions of life in Gaza to be so harsh," she said. "I haven't seen the level of poverty and unemployment we have in Gaza anywhere else. But life here has forced us to adapt to these conditions. My three sons are still children so I'm not thinking about leaving Gaza."
"Heartbreaking"
Dr. Raed Astal flies Ukraine's blue and yellow flag from his home in the Khan Younis area of Gaza.
He is a medical graduate of Sumy State University in northeastern Ukraine. So is his wife Dr. Oxana Duzha.
The couple wed in 1997 and moved to Gaza in 2008.
Raed began flying the Ukrainian flag when he built his house in 2015. "I raise it so that my wife feels close to home," he said.
His in-laws have been badly affected by the Russian invasion.
At first, they fled their home and went to a nearby village. Then their five-story house in Sumy was destroyed by Russian missiles.
Many of Oxana's cousins have left Ukraine to seek refuge in other parts of Europe.
Raed describes it as "heartbreaking" that relations have soured between some Ukrainians and some Russians living in Gaza.
"To be honest, the effects of the Russian war on Ukraine are more potent for us than the Israeli wars on Gaza," he said. "We already knew that Israel is an occupying power. But who would have thought that Europe would see another war in the 21st century?"
Ahmed Al-Sammak is a journalist based in Gaza.
Tags