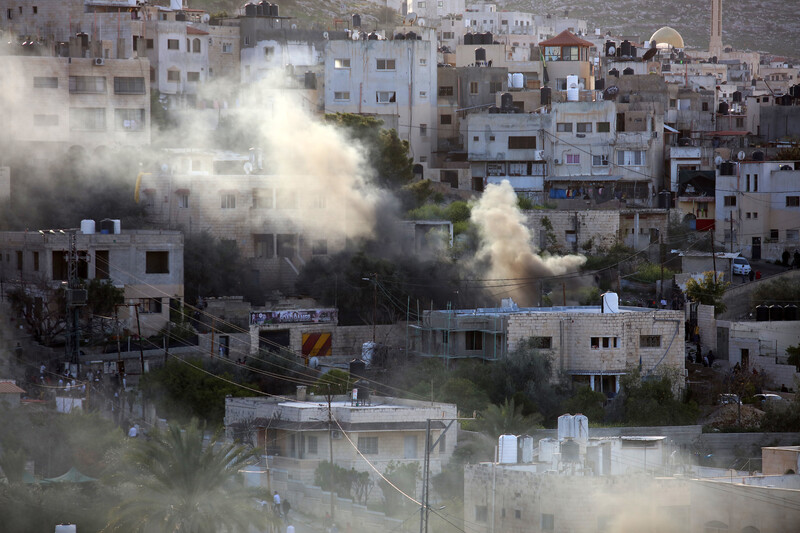 Israeli occupation forces killed at least six Palestinians during a daytime raid in the northern West Bank city of Jenin on Tuesday. Eleven others were injured, two seriously, according to the Palestinian health ministry.

Israel appears to have used the "pressure cooker" procedure during the raid, a form of extrajudicial execution by which occupation forces fire progressively more powerful weapons at a targeted building in an effort to force those inside to surrender. If they refuse to do so, the military demolishes the building, killing all those inside.

The procedure was used during a raid in Nablus last month. Eleven Palestinians were killed during that daytime incursion into the northern West Bank city.

During Tuesday's raid in Jenin, occupation forces fired anti-tank missiles at a building in which Israel claims armed Hamas fighters were hiding.

Video footage of the raid shows smoke rising from a building:

Another clip and photos show the interior of a home after it was destroyed in Israeli strikes: Israeli authorities said the army raided Jenin in order to capture Abdulfattah Hussein Khrousheh, who they say shot and killed two Israeli brothers in Huwwara, a town near Nablus, on 26 February.

Khrousheh was killed during the Jenin raid. Two of his sons were arrested in Askar refugee camp near Nablus during a concurrent raid in which occupation forces fired missiles at a house.

In addition to Khrousheh, Israeli forces killed Muhammad Wael Ghazawi, 26, Tariq Ziyad Mustafa Natour, 27, Ziyad Amin Zuraini, 29, Mutasim Nasser Sabbagh, 22, and Muhammad Ahmad Salim Khalouf, 22, during the raid in Jenin.

Two officers from the Yamam "counterterrorism" unit of Israel's police were wounded during a firefight that ensued during the raid.

Israel's raid in Jenin on Tuesday is the fourth daytime incursion into a Palestinian city this year resulting in several fatalities.

A total of 31 Palestinians were killed during those raids, two of them occurring in Jenin. Those fatalities comprise nearly half of the more than 70 Palestinians killed by Israeli soldiers, police and settlers since the beginning of January.

Hundreds of settlers stormed Huwwara hours after the shooting deaths of the Israeli brothers and set fire to Palestinian homes and vehicles. A Palestinian man was shot and killed during the 26 February rampage.

Huwwara was attacked again on Monday night as Israeli settlers celebrated Purim.
US stamp of approval
In Washington on Tuesday, Secretary of State Antony Blinken met with Israel's national security adviser Tzachi Hanegbi to reiterate the US "commitment to Israel's security and the importance of restoring calm and de-escalating tensions in Israel and the West Bank."

But while appearing to try to stabilize the dangerous escalation in the West Bank, the Biden administration backed the latest deadly raid in Jenin.

State Department spokesperson Ned Price said on Tuesday that Israel has a "legitimate right to defend its people and its territory against all forms of aggression, including those from terrorist groups."

It is unclear whether Price intended to suggest that the West Bank, occupied by Israel, is "its territory."

Price did not say that Palestinians also have the right to self-defense against a military occupation that serves to protect settlers living on land stolen from them.

But as Marwan Bishara, an analyst with Al Jazeera, points out, raiding Palestinian cities will not stamp out resistance against Israel.

"The idea that you can simply contain Jenin by more violence has proven to be wrong over the years and decades," Bishara said on Tuesday.

"The refugee camps and the cities that the Israelis attack the most, where it killed the most, have turned out to be the most important symbols of Palestinian resistance."

In April 2002, at the height of the second intifada, Israel perpetrated a massacre in Jenin that left more than 50 Palestinians dead, half of them civilians, according to a UN investigation.
Resurgence of resistance
More recently, Jenin has been raided on a near-daily basis, resulting in dozens of fatalities, following a series of deadly attacks in Israel last March – several of which were carried out by Palestinians from the northern West Bank.
Nablus has also emerged as a point of resurgence for armed resistance. Last month, the city endured the single deadliest Israeli operation in the West Bank since the UN began tracking data in 2005.
Israel has also repeatedly raided and besieged Aqabat Jabr refugee camp, near Jericho in the West Bank's Jordan Valley, this year, targeting a group of fighters there.
Occupation authorities raided the camp again on Monday to prepare to demolish a home belonging to the family of a detained Palestinian who Israel says shot and killed an American-Israeli dual national in the West Bank last month.
Several Palestinian homes have been sealed or destroyed on punitive grounds already this year. Three Palestinians died from injuries sustained during a punitive home demolition raid in Kafr Dan village near Jenin in early January.
Punitive home demolitions are a form of collective punishment – a war crime against Palestinians living under Israeli military occupation – and one long championed by Israel's high court.
While Israel claims for public and international consumption that the purpose of these deadly raids is to protect Israelis, government officials know that they achieve the exact opposite.
Hours after the Israeli attack on Jenin, Israeli forces in Jerusalem went on high alert in anticipation of retaliatory violence from Palestinians.
Ali Abunimah contributed reporting and analysis.
Tags