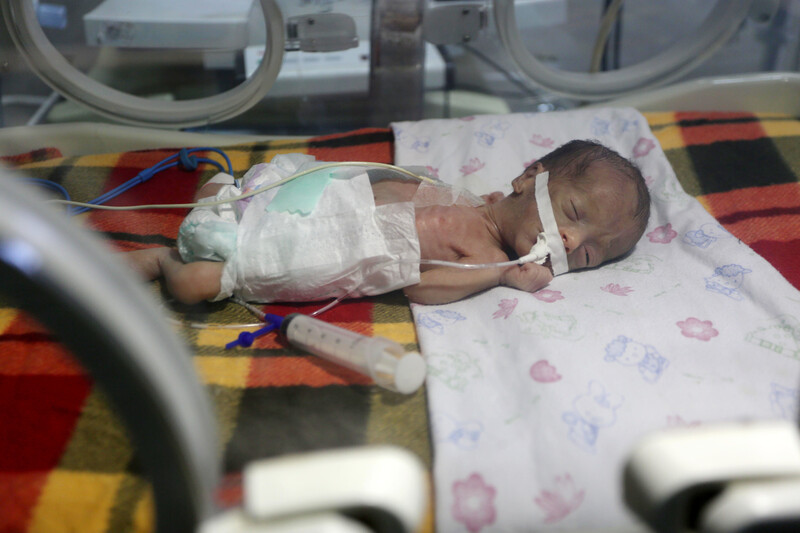 Nine Palestinians were killed by Israeli forces during the month of June, which marked 50 years of occupation in the West Bank, Gaza Strip and Syria's Golan Heights.
Nouf Infayat, 16, was shot and fatally wounded after she stabbed and lightly injured a soldier outside an Israeli settlement in the West Bank. Video from the scene showed the injured girl lying on the ground as Israelis curse and taunt her, calling for her death.
A soldier later faced dismissal after video showed him running away from the girl during the incident.
Three youths from the West Bank village of Deir Abu Mashal – Adel Hassan Ahmad Ankoush, 18, Baraa Ibrahim Salih Taha, 18, and Usama Ahmad Dahdouh, 19 – were shot and killed during an attack in Jerusalem that left an Israeli Border Police combatant fatally wounded.
Following the incident, Israeli forces raided the village, blocked all its entrances, confiscated property and surveyed the homes of the slain assailants in preparation for their punitive demolition. Israel also revoked permits from an estimated quarter of a million Palestinians, preventing them from visiting family in Israel during Ramadan and Eid al-Fitr, after the attack.
Family rejects Israel's claims
The family of Bahaa al-Hirbawi, who was shot dead by soldiers in the central West Bank, rejected Israel's claim that he was attempting a stabbing attack when he was killed. No soldiers were injured.
Iyad Munir Arafat Ghaith, 23, was shot twice in the head at close range by Israeli commandos disguised as civilians during a raid on the West Bank city of Hebron. The army claimed that Ghaith was armed and had fired towards soldiers, none of whom were injured.
A Palestinian citizen of Israel, Muhammad Taha, 28, was shot and killed by a security guard in Kafr Qasim during confrontations with police after they arrested the head of a volunteer civil guard committee in the town.
Two Palestinians were killed by Israeli soldiers during protests along the Gaza-Israel boundary. Fadi Ibrahim al-Najjar, 25, was shot in the stomach east of Khan Younis in southern Gaza and Ayed Jumaa, 35, was shot in the head east of Jabaliya refugee camp in the north of the territory.
Thirty-five Palestinians, including a Jordanian national of Palestinian origin, have been killed by Israeli forces and armed civilians so far this year. Seven Israelis, all but one of them soldiers, and a British national were killed by Palestinians during the same period.
Also during the month of June a Hamas military leader was killed in an accidental explosion at a "resistance site" in the southern Gaza Strip and two men from Gaza were reported to have been killed while fighting with the Islamic State group in Egypt's Sinai Peninsula.
Permits for medical treatment denied
Israel denied Khalid Ghamri, 17, an exit permit to travel from Gaza to Jerusalem for medical treatment after he was shot and critically wounded by soldiers during a protest the previous month.
Two newborns in Gaza died after requests to pay for medical treatment in Israel submitted by their parents to the Palestinian Authority went unanswered.
The health ministry in Gaza stated that nine patients had died since the beginning of the year due to delays in financial commitment from the Palestinian Authority to pay for treatment, required by Israel in order for those patients to receive care at its medical facilities.
Physicians for Human Rights-Israel warned that slashes in the Palestinian Authority's budget for Gaza had resulted in the worst medication crisis in the territory in years, putting hundreds of patients in mortal danger.
Israel sharply reduced its supply of electricity to the Gaza Strip, exacerbating chronic shortages and leaving most households with fewer than three hours of power per day. Egypt made an emergency delivery of diesel fuel to Gaza's power plant later in the month, allowing households to receive electricity for five to six hours a day – a short-term fix that is not expected to resolve the ongoing crisis.
Meanwhile, Rafah crossing, the sole point of exit and entry for the vast majority of Gaza's 2 million residents, remained closed throughout the month. More than 20,000 Palestinians in Gaza are registered and waiting to cross into Egypt via Rafah. Closed with only rare exception since late October 2014, Rafah crossing has been opened only 16 days so far this year.
"Death to the Arabs"
A mob of far-right Israels was shown on video attacking three Palestinians in downtown Jerusalem while police did nothing beyond asking the assailants to leave. Israeli extremists vandalized cars in Palestinian neighborhoods of Jerusalem, spray painting messages such as "Death to the Arabs," multiple times during the month.
Muslim worshippers were assaulted by Israeli forces at the al-Aqsa mosque compound in Jerusalem's Old City as Israeli extremists toured the site. Video showed Israelis touring the holy site under heavy militarized police guard. The compound was briefly put on lockdown during the month after an Israeli was struck by a rock while touring the site.
The Action Group for Palestinians in Syria recorded the deaths of 14 Palestinians as a result of the ongoing fighting in the country during June. Several were killed during fierce battles in the area of Daraa in southern Syria.