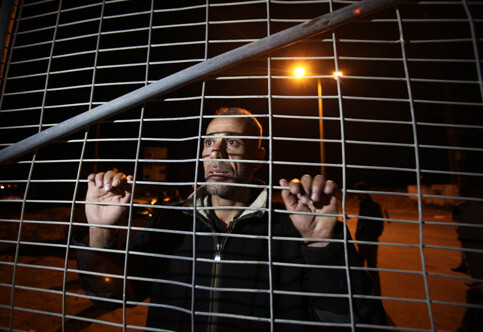 RAMALLAH

, occupied West Bank (

IPS

) - Several Palestinians have set up a protest tent in no-man's land in the northern Gaza Strip, near the Erez border crossing into Israel, as they protest their deportation from the Israeli occupied West Bank into Gaza where Hamas authorities have refused them entry.

Tens of thousands of other Palestinians face a possibly similar predicament in the near future. This follows a sweeping new Israeli military order which allows for the expulsion of Palestinians or foreigners whom Israel considers to be in the West Bank illegally as "infiltrators."

Fadi Azameh, 19, from Hebron in the southern West Bank, was arrested at his place of employment by the Israeli military last week, held briefly at a military base before he was expelled to Gaza.

Azameh was born in Gaza but his family left the coastal territory and settled in the West Bank 12 years ago. He had not been back since.

Ahmed Sabah, a 40-year-old prisoner from the northern West Bank town of Tulkarem was also deported to Gaza after serving a lengthy prison sentence in an Israeli jail.

His wife and son, whom he had not seen since the boy was a baby, were informed that Sabah would not be attending a joyful reunion they had planned after he had already been released in Gaza.

The two Palestinians are refusing to leave the tent and have pleaded for international intervention in their case.

The Hamas authorities for their part have stated that they would not allow them into Gaza as this will encourage Israel to proceed with its policy.

The "infiltrator" order could affect thousands of Palestinians in the occupied West Bank who were born in Gaza — or those who had their ID documents issued in Gaza — but moved years ago to live in the West Bank where they now have families and where their employment and educational facilities are based.

Palestinian identification papers in both the West Bank and the Gaza Strip are formally issued by the Palestinian Authority (PA), but Israel controls the population registry and must approve most changes, including relocation from Gaza to the West Bank.

Thousands of other Palestinians from Jordan and abroad who have reunited with family members in the Israeli controlled territory could also be effected.

Many of those originating in Jordan married West Bank spouses and moved to the Palestinian territory where they subsequently started families.

Other Palestinians with foreign passports who have opened up businesses, creating work opportunities in an area where unemployment remains high, also risk deportation.

Foreign nationals not of Palestinian descent and without Israeli visas could also be targeted.

Israel has been trying to crack down on pro-Palestinian foreign activists and those working with nongovernmental organizations (NGOs). Several were deported earlier in the year when heavily armed Israeli troops raided their apartments at night.

Foreign NGO workers based in the Occupied Palestinian Territories have complained of difficulties in getting their work permits and residence visas renewed by the Israeli authorities.

Israel's new military order applies even to "Area C" of the West Bank which under the 1993 Oslo Accords falls under the full civil and military control of the PA.

Critics have argued that Israel is trying to solidify the geographical and political divide between the PA controlled West Bank and the Hamas controlled Gaza Strip. Others say this could be a precedent for ethnic cleansing of the West Bank.

Israeli extremists and right-wingers have long supported the expulsion of Palestinians from the occupied West Bank to Jordan which they argue is the "real Palestinian State."

A number of Israeli and Palestinian human rights organizations have written to the Israeli defense minister, Ehud Barak, demanding the postponement of the order's implementation pending "a serious and comprehensive discussion on the matter."

The Israeli rights group HaMoked states that the new order is intended to serve as a "High Court bypass" mechanism, facilitating deportation in similar cases in the future.

"The army must bring candidates for deportation before the committee within eight days, while they can be deported without judicial review within 72 hours. At the same time, the candidates for deportation are not allowed to appeal to the committee, or to any court, during these eight days," says the organization.

The Fourth Geneva Convention imposes an absolute prohibition on the forced removal of civilians from their homes, the violation of which is deemed an especially grave breach of the Convention.

Meanwhile, in a continuing development Gazans challenging Israel's "no-go security zones" along Gaza's borders with Israel continue to be wounded and killed as they try to access their agricultural land, much of it situated in the fertile areas along the border.

Last week Ahmed Deeb, 21, from Gaza bled to death after Israeli soldiers shot him in the leg, rupturing his femoral artery, with a "dum dum" bullet which fragments inside the targeted area upon impact.

The week before, Maltese national Bianca Zammit, 28, was also shot in the leg as she filmed one of the growingly frequent non-violent protests against Israel's self-declared buffer zones.

In another incident of Gazans dying to live, four tunnel workers were killed, and several hospitalized in a serious condition, in southern Gaza after Egyptian security forces threw explosives into several smuggling tunnels linking Gaza with the Sinai Peninsula.

Due to Israel's crippling economic blockade of the coastal territory — in conjunction with the Egyptians — the tunnels represent a vital supply line for desperately needed daily goods for the impoverished territory.

Working in the tunnels also provides Gaza's poor with a means of income in an area where unemployment is rife.

All rights reserved, IPS — Inter Press Service (2010). Total or partial publication, retransmission or sale forbidden.