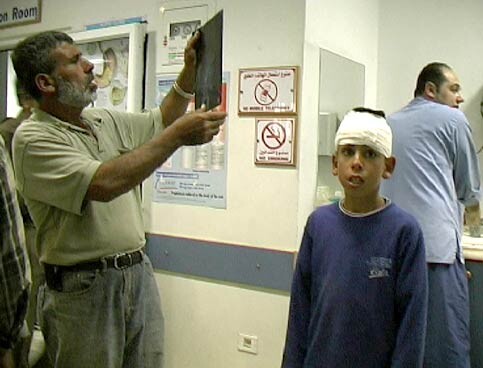 Ramallah, 1 May 2005 —
12-year old Ahmed has a metal fragment lodged in his skull. A Norwegian protester who was standing next to Ahmed was also hit by a ricocheting fragment of what he says were live rounds fired in their direction by Israeli soldiers two hundred meters away. 23-year old Hamze is suffering from an injury to the back of his head from a gas canister that was shot at him directly from short range.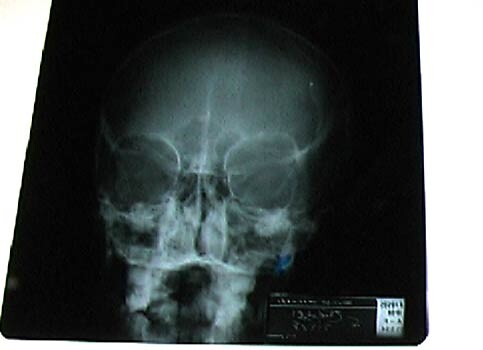 The demonstration that began as a calm and peaceful protest was met with rubber-coated metal bullets, tear gas and sound bombs fired indiscriminately into the crowd. The Israeli military did not produce a closed military area warrant and so had no legal grounds to disperse the demonstration. The confrontation then escalated to stone throwing from some of the Palestinian youth, and Israeli soldiers began shooting live rounds in the direction of the protesters.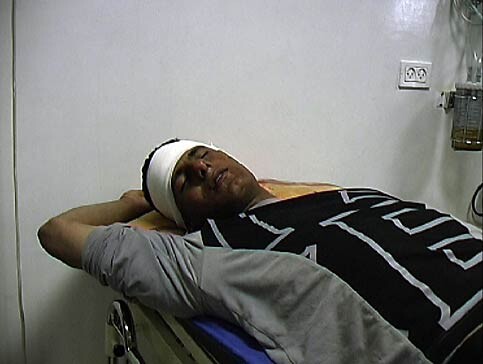 In a demonstration held last Thursday, undercover Israeli provocateurs threw stones at Israeli soldiers and border police. Special forces used a gas powered gun, not previously used in the West Bank, capable of firing rapid rounds of plastic bullets filled with a white powder (which is currently being analyzed) that caused intense pain to the people shot.
Two Palestinians, Riad Bornat and Ilyan Abu Rahma, who were assaulted and dragged away by the provocateurs, are still being held in Israeli custody.
The May Day demonstration was attended by workers and farmers from Bil'in, accompanied by Israeli and international activists to protest the theft of their livelihood.
Before the current Intifada many Bil'in residents worked in Israel. Today with unemployment soaring at over 60% the village depends on its agricultural land to survive.
More than half of Bil'in's land, 2,300 dunams, will be lost beyond the Wall and has been earmarked for settlement expansion.
Related Links