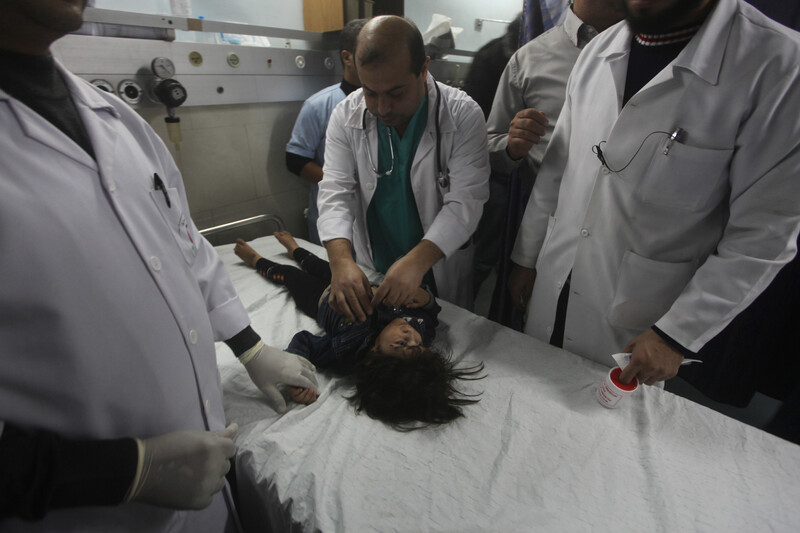 GAZA CITY (IPS) - Civilians are still paying the price of Israel's blistering eight-day military assault on the Gaza Strip.
According to the Palestinian Centre for Human Rights (PCHR) more than 160 Palestinians lost their lives by 21 November, the last day of the bloody confrontation between Israel and Palestinian fighters. The dead included at least 103 civilians, 33 of them children. More than a thousand Palestinians were wounded, including 971 civilians — 274 of them children.
Three of the Palestinian civilians killed were journalists who died after repeated Israeli attacks on media buildings where Palestinian and foreign journalists were working.
But the attack and its consequences have been the hardest for Gaza's children, unable to comprehend the volatility and the political intricacies in the place they call home.
"Mamma, mamma," cried Muhammad Abu Zour, 7, in the al-Zaytoun neighborhood of Gaza City. His head is bandaged and one of his eyes is purple and badly swollen. His eyes flicker upwards and backwards.
"There is a possibility that he has severe brain damage as there is internal bleeding within his skull," Sana Thabat, a 23-year-old nurse in Gaza's al-Shifa hospital said.
Muhammad was wounded last week after Israeli F-16 fighter jets targeted his family home as the occupants slept. The shelling killed two women from the Abu Zour family; Sahar Fadi Abu Zour, 20, Nisma Helmi Abu Zour, 21; and Muhammad's little brother Eyad Abu Zour, 5.
The Israeli jets had been targeting the home of an alleged militant next door. Al-Zaytoun is densely populated and far from any Hamas military compounds.
In another case of Israeli "collateral damage" several members of the al-Dalu family, including four children, were killed when an Israeli missile hit a four-story house belonging to Jamal Mahmoud Yassin al-Dalu, 52, in the north of Gaza City.
Head fracture
Alia Kalajar, 23, from Shojaiya in Gaza wept silently as she held the hand of her seven-year-old daughter Nisma. "Nisma has stopped talking and we don't know if she will ever talk again. She has a head fracture and is bleeding internally too," Kalajar said.
The little girl fell from her home on the third floor of a building that was struck by an Israeli drone. Nineteen Palestinian civilians were injured in that strike.
Abdel Aziz Ashour, 6, from al-Zaytoun has shrapnel injuries in both his legs. He was playing with his seven brothers and sisters last Tuesday when an Israeli drone targeted his neighborhood.
Low on medicines
His cousin was killed and five other civilians were injured. But the little boy remains cheerful despite the grim circumstances and the pain he is in. "I'm not afraid of the Israelis," he said as he flashed the V for victory sign. Al-Shifa hospital staff have been forced to work long hours with limited medical equipment and dwindling supplies of medicines.
"I've seen so many dead and injured children. In the end one becomes a little numb to the situation," Adnan Bughadi, a 22-year-old nurse from Shojaiya, said. "Most of us have been working double shifts to cope with all the wounded, and it is very tiring. At one stage the floors were covered in blood and there was a shortage of beds for the wounded."
"The hospital is running low on some essential medicines and has run out of others," Sana Thabat said. "I find it very distressing seeing the number of children and other civilians killed but what can we do? We have to keep going."
The Palestinian Centre for Human Rights has called for an international fact-finding mission "to investigate war crimes committed by Israeli forces against Palestinian civilians in the Gaza Strip, and to take necessary measures to prosecute the perpetrators."
All rights reserved, IPS - Inter Press Service (2012). Total or partial publication, retransmission or sale forbidden.
Tags