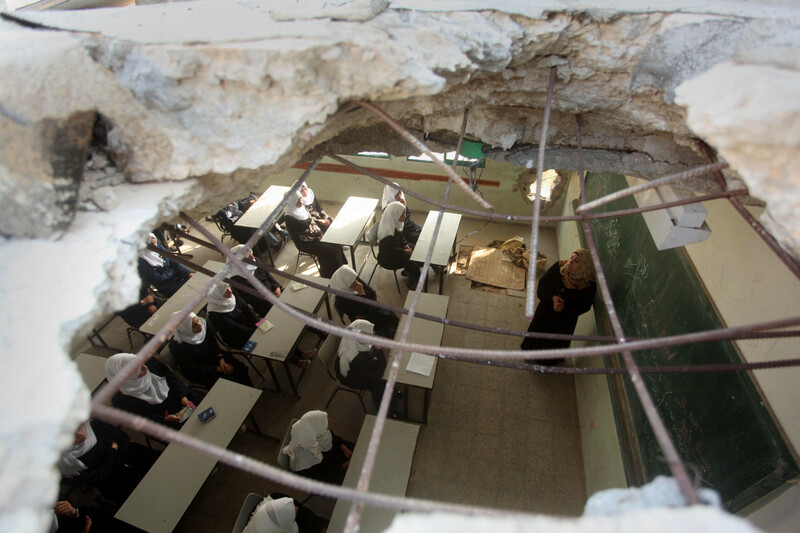 Wala, 16, always finds a seat away from the windows.
The girl is a student at the Hayel Abdul Hamid secondary school in Beit Hanoun, a United Nations facility in the northern Gaza Strip. She has developed a phobia of sitting next to windows, afraid, she told The Electronic Intifada, of stray bullets.
Her fear is well-founded. Beit Hanoun lies close to Gaza's boundaries with Israel, and the concrete wall that marks the boundary is visible from Wala's school. In such boundary areas Israeli gunfire is common and fatalities frequent. Mere closeness is a mortal danger as Israeli soldiers endeavor to keep quite expansive areas clear of residents, farmers or anyone else trying to get close.
When shooting near the boundary is especially fierce, Gaza's ministry of education is forced to evacuate schools in the affected areas. According to Muhammad Nasser, who works at Gaza's education ministry, in Beit Hanoun alone there are four schools, including the Hayel Abdul Hamid School, in so-called high-risk locations – within 1,000 meters of the boundary.
These are "Access Restricted Areas" – in the language of the UN – enforced by the Israeli military, usually with force.
Wala is also scarred by her experience during the Israeli military offensive of 2014 and the bombing of a Beit Hanoun primary school.
She and her family had taken refuge at the school administered by UNRWA, the UN agency for Palestine refugees, along with hundreds of other civilians from the area, when it was attacked on 24 July 2014.
"Every time I come to school I remember the fear I felt that day," said Wala, for whom merely the sound of Israeli tanks moving in the distance makes her feel that "death is chasing me."
The shelling was subsequently condemned as a "violation of the laws of war" by Human Rights Watch. Thirteen people were killed, including six children.
Rational fear
Samira al-Zaneen, Wala's teacher, said the girl used to be a highly accomplished student but that her grades had suffered since that fatal day.
"Every time she hears gunfire, she starts crying and calling for her mother. We try to calm her, but in the end we have to send her home. She is regressing because of her fear of what the Israelis do on our borders."
Muhanna al-Masri, a school counselor, has written and distributed an educational guide to help raise awareness among students and their families and help them cope with the fear and stress many suffer.
"The continuous bombings and shootings from Israel cause a lot of fear and stress among students," said al-Masri. To address this, he has designed programs to help students cope in various ways, ranging from simple trips to the seaside to psychological support sessions.
Al-Masri was convinced that over time the school could help Wala relieve her symptoms. Of course, he added, there is only so much they can do: The fear is ultimately a rational one and related to the "constancy, frequency and severity of the Israeli violence" at the boundary.
Wala herself said the school's support was helping. "I am starting to adapt," she told The Electronic Intifada. Still, "Whenever I hear tanks moving, I begin to shake. And when the shooting starts, I can't control my nerves. I don't know why this happens to me."
Proximity to Gaza's boundaries and the violence there always has an effect on the young. But it is not always the same. A bit south of Beit Hanoun is Shujaiya, a Gaza City neighborhood close to the boundary and the site of one of the worst massacres of the 2014 assault.
Here, twin brothers Ahmad and Muhammad, 15, maintain excellent results at the Shujaiya Martyrs School even though their home was destroyed in the Israeli bombardment and the family of nine now lives in a rented accommodation.
Unlike Wala, these brothers are unfazed by the sounds of Israeli army tanks and jets. They are determined to carry on regardless of sound or impediment.
"If our insistence to get educated is disturbing the occupation, we will get educated to the highest level we can," said Muhammad. "I hope to be an engineer to fight the occupation in my own way and to rebuild our destroyed house."
Education in the line of fire
It's an uphill struggle in more ways than one for the twins. Schools near Gaza's boundaries cannot operate full time because they are forced to close during the frequent outbreaks of violence.
To compensate, Muhammad and Ahmad make sure they use those days to study at home and even stay in touch with their teachers to avoid too much disruption.
Schools also try to ensure disruption is minimal. Special programs have been designed to ensure student safety in times of emergency, said school director Abdullah Abd al-Jalil. These efforts involve both the ministry of education and the civil defense service.
"The programs educate students, parents and families about safety evacuation procedures."
Such programs try to prepare students to anticipate the many variables during episodes of violence, including artillery and gunfire. The factors are multifold: windows shatter broken glass, water can be scarce when Israeli occupation forces on destructive rampages fire at water tanks on school roofs or damage wells and infrastructure, buildings can shake and walls crack and there is always the possibility of panic among students.
But there is only so much that can be done for a sector working under immense pressure and against the odds. During the Israeli offensive of 2014, more than 220 schools incurred damage – mostly government schools, but also some 70 UN schools – according to Ziad Thabet, a ministry of education official.
Twenty-six schools were completely destroyed in 2014, the official said, though they have since been rebuilt, having been deemed priorities for reconstruction, and in spite of Israeli restrictions on the entry of building materials.
Thousands of students remain homeless too, Thabet noted, especially in northern areas near Gaza's boundaries, and all these factors have left the education sector under severe strain.
"We do what we can," Thabet said. "We try to rebuild."
In all, 85 schools are located in or near Gaza's boundary areas, according to Muhammad Nasser, who heads the planning and studies department at the education ministry. Five of these are within 1,000 meters from the boundary and in high-risk areas.
Still aspiring
All these schools are subject to evacuation procedures, leaving the education of nearly 45,000 students subject to regular disruption. There are no prescribed conditions under which a given school will be closed or evacuated, Nasser told The Electronic Intifada. Decisions are entirely contingent upon any given day's security situation.
Of the five high-risk schools, the Martyrs School in Khuzaa village near Khan Younis is perhaps the closest to the boundary, lying not 500 meters away.
The school has been damaged in previous Israeli assaults, but has been repaired sufficiently to reopen. Still, windows shattered by gunfire allow in the winter rains, and one student, Mariam, 16, is reduced to tears when her bag falls into a puddle of water in the classroom.
Replacing window panes is a common task for school administrators, though the damage to the walls and floors of classrooms themselves is less often addressed. Puddles of water are common, the school is cold and dampness is a problem.
Many teachers and pupils accuse the Israeli military of intentionally targeting the windows in winter precisely to disrupt school life.
There are 13 schools in the eastern districts of Khan Younis abutting the boundary zones, according to Said Harb of the Khan Younis education directorate. These serve more than 20 percent of the students in the district, or nearly 20,000 children, Harb said. Some of these areas – like al-Fukhara and Qarara – are sparsely built and have little vegetation offering limited protection from any shooting, Harb said.
Mariam has not let the precarious situation affect her grades. She continues to do well and works hard at her studies. Like Muhammad, one of the Shujaiya twins, she wants to become an engineer to rebuild Gaza.
"We'll never give up and we'll continue studying and struggling against the aggression, poverty and all other obstacles until we achieve our hopes and goals," the youngster vowed.
Sarah Algherbawi is a freelance writer and translator from Gaza.
Tags