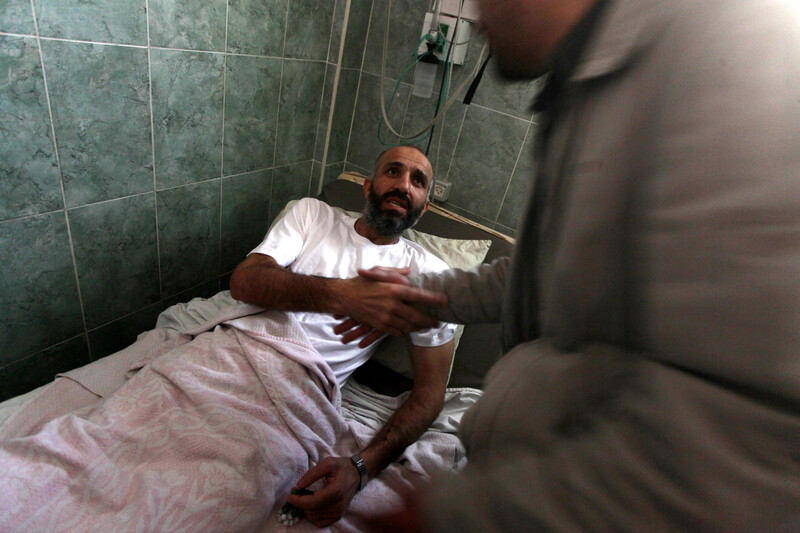 Ayman Sharawna needed the help of two friends, one supporting him on each side, to walk into the living room of his new apartment overlooking the Gaza seaport on Saturday. But if the physical effects of his eight-month hunger strike were visible, Sharawna projected an air of victory when he spoke with activists who had gathered to welcome him.
"My hunger strike secured two things," he said. "First, it won my release, my freedom. Second, it prevented the arrest of other prisoners who were released in the Shalit deal [the prisoner exchange in October 2011]."
Sharawna's hunger strike ended on 17 March with an agreement in which Israel banished him to Gaza from his home in the West Bank city of Hebron for 10 years.
A statement by Gaza's Palestinian Centre for Human Rights called his forcible relocation "a form of collective punishment and reprisals prohibited under the Fourth Geneva Convention" ("PCHR condemns Ayman al-Sharawna's deportation to Gaza by Israeli forces," 18 March 2013).
Sharawna's hunger strike was a matter of collective defense as much as securing his personal liberty, he said. "The occupation forces threatened, the night they arrested me, to arrest all Hamas prisoners who were released in the Shalit exchange. But my hunger strike stopped that."
"Playing with words"
As for his release to the Gaza Strip, he counted it as a success. "When they offered to deport me, they gave me the choice of several different countries. But I refused to go anywhere but Gaza, which they hadn't offered at first. I feel they regret sending me here."
Even the terms of his displacement was a struggle, he said. "They were playing with words when the agreement was drafted. They put the banishment for 28 years, but said they would allow me back after 10 years. I refused to sign. I said, 'No, you should write 10 years.'
"I am very proud to be here in Gaza. They thought I would find it very difficult here, like a stranger. This was wrong."
The 18 October 2011 prisoner exchange between Israel and Hamas freed Sharawna after nine years in captivity. A total of 1,026 Palestinian detainees were also released. On 31 January last year, Israeli forces raided his home and rearrested him based on the contents of a "secret administrative file."
Military prosecutors alleged that Sharawna had violated the terms of his release, but never disclosed their charges to Sharawna or his attorneys.
The prosecutors demanded that Sharawna complete the remaining 28 years of his previous military sentence, from which he had received an Israeli presidential pardon under the exchange agreement, and began a series of secretive, often closed military court hearings against him. On 1 July last year, he announced an open hunger strike with the immediate goal of winning his freedom.
"Nothing worse than hunger"
"Nothing is worse than hunger," Sharawna said. "A day on hunger strike is as long as 10 normal days. I am not exaggerating.
"A hunger strike in general is difficult. But after 200 days, it got very difficult, because I stopped taking sugar and vitamins. The most difficult phase in the strike was the last month, because I was chained. I was only allowed to go the bathroom twice a day."
The Israeli Prison Service (IPS) tried various ways to convince Sharawna to resume eating. "They know that I like sweets very much," he said with a smile. "So they used to bring sweets and put them in front of me."
At other times the IPS withheld pain medication, offering it in exchange for an end to his strike.
Sharawna suspended his strike several times in response to promises by Israel that it would review his case. But by 17 March, he had grown wary of his captors' assurances and refused to eat until after his release. "I insisted on leaving prison the same day the agreement was signed," he said. "I broke my hunger strike at 10:30 pm in al-Shifa hospital" in Gaza City, where he was taken first after entering the Gaza Strip.
"The entire thing was about a challenge," he said. "I forgot everything. The only thing I had in mind was the challenge, to win it."
"I rarely slept," he added. "I couldn't sleep very much because of pain and noise intentionally caused by the officers."
Sharawna spoke repeatedly of his fellow detainees who remained in Israeli prisons, especially Samer Issawi, now on 247 days of a partial hunger strike as of Monday, and Dirar Abu Sisi, who has been held in solitary confinement since Israeli agents kidnapped the Gaza engineer from Ukraine on 19 February 2011.
"I feel worried for Samer Issawi, especially after the court hearing was delayed for two months," he said. "My dream is for my brother, Dirar Abu Sisi, to be released soon. He is going through very hard conditions and has fainted many times."
Another dream, he added, "is for the prisoners to be united. We are so scattered now."
The end of Sharawna's hunger strike was a confusing time, he said, but his release brought clarity. "For the last two months, I didn't receive enough information from the International Committee of the Red Cross. I worried that my family would object to my relocation to the Gaza Strip, but when I was released, I learned that they supported it."
"It's been five days here in Gaza," he added. "Every day is like a festival for me, a celebration. My family made it to Gaza in 72 hours."
And his resolve remains strong as he looks toward the future in Gaza and beyond. "The Israelis wanted to fight me, but they couldn't," he said. "I will return to the West Bank. I will return to Jerusalem. We will meet at al-Aqsa mosque in the coming few years, God willing."
Joe Catron is a US activist in Gaza, Palestine. He works with Palestinian groups and international solidarity networks, particularly in support of the boycott, divestment and sanctions (BDS) and prisoners' movements. He blogs at joecatron.wordpress.com and can be followed on Twitter @jncatron.
Tags