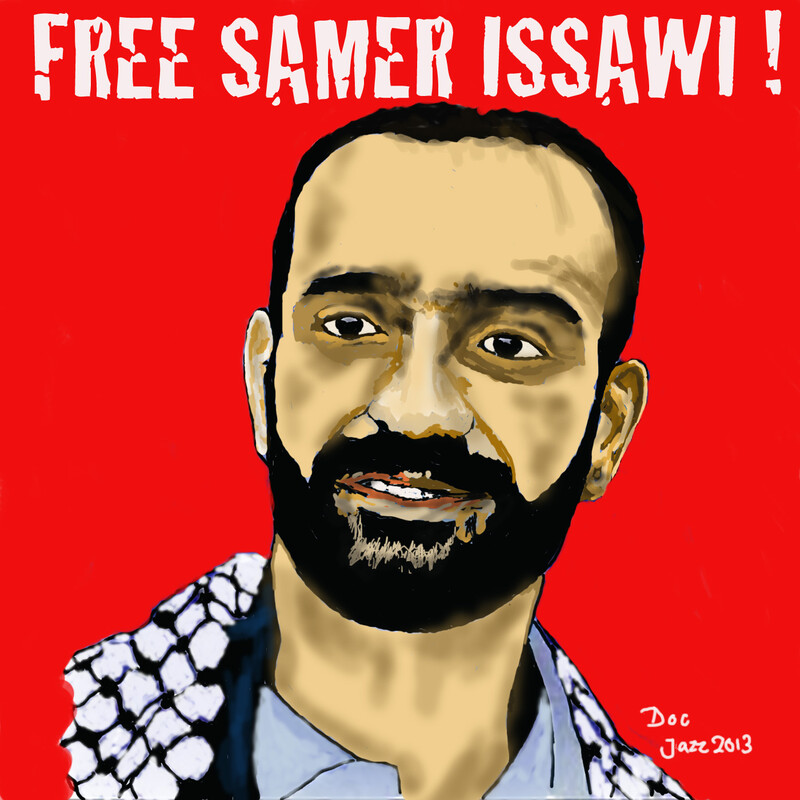 "It doesn't matter if he goes to Gaza," said Zahra Sharawna, Ayman Sharawna's mother. "To be freed is the most important thing." I understand how these words could come from a mother who fears for her son's life. She, driven by her motherly emotions, simply wants him to live, even if many Israeli apartheid checkpoints separate her from him. But I must question was that actually the victory that Ayman Sharawna's hunger strike aimed to accomplish, to get out of prison alive regardless of release conditions? I don't think so.
A Palestinian's fight has never been about oneself. It has always been a collective resistance of different forms, for the sake of collective justice for all Palestinian people. Some national principles identify our struggle for freedom. Every Palestinian revolutionary should be armed with them. One is embracing our right to return as the most sacred and ultimate goal.
"One whose hands are in water isn't like one whose hands are in fire." This traditional saying always comes to mind when I encounter a complicated situation many people would find it easy to judge superficially. I am not in a position to imagine the kind of inhumane pressure to which Ayman Shrawna was subjected. However, being a daughter of a former prisoner who served 15 years, and having intensively read and heard many ex-detainees' prison experiences, makes me better able to guess.
The Palestinian Centre for Human Rights condemned Israel's expulsion of Sharawna to Gaza, calling it a "forcible deportation," which is a violation of international law. As such Israel alone is responsible, and we must consider that Sharawna is not acting of his own will.
But still, I was shocked to hear that the man who remained steadfast for nearly eight months of hunger strike, who tolerated all the pain and pressure attached to it, succumbed to such blackmail, to be expelled to Gaza for at least ten years in exchange for his release.  This wasn't the victory of which I personally expected to hear. I reacted to the news with a shocked face and stony eyes, unable to shed a single tear.
Emotionally, I could celebrate and agree with Ayman that "both are my people, whether in Gaza or Hebron," Sharawna's hometown in the occupied West Bank. But I can't help listening to my inner worries. I believe that our emotional reactions and stances will only serve the Israeli occupation's long-term goals: turning the Gaza Strip into a ghetto isolated from the rest of Palestine, and expelling as many people as possible from the occupied territories in the West Bank and '48 Palestine. My fears that this will open the gate for Israel to intensify its systematic policy of ethnic cleansing against more Palestinian political prisoners left me unable to taste the victory in Ayman Sharawna's release. 
These worries flooded my mind, but Samer Issawi's statement on deportation lessened my stress and cultivated hope instead.  His opinion was just what I expected, wonderful and strong from a stubborn man of dignity and poise, who continues his hunger strike of nearly seven months and doesn't give up his principles for the sake of his own physical relief. He is aware of the long-term aims behind the inhumane practices of the Israeli occupation. He believes that his detention, a violation itself, cannot be fixed with a further violation.
According to him, this hunger strike isn't a personal battle; rather, it's a collective one. He refuses to be released with the condition of deportation, even within our historic Palestine.
Fawwaz Shloudi, a Palestinian lawyer, managed to visit Samer Issawi after many attempts and asked him whether he will ever agree to be deported to Gaza in exchange for his freedom. Samer answered:
Regarding the Israeli occupation's offer to deport me to Gaza, I affirm that Gaza is undeniably part of my homeland and its people are my people. However, I will visit Gaza whenever I want or feel like it, as it is within my homeland, Palestine, which I have the right to wander whenever I like, from the very north to the very south. I strongly refuse to be deported to Gaza as this practice will just bring back bitter flashbacks from the expulsion process to which our Palestinian people were subjected during 1948 and 1967.

We are fighting for the sake of the freedom of our land and the return of our refugees in Palestine and the diaspora, not to add more deportees to them. This systematic practice by Israel that aims to empty Palestine of Palestinians and bring strangers in their place is a crime. Therefore, I refuse being deported and I will only agree to be released to Jerusalem, as I know that the Israeli occupation aims to empty Jerusalem of its people and turn Arabs into a minority group of its population. The issue of deportation is no longer a personal decision, it is rather a national principle. If every detainee agrees to be deported outside Jerusalem under pressure, Jerusalem will eventually be emptied of its people.

I would prefer dying on my hospital bed to being deported from Jerusalem. Jerusalem is my soul and my life. If I was uprooted from there, my soul would be uprooted from my body. My life is meaningless away from Jerusalem. No land on earth will be able to embrace me other than Jerusalem. Therefore, my return will be only to Jerusalem and nowhere else. I advise all Palestinians to embrace their land and villages and never succumb to the Israeli occupation's wishes. I don't see this issue as a personal cause that is related to Samer Issawi. It is a national issue, a conviction and a principle that every Palestinian who loves his homeland's sacred soil should hold. Finally, I reaffirm for the thousandth time that I continue my hunger strike until either freedom and return to Jerusalem or martyrdom! (original translation by author)
International law prohibits the expulsion and transfer of people in occupied territories, be it deportation to another country or forced relocation within the occupied territory. United Nations Security Council Resolution 607 "calls upon Israel to refrain from deporting any Palestinian civilians from the occupied territories" and "strongly requests Israel, the occupying Power, to abide by its obligation arising from the Convention." But these words, as history proves to us, are merely words. We have experienced enough empty words and conventions and "international human rights laws" that do NOT apply to us, as if our humanity is in question.
If the United Nations and the all the world's governments keep of taking this submissive stance on Israel's crimes and watch, reacting only with silence, we should NOT normalize their violations even if it costs us our lives. People like Samer Issawi teach us how to stand firm and not compromise our rights. Thank you, Samer, for teaching us how meaningless life is without freedom and dignity.
Tags